What to Know About the Midterm Elections With Abortion on the Ballot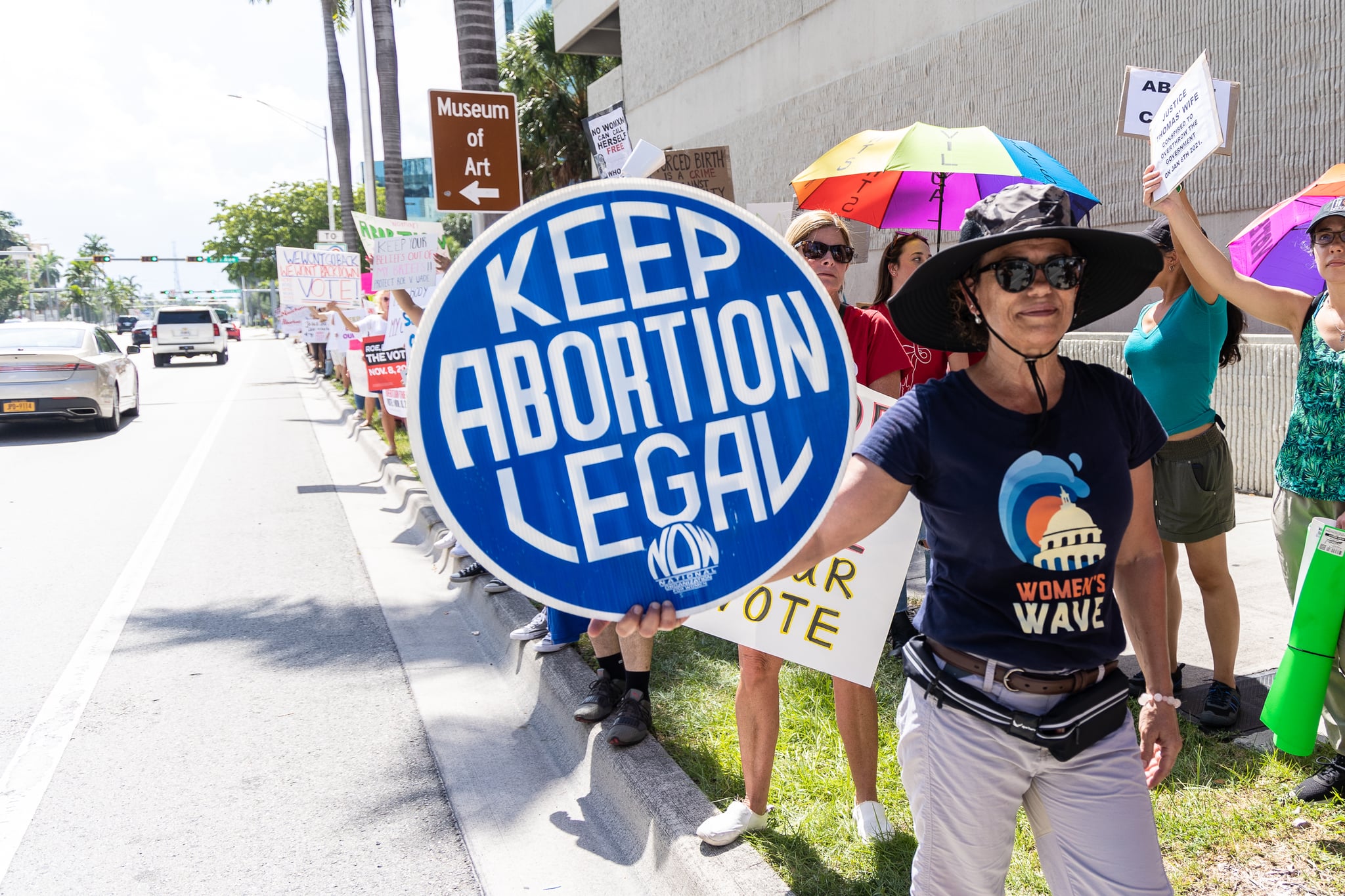 When the Supreme Court overturned Roe v. Wade in June, it guaranteed that every future statewide election could change Americans' access to abortion. Changes to state laws have already been swift: as of Nov. 8, more than a dozen states ban abortion at or before six weeks of pregnancy.
While the midterm elections weren't the first time voters weighed in on abortion restrictions — in August, Kansas voters rejected a constitutional amendment that would have taken the right to abortion out of the state constitution — the outcomes will have lasting impacts on abortion access for many states. As results continue to roll in across the country, we will update you with what we know.
Five states — California, Kentucky, Michigan, Montana, and Vermont — gave voters the direct ability to weigh in on abortion rights. California, Michigan, and Vermont gave voters the opportunity to affirm the right to abortion in their state constitutions, while Kentucky asked voters whether or not to reject that right in its constitution. In major victories for abortion-rights supporters, voters in the three former states affirmed the right to abortion, and Kentucky voters rejected the antiabortion measure. Montana voters, meanwhile, weighed in on an initiative that would criminalize medical providers who do not make every effort to save the life of a "born-alive" infant. In yet another win for abortion rights advocates, voters struck down that initiative.
Many other races for governor, state legislature, state Supreme Court, and attorneys general could make a huge difference in abortion access down the road. Here are some of the outcomes of those statewide races — plus tips for how to support abortion rights beyond Election Day.
Arizona
State Legislature: Republicans currently control the state legislature and the governor's office in Arizona, and they have passed a ban on abortion at 15 weeks of pregnancy. Arizona voters have the power this election to flip the state Senate or state House, where Republicans have just a two-seat margin in each chamber.
State Supreme Court: Voters could reject up to three judges who are up for reelection, but this would not change its Republican majority.
Governor: Democrat Katie Hobbs and Republican Kari Lake were both vying for the governor's seat this election. Hobbs has said she will veto any legislation that restricts access to abortion and repeal the law currently on the books, while Lake voiced support for Arizona enacting a law that would copy Texas's restrictive S.B. 8, which bans abortion as early as six weeks. Hobbs ended up winning the close race, which bodes well for Democrats and abortion rights supporters.
Attorney General: Abortion was one of the top issues in this race, and Republican Abraham Hamadeh faced off against Democrat Kris Mayes, who was leading slightly as of Nov. 15.
Georgia
State Legislature: Georgia Republicans have instituted a ban on abortion at six weeks of pregnancy. Reproductive-justice advocates in the state had hoped to flip several legislative seats held by Republicans, though with the current majority, neither chamber changed hands during this election.
Governor: Abortion advocates had endorsed Stacey Abrams, the former minority leader of the Georgia House of Representatives, for governor. Abrams — a strong defender of voting rights — has been a longtime supporter of abortion rights, but she lost her rematch against incumbent Republican Gov. Brian Kemp. She conceded on Tuesday night.
State Supreme Court: The Georgia Supreme Court held elections in May and sits with a Republican majority.
Attorney General: Abortion advocates endorsed Jen Jordan, a Democratic state senator who staunchly opposes the state's ban. Jordan lost the race to Republican Chris Carr.
Kansas
State Legislature: Republicans in Kansas's state legislature currently have a wide enough majority to override any veto from Democratic Gov. Laura Kelly. However, voters rejected an Aug. 2 ballot measure this year that would have removed abortion protections from the state constitution. This vote makes it difficult for even Kansas's Republican majority to create restrictions.
That said, flipping three seats each in the state House and state Senate would remove the Republican supermajority.
Governor: Laura Kelly, the current Democratic governor of Kansas, ran against Republican Attorney General Derek Schmidt and won. This was a big win for abortion rights advocates and Democrats as a whole.
State Supreme Court: Not much movement is expected in the Kansas Supreme Court during this election.
Attorney General: Schmidt retired to run for governor against incumbent Kelly. To replace him, Chris Mann (D) and Kris Kobach (R) faced off for the position. Kobach ultimately won. He has called the state's ban on abortions after 20 weeks "reasonable laws that I know the overwhelming majority of Kansans would agree with."
Michigan
Ballot Measure: Michigan voters had the chance to directly decide whether to add protections for abortion rights to their state constitution this election. In a decisive vote, voters approved the amendment. The race was high-stakes, because if they hadn't approved the amendment, a pre-Roe abortion ban, currently blocked by the courts, may have gone back into effect.
State Legislature: Michigan's legislature is currently under Republican control, but flipping three seats in the state House or four in the state Senate could give Democrats the majority.
Governor: Democratic Gov. Gretchen Whitmer has blocked the Republican-controlled legislature's attempts to restrict abortion. Her reelection campaign against Republican Tudor Dixon, a businesswoman and conservative commentator, was one of the tightest in the nation. Whitmer narrowly won, which was also a huge win for abortion advocates.
State Supreme Court: The Michigan Supreme Court currently has a Democratic majority, and abortion advocates hope to keep it that way.
Attorney General: Attorney General Dana Nessel, a Democrat, ran for a second and final four-year term against Republican Matthew DePerno, an attorney who is known for his ongoing legal battles questioning the results of the 2020 election. Nessel, who won her race, has been open about her own history with abortion and appears to be a stable supporter of abortion access in Michigan.
Nevada
US Senate: Incumbent Democratic Sen. Catherine Cortez Masto ran one of the tightest reelection bids in the country against Adam Laxalt, a fellow former Nevada attorney general with deep ties to Reagan-era conservatism. Sen. Cortez Masto, who sits in a powerful position as a supporter of abortion rights in Washington, won the race — and, in doing so, ensured Democratic control of the Senate.
North Carolina
State Legislature: Although North Carolina's governor is a Democrat, Republicans would only need to add three seats in the House and two in the Senate to win a veto-proof majority in the general assembly.
Governor: Gov. Roy Cooper (D) is not up for reelection this cycle, but he has been an immovable force upholding abortion rights despite Republican efforts in the general assembly.
State Supreme Court: Voters flipped the Supreme Court on Tuesday to a conservative majority. This could have huge consequences for abortion access, particularly if the legislature becomes a veto-proof majority.
Attorney General: North Carolina Attorney General Josh Stein (D) is not up for reelection this year. He has loudly voiced his support for the right to abortion.
Pennsylvania
State Legislature: Republicans currently hold the majority in Pennsylvania's legislature, and it's likely to stay that way; otherwise, voters would need to overturn five Republican seats in the state Senate and 12 in the state House.
Governor: This race was competitive, with Republican Doug Mastriano up against Democrat Josh Shapiro, the state's current attorney general. Shapiro won narrowly, a boon to abortion advocates who see him as a governor who will be a reliable supporter of their cause.
State Supreme Court: The Pennsylvania Supreme Court has a 4-2 Democratic majority, with a vacancy that will be filled by the next governor. The court won't play a large role in this election.
Attorney General: Pennsylvania does not have an election for attorney general this year. Because Shapiro won the race for governor, First Deputy Attorney General Michelle Henry will take over as acting attorney general until a special election is held.
Wisconsin
State Legislature: Abortion-rights advocates are hoping to either flip some Republican seats or, at the very least, keep more Republicans from being elected and securing a veto-proof majority in the state legislature. Republicans need to win five more state assembly seats and one more state Senate seat to achieve this majority.
Governor: Joined by Attorney General Josh Kaul, Democratic Gov. Tony Evers has sued to block a ban on nearly all abortions in Wisconsin. The pair stand in opposition to the Republican-controlled legislature. Evers won reelection against Republican Tim Michels on Tuesday night, a win for abortion-rights advocates.
State Supreme Court: Wisconsin's Supreme Court will not hold an election this cycle.
Attorney General: Abortion advocates prioritized the reelection of Kaul, who has been a staunch supporter of abortion access. He was reelected alongside Evers.
How You Can Support Abortion Rights Besides Voting
Volunteer with an abortion-rights organization
There are a nearly unlimited supply of volunteer positions at activist and abortion freedom organizations. Around elections, canvassing is of utmost importance. People's Action has a comprehensive list of volunteer canvassing and phone-bank opportunities around the country, and Planned Parenthood released a guide on how to crowd canvass if you want to go out to spread your own message. Trust Women, a grassroots abortion-access organization, also has an intake form that helps match people with volunteer opportunities in their area.
"We are doing a ton of organizing . . . and that includes phone banks, text-bank canvassing, the whole nine yards," said Ally Boguhn, communications director for NARAL Pro-Choice America, a reproductive-freedom organization. "Those are some great options for folks to get involved and really make a difference, no matter where you live, no matter what your age is."
Besides rallying around Election Day, many organizations offer other ways to volunteer to help protect abortion access year-round.
Talk to loved ones about why abortion is a key issue
Especially for those who can't vote, it can be empowering to speak to family, friends, and other loved ones about why abortion is an important issue to you and to encourage them to support the cause themselves.
"We know that some of the strongest advocates and the folks who make the most persuasive arguments are young folks talking to the people in their lives," Boguhn said. "So that means talking to your parents, to your grandparents, to your friends, to your neighbors, about why this issue matters to you and how it impacts your life. That I think is really a key piece in this moment."
Young people are waking up in a world where they may have fewer reproductive rights than their parents did, making abortion a powerful issue to talk about with friends and family who can vote in contentious races down the line.
Fight disinformation or hateful speech online
In addition to voting, one of the most important actions abortion advocates can take is to educate themselves and their community about the role that myths and disinformation play in elections.
"If you're somebody who is interested in having a fair election and a secure, safe, meaningful democracy, it's imperative for all of us to take small but concrete steps to make sure that we're being good stewards of the internet ecosystem that we want to see as a whole," said Bridget Todd, director of public communications for UltraViolet, a national gender justice advocacy organization, and member of the Women's Disinformation Defense Project, a coalition of gender and racial justice groups that convened to fight disinformation during the 2020 election.
According to Todd, people can combat the spread of disinformation by never responding to an inaccurate or inflammatory post ("even if you want to dunk on it"), because that will help it spread thanks to the nature of most social media algorithms.
Todd recommends reporting inaccurate posts. And, she says, the best use of your time is to spend whatever energy you have "amplifying positive accurate information about the candidates' issues and the democratic process."
Want to read more about abortion access across the country? Check out POPSUGAR's 50 States, 50 Abortions, a large-scale storytelling project that aims to elevate the voices of people who've had abortions.
Source: Read Full Article