What Betsy DeVos Doesn't Get About Sexual Assault on Campus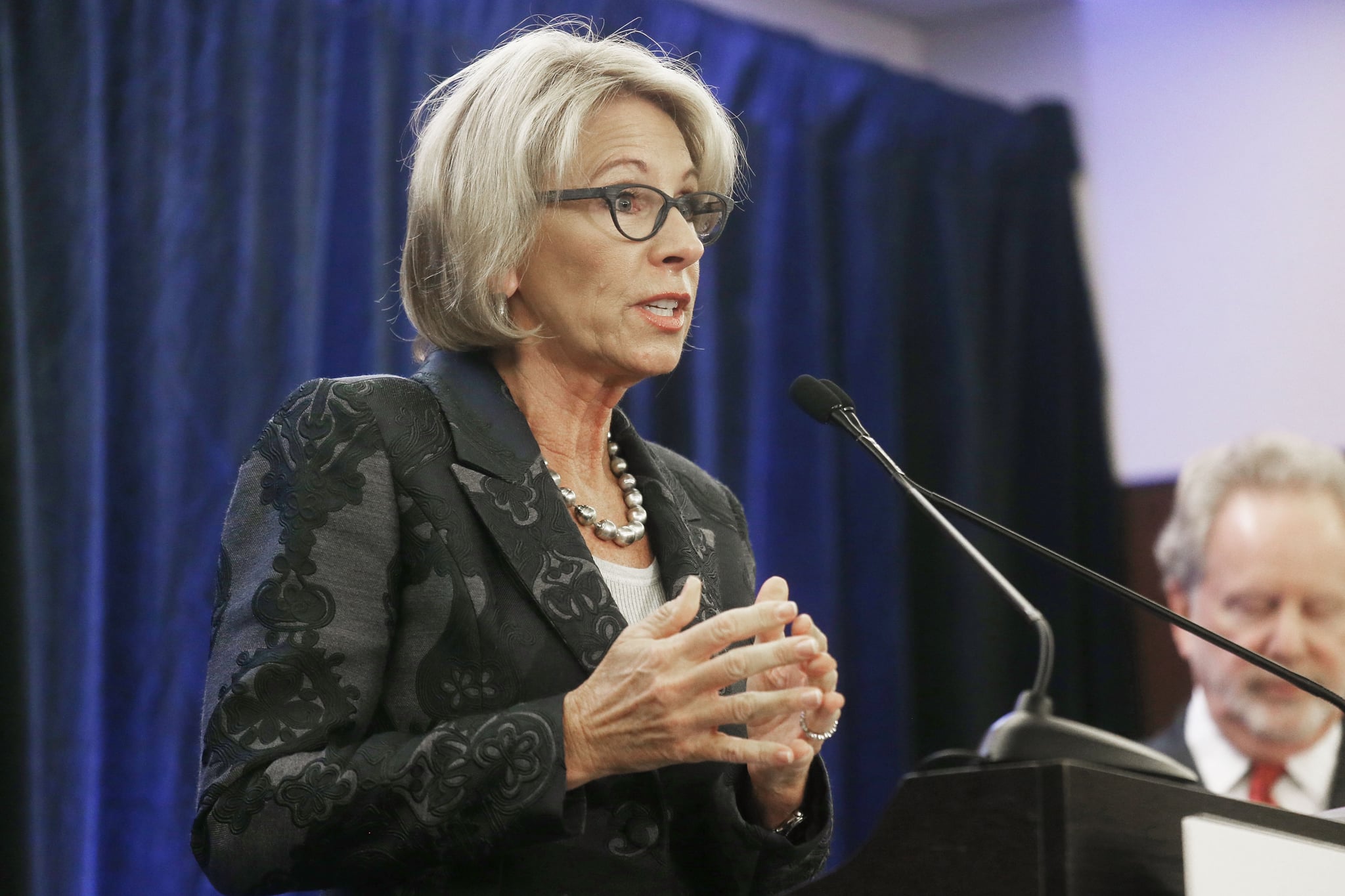 On Nov. 16, Education Secretary Betsy DeVos announced proposed changes to Title IX policy meant to bolster the rights of male students accused of sexual misconduct. The proposed changes include substantially narrowing the definition of sexual harassment, limiting schools' ability to investigate sexual assaults off-campus or school-owned facilities, and even allowing accused students to cross-examine those who accuse them, exposing survivors to being retraumatized by their attackers.
The disturbing underlying message of the Trump Education Department's policy proposals is that current Title IX policies have gone "too far" merely for making marginal progress to protect survivors on campus. To the contrary, evidence suggests current Title IX policy hasn't gone anywhere near far enough to protect survivors.
Despite Obama-era policy changes — which lowered the evidentiary standard for survivors reporting their assaults and required universities to resolve investigations of assaults in a timely manner — research has shown schools and universities remain hostile spaces for survivors. According to the National Sexual Violence Resource Center, more than 90 percent of campus sexual assaults remain unreported. And, unfortunately, students have good reason to fear coming forward. In numerous documented cases, students who report sexual assaults or harassment have been punished or retaliated against by school administration.
One high school student in Georgia who reported that she had been sexually assaulted was then suspended by her school for engaging in sexual activity on campus, according to a report in The Atlantic. At Brigham Young University, one student reported her experience being raped after taking drugs to the university, and told ABC she was disciplined by the university's Honor Code Office for drug use; other BYU students have reported similar experiences.
Fear of being blamed, socially ostracized, forced to talk to law enforcement, and perhaps mental health struggles can be factors in why survivors of campus sexual assault or harassment don't report. And all of these factors impact the living standards and academic performance of survivors. One 2015 report found that an estimated 34 percent of survivors of campus sexual assault, who are disproportionately people of color, LGBTQ+ people, and people with disabilities, drop out. In many cases, this is due to insufficient care, resources, and support from their schools in the aftermath of sexual violence.
In a personal essay for Broadly, Sage Carson, a survivor of campus sexual assault, recounts how experiencing rape while in college had affected her. "In the months following my assault, my grades steadily dropped. I isolated myself in my apartment and skipped most of my classes," she wrote. "My PTSD and anxiety caused me regular panic attacks when I tried to walk across campus, which made it impossible for me to finish any of my schoolwork." Carson, who was eventually forced by her socioeconomic situation to transfer to another college, recalls being forced to work with her rapist in the same small department, thus seeing him every time she went to class and triggering her anxiety and PTSD.
DeVos's proposed policy changes would only worsen survivors' exposure to their attackers or harassers. Specifically, DeVos would change the definition of sexual harassment from "unwelcome conduct of a sexual nature" to "unwelcome conduct on the basis of sex that is so severe, pervasive and objectively offensive that it effectively denies a person equal access to the school's education program or activity," which could dismiss many students' experiences with harassment and allow perpetrators to face no accountability.
Even without these policy proposals, which are meant to respond to a fear-mongering narrative of the falsely accused man, it's clear current Title IX policy is not doing enough to provide for the needs of survivors. Instead of working to reform the prevalent campus ecosystem, in which the vast majority of cases of sexual violence are not reported, the Education Department is promoting the false narrative that survivors have any reason to lie. In doing so, Trump and DeVos send a clear, discouraging message to those who may be on the fence about whether to come forward, considering most are unable to provide evidence beyond their testimony.
The proposed policy changes by the Trump Education Department ultimately signal whose experience on campus is the priority, and whose is worth sacrificing. As a result, campuses could soon become more dangerous and ill-equipped to provide for survivors than they already are.
Source: Read Full Article