UNC proposal to keep 'Silent Sam' on campus at new location triggers protest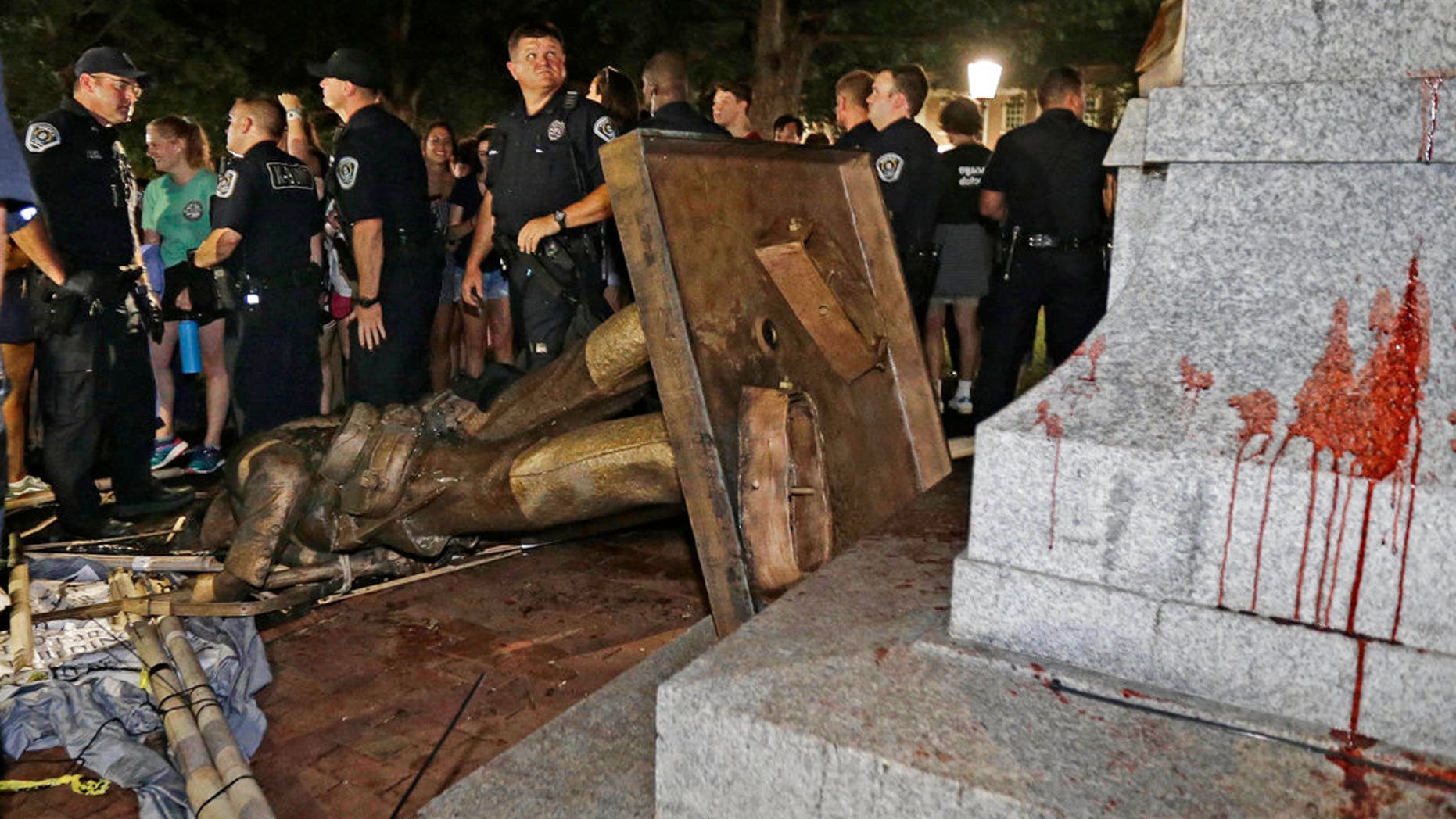 In this Aug. 20, 2018 file photo, police stand guard after the Confederate statue known as Silent Sam was toppled by protesters on campus at the University of North Carolina in Chapel Hill, N.C. A plan to move "Silent Sam" presented by the school on Monday sparked protests hours after campus trustees overwhelming approved the proposal.<br data-cke-eol="1">
(AP Photo/Gerry Broome, File)
A plan to move a Confederate statue presented by the University of North Carolina at Chapel Hill on Monday sparked protests hours after campus trustees overwhelming approved the proposal.
Chancellor Carol Folt's proposal included moving the statue — known as "Silent Sam" — into a new $5 million building on the outskirts of the school's campus, at a site a mile south of where the monument once stood. Only one trustee voted against it.
FLASHBACK: UNC CALLS OUR PROTESTERS' 'UNLAWFUL AND DANGEROUS' ACTIONS AFTER SILENT SAM STATUE TAKEN DOWN
Protesters on Monday night marched to the former home of the statue, peacefully but noisily. The statue's pedestal, which appeared to be boarded up, was guarded by university police.
As the protesters pressed against the railings, officers started passing out riot helmets. The protesters then began chanting, "We don't see a riot here! Why are you in riot gear?"
The protesters later began to disperse.
"Silent Sam," which was erected in 1913, was toppled in August by demonstrators who decried the statue as a symbol of racist heritage.
Folt — who acknowledged "the monument has been divisive for years" — at the time called their actions "unlawful and dangerous."
The chancellor and several of the trustees said they would have preferred moving the statue off campus entirely, but they were restricted by a 2015 state law on Confederate statues and other monuments. Folt said safety was chief among many factors considered in developing the new plan.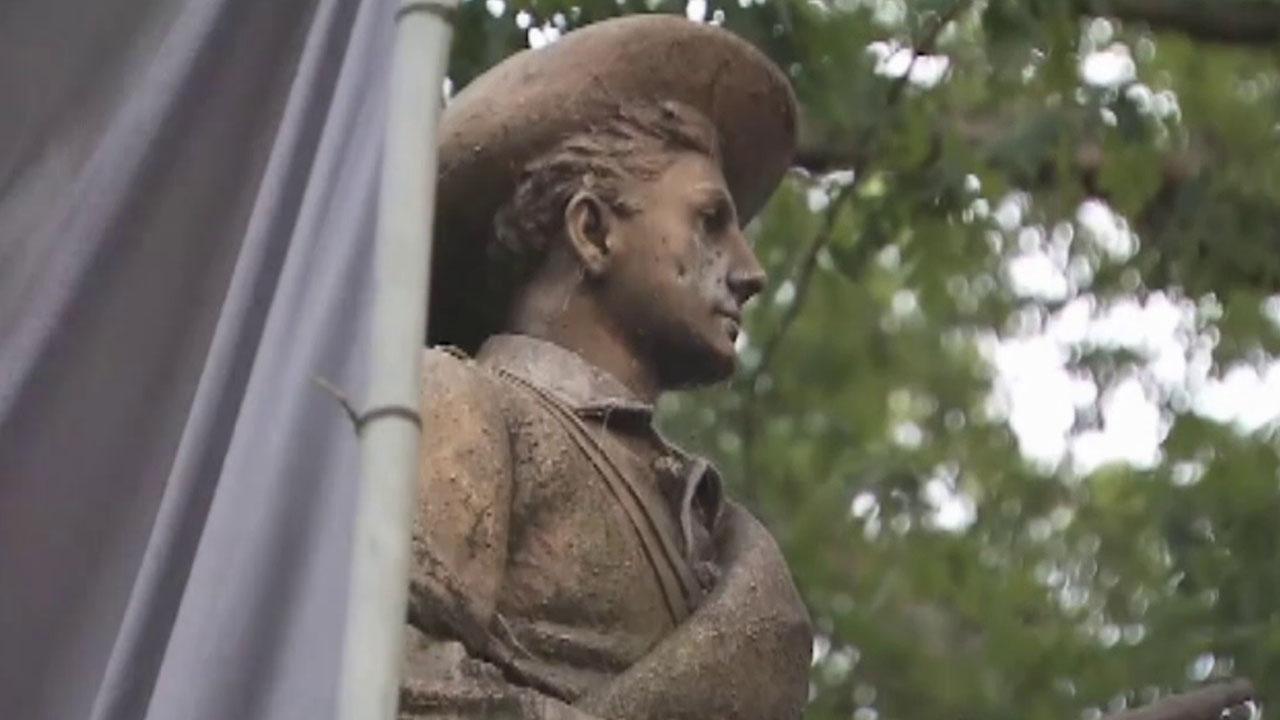 "It was very clear that public safety alone would make it impossible to return it to its base or any outdoor location on our campus," she said during the meeting Monday.
UNC isn't the first university to grapple with Confederate monuments and ultimately decide to move one indoors.
The University of Texas has removed several Confederate statues from an outdoor display, including a statue of Confederate President Jefferson Davis taken down in 2015 and now displayed in a museum.
North Carolina's law on historical monuments allows relocation in only narrow circumstances, such as to preserve the artifact or because of construction.
For more than a year before its toppling, "Silent Sam" had been the site of protests that intensified after a deadly 2017 white nationalist demonstration in Charlottesville, Virginia. In the weeks after Silent Sam was torn down, demonstrations for and against the statue continued, leading to arrests.
Amid these protests, the university vowed to come up with a "legal and lasting" plan for the statue, taking input from students, alumni, faculty, and others. It's been stored in an undisclosed location while the university developed a plan for it.
Already, critics of the statue have complained in online postings that the new plan is too expensive and that the statue has no place on campus, calling for renewed protests.
Fox News' Lucia Suarez Sang and The Associated Press contributed to this report.
Source: Read Full Article