Two American Mormons arrested in Russia, face deportation
Two American Mormons arrested in southern Russia have been found guilty of visa violations and now face deportation, according to the lawyer for the men.
The two U.S. citizens, David Gaaga and Cole Brodowski were detained since last Friday while inside a Mormon church in Novorossiysk, a city on Russia's Black Sea coast.
Police accused the two Mormons of violating the terms of their visas by teaching English to other members of the congregation, their Russian lawyer, Sergey Glinznutsa told ABC News by telephone. A district court in Novorossiysk on Wednesday convicted the two men of violating immigration rules and ordered their deportation.
Both men deny they were teaching English at the church, their lawyer said.
"They were just talking" and correcting people's pronunciation, Gliznuta said.
Russia's foreign ministry on Thursday said two other U.S. citizens arrested at the same time as Brodowski and Gaaga had already been deported by court order. A church official, however, said the unnamed Americans were not Mormons.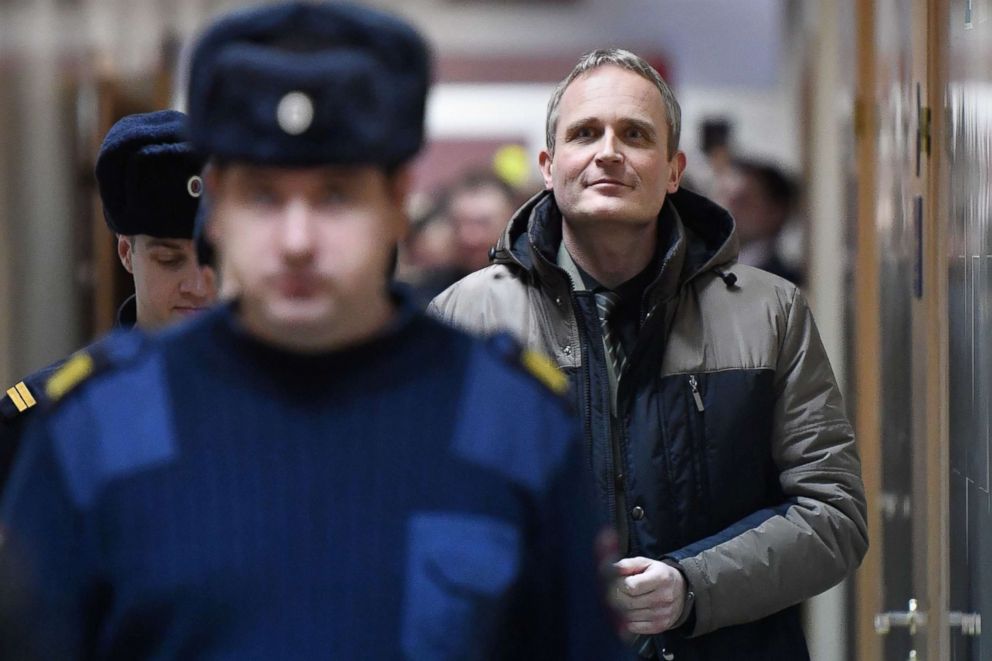 It was not clear why the two other Americans were detained and deported. A representative for the Russian branch of the Church of Jesus Christ of Latter-day Saints (LDS), Yuri Kozhokin, told the news agency, Interfax, that the two had nothing to do with the church and had been in Novorossiysk for a "commercial organization."
A court in Novorossiysk on Thursday rejected appeals by Brodowski and Gaaga, Gliznutsa said. It is unclear now how long the two might remain in the temporary migrant detention center.
A prisoner rights monitor, Anzaur Akhidzhak, who chairs the Regional Public Monitoring Commission, told the state's news agency, TASS, on Thursday that the "process is not fast." He said his commission would inspect the conditions at the detention center in the town of Gulkevichi.
There are more than 22,700 Mormons in Russia, according to the LDS news site. American members of the church frequently travel overseas for missionary work. Male followers spend two years dedicated to the religious work, going on what is referred to as a "mission" during which they seek to recruit local people to their faith. Male followers' "missions" usually last two years and as part of it they are expected to seek out possible converts on the street or through home visits.
That practice though has run into difficulty in Russia recently. A package of laws passed by Russia's parliament in July 2016 banned proselytising outside of places of worship, forcing the Mormons to curtail their traditional public efforts to recruit people to their faith.
The laws, which were billed as anti-terror measure, intended to prevent "extremism," have been used to target "foreign" minority religious groups that have longed been viewed with suspicion by Russian state authorities.
In 2017, Jehovah's Witnesses were banned outright as an "extremist" group, placing the organization in the same category as the Islamic State terror group. Since then Russian authorities have opened dozens of criminal cases against Jehovah's Witnesses and in February a court jailed a Danish member, Dennis Christensen, to six years on "extremism" charges, in a case that was condemned by human rights groups.
Last month, a group of seven Jehovah's Witnesses in the Siberian city, Surgut, accused police of torturing them in detention, beating them and shocking them with stun guns. The World Headquarters of Jehovah's Witnesses told ABC News there are currently 148 criminal investigations open against members in Russia, with 25 in pretrial detention and 27 under house arrest.
"The Jehovah's Witnesses are simply peacefully exercising their right to freedom of religion," Rachel Denber, deputy Europe and Central Asia director at Human Rights Watch in June denounced the crackdown directed against the Jehovah's Witnesses. "The Jehovah's Witness faith is not an extremist organization, and authorities should stop this religious persecution of its worshipers now."
Observers have linked the extremism laws and harsh treatment of the Jehovah's Witnesses to a broader clampdown on Russian civil society. Russian authorities have treated foreign organizations with greater suspicion since the crisis in relations with the West that followed the revolution in Ukraine and Russia's invasion of Crimea in 2014.
The Mormons have not faced comparable trouble. The church in 2016 pledged to obey the new law and redesignated its missionaries "as volunteers" and ordered them to adhere to the law's restriction that proselytising take place only in places of worship.
Shortly after the law's passage six Mormon volunteers were briefly detained in the city of Samara also on visa-related charges and then deported. Russia's Supreme Court in 2017 ruled the deportation had violated two of the men's rights.
Source: Read Full Article