Georgia jury sought charges against Republican senator in Trump election case
Save articles for later
Add articles to your saved list and come back to them any time.
Washington: A special grand jury that probed Donald Trump's attempts to overturn the 2020 election in Georgia recommended charging Republican senator Lindsey Graham and a string of other allies to the former president, but prosecutors ultimately decided against the move.
One week after Trump pleaded not guilty to election interference in Georgia, a newly released report has revealed that an Atlanta-based jury panel called for a slew of indictments that went far beyond the charges issued against the former president and 18 co-conspirators for allegedly trying to subvert Joe Biden's victory.
Republican senator Lindsey Graham in March 2022.Credit: AP
A special purpose jury empaneled to consider the evidence had recommended charging 39 people in total. This included Graham, a long-time Trump loyalist, as well as other high-profile Republicans, among them former Trump national security adviser Michael Flynn and former Georgia state senators David Perdue and Kelly Loeffler.
However, Fulton County District Attorney Fani Willis chose not to take up the recommendations, which likely meant she did not believe there was sufficient evidence to convict them beyond reasonable doubt.
Graham became part of the Fulton County inquiry over a phone call he made days after the 2020 election to Georgia Secretary of State Brad Raffensperger, asking whether Raffensperger had the power to toss out all mail-in ballots (postal votes) in certain counties.
Hundreds of people wait in line for early voting in Marietta, Georgia in October 2020.Credit: AP
At the time, Raffensperger – whose job is to run Georgia's state and federal elections – said he was uncomfortable by Graham's call as the South Carolina Republican seemed to be asking him to improperly find a way to set aside legally cast ballots.
However, Graham has repeatedly denied wrongdoing. Asked in November 2020 if he asked Raffensperger to throw out votes, Graham replied: "That's ridiculous. I talked to him about how you verify signatures."
On Friday, US time, he told reporters: "I called around different states, including Georgia, as a sitting United States senator and chairman [of] the Judiciary Committee. I eventually certified the election in all states – including Georgia.
"I didn't find any evidence of mass voter fraud, but I did have concerns about the mail-in ballot systems in Georgia and other places. This is troubling for the country. We can't criminalise senators for doing their job."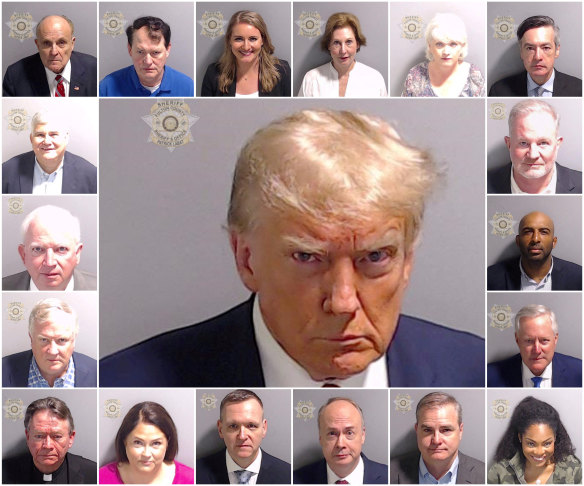 A combination picture shows police booking mugshots of former US president Donald Trump and the 18 people indicted with him.Credit: Reuters
There was no recording of the phone call, so it was one man's word against another – unlike Trump's damning phone call where he asked Raffensperger to "find" the 11,780 votes Trump needed to win Georgia.
The newly unredacted report that was released on Friday nonetheless provides the clearest insight yet into the secret jury's thinking as they probed for months whether Trump and his allies broke the law after losing the 2020 election.
The panel heard from 75 witnesses from June to December last year. In the end, Willis indicted 19 out of the 39 people named in the report, including Trump, his former lawyer Rudy Giuliani, former White House chief of staff Mark Meadows, lawyers Sidney Powell and Jenna Ellis and former Justice Department official Jeffrey Clark.
Meanwhile, as some of Trump's co-defendants struggle to cover their legal bills, the former president hosted a $100,000-a-head fundraising dinner for Giuliani at his Bedminster golf course in New Jersey on Thursday night (local time).
Before the event, Giuliani's son, Andrew, told local radio station WABC that the event was expected to raise more than $US1 million for his father and that Trump had committed to hosting a second event at his Mar-a-Lago club in Palm Beach, Florida, in coming months.
But even then, Andrew Giuliani said, "it won't be enough to get through this".
Giuliani was also found liable last month by a federal judge for failing to hand over information in a defamation lawsuit brought by two Georgia election poll workers, Ruby Freeman and Wandrea "Shaye" Moss.
They claimed there were falsely accused of fraud by the now disgraced former New York mayor.
The case now edges towards a trial in Washington that could result in Giuliani being ordered to pay significant damages to the women, in addition to the tens of thousands of dollars in legal fees he has already being directed to pay in that case, as well as the new costs of the Georgia trial.
Get a note directly from our foreign correspondents on what's making headlines around the world. Sign up for the weekly What in the World newsletter here.
Most Viewed in World
From our partners
Source: Read Full Article