Why Did Sebastian Stan Ride a Motorcycle Through Athens in the Nude? – The Cheat Sheet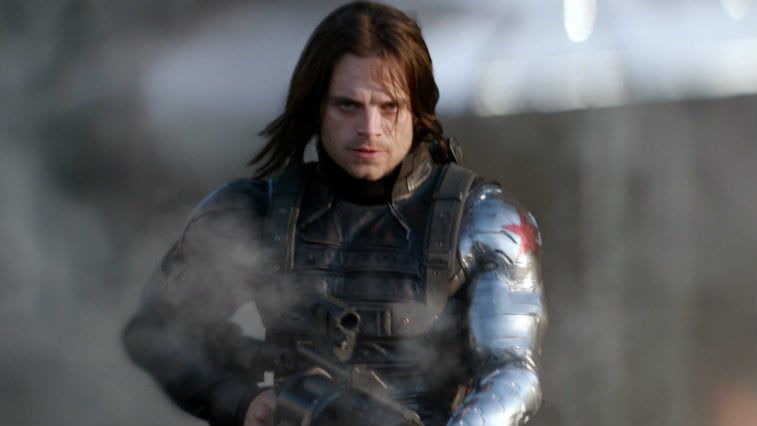 Sebastian Stan in Captain America: The Winter Soldier | Source: Marvel Studios
While actors are frequently required to bare their souls for onscreen performances, sometimes they are asked to bare even more. Such is the case for actor Sebastian Stan, who was snapped on Wednesday, November 28th, riding a motorcycle in the nude with the beautiful Irish actress, Denise Gough. The pictures made headlines even before the reason for Stan's racy motorcycle ride was revealed.
Why did Sebastian Stan ride a motorcycle through Athens in the nude?
It was bitter cold in Athens, Greece, when Stan and Gough sped through the streets on the yellow motorbike. They weren't the only ones out in the elements, but they were certainly the most exposed. In fact, Stan and Gough were filming scenes for their upcoming film Monday. They were joined on the jaunt by dozens of crew members, filming their escapade. The main difference? The crew was bundled up in cold-weather gear to protect them against the freezing elements, unlike Stan and Gough. Fortunately, filming time for the scenes in question seemed short, and one would hope the co-stars were hastily returned to the warmth of a trailer or building.
Monday is due to be released in 2019, and according to IMDb, tells the tale of two Americans living in Greece who plunge into a destructive romance. While it is too early to know much about the film beyond that, the revealing images of Stan and his co-star Denise Gough were certainly enough to start drumming up buzz.
Sebastian Stan's career so far
Sebastian Stan was born in Romania and moved to the United States when he was 12. He attended Rutgers University to study acting, and while he was very young, gained experience on stage acting in a wide variety of school plays. He started his film and television career with juicy roles in the popular TV show Gossip Girl and The Covenant.
Stan's first big breakout role in movies was in the 2010 thriller Black Swan. Stan garnered praise for his versatility and intensity, and soon, Marvel Studios came knocking. He signed on for a nine-movie deal and made his debut appearance as a Marvel antagonist-turned-antihero Bucky Barnes in 2011's Captain America: The First Avenger. Bucky Barnes became a fan favorite almost instantly due to the combination of deadly killing force and immersive, resounding personal history. Stan's portrayal of Barnes is widely considered to be not only one of the best villains in the Marvel Cinematic Universe but in popular film as well.
What's next for Sebastian Stan?
The character of Bucky Barnes will be returning for several more films, with one appearance being spoiled by Stan in the as-yet-untitled fourth Avengers film. In the meantime, legions of fans wait for more details about the beloved character and interact with Stan as he makes the rounds to various comic-cons, where he's become quite the fixture. Fans love Stan for his sense of humor and dedication to the Marvel comic book universe.
In addition to returning as Bucky Barnes, and the upcoming Monday film, Stan has even more on the docket for 2019. He'll be co-starring opposite screen giants William Hurt, Ed Harris, Diane Ladd, and Samuel L. Jackson (his Marvel co-star) in the dramatic war film, The Last Full Measure. Stan will also be starring in the new film, not yet titled, from acclaimed director Drake Doremus in 2019, opposite Shailene Woodley and Jamie Dornan.
With a net worth of $4 million and a red-hot career, Sebastian Stan is a star to watch. His range as an actor ensures that he'll be keeping the audience on their toes for years to come, especially with exciting stunts like nude motorcycle rides through Greece as a regular occurrence.
Source: Read Full Article