What Does Heidi Klum Like Best About New Fiance Tom Kaulitz?
Sorry, all you wishful single guys — you have to move on from Heidi Klum. The supermodel, former Project Runway judge, and perennial Halloween costume contest winner has a new beau, and they're getting married. Tom Kaulitz proposed to Klum on Christmas Eve, 2018, and she said yes. Here's what she likes best about her new fiancé, plus some background on how they met and how they announced their engagement.
How did Heidi Klum meet new fiancé Tom Kaulitz?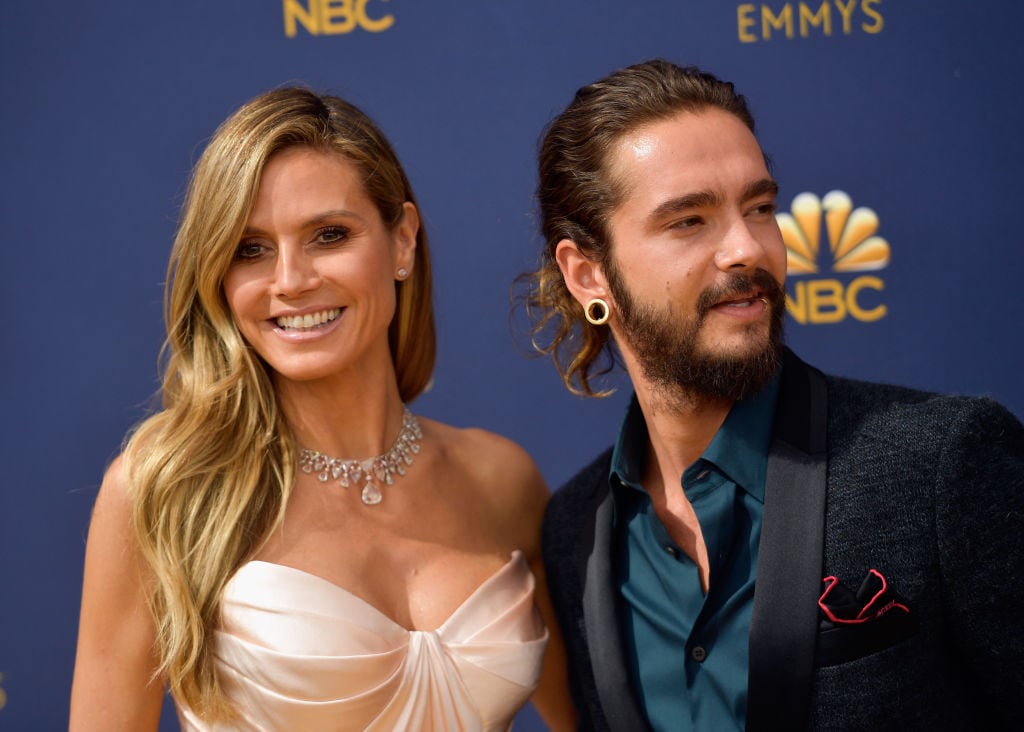 Heidi Klum and Tom Kaulitz attend the 2018 Emmys. | Matt Winkelmeyer/Getty Images
Heidi Klum is a busy woman. She's a model, an entrepreneur, and a regular on TV shows such as Ellen, The Tonight Show Starring Jimmy Fallon, and America's Got Talent. In addition to hosting Project Runway in the United States, Klum filled the same role on Germany's Next Top Model from 2006-17. Klum and Tom Kaulitz had a mutual friend through the German TV show, and that friend introduced them to each other, according to Us Weekly.
The publication reports Klum and Kaulitz went public with their relationship in March of 2018. The budding relationship started around the same time Drake got mad at Klum for ghosting him. The hip-hop superstar texted her in hopes of starting a relationship, but she ignored him.
How did they announce their engagement?
Klum hasn't been shy about sharing photos of Kaulitz on her Instagram account, and that's how she broke the news.
View this post on Instagram
I SAID YES ❤️
A post shared by Heidi Klum (@heidiklum) on
On December 24, 2018, she posted a photo showing her left hand resting on Kaulitz's cheek. If the size of the engagement ring wasn't enough of a sign, then her comment on the post sealed the deal. She wrote "I SAID YES" in all caps and finished it off with a heart emoji. More than 720,000 people liked the post in less than 10 days.
So how did they celebrate the good news? By going on a motorcycle ride to Malibu, California, according to the Daily Mail.
What does Klum like best about Tom Kaulitz?
We know Klum has a thing for musicians. Even though her first marriage to the singer Seal didn't work out, they still get along. Kaulitz is a guitar player in the band Tokio Hotel, but his musical talent is just one thing she likes about him.
View this post on Instagram
❤️
A post shared by Heidi Klum (@heidiklum) on
Klum, who turns 46 in June 2019, is several years older than Kaulitz, who turns 30 in 2019. However, one of the things she likes best about the relationship is that age is just number when she's with him. They don't talk about the age gap, and the only time it seems to be an issue is when other people talk about their relationship, according to her interview with InStyle.
Who else has Heidi Klum dated?
Kaulitz is the latest beau for Klum, the multi-millionaire mogul of fashion, design, and entertainment. She first dated Italian businessman Flavio Briatore and married hairstylist Ric Pipino before she married Seal, according to Ranker. Klum also had relationships with bodyguard Martin Kirsten and art dealer Vito Schnabel before meeting Kaulitz.
Check out The Cheat Sheet on Facebook!
Source: Read Full Article