TV's Breakout Comedy Stars on Pandemic Humor and Cancel Culture
TheWrap magazine: Hannah Einbinder, Maya Erskine, Charlotte Nicdao and Punam Patel talk about entertaining viewers — and themselves — during a difficult time
This story about Hana Einbinder, Maya Erskine, Charlotte Nicdao and Punam Patel first appeared in the Comedy & Drama Series issue of TheWrap's awards magazine.
The last 16 months have found people everywhere holed up in their homes and turning to television for the entertainment that can get them through times of isolation and turmoil. And those months have seen the emergence of a bumper crop of fresh voices, some of whom were doing great work before the pandemic and some who seemed to break out as the world shut down.
We picked four of our favorites for a photo shoot and a conversation that ranged from the changes wrought by the pandemic to the challenges of cancel culture to sex scenes.
The participants:
Hannah Einbinder, "Hacks"
A stand-up comedian and writer from Los Angeles, Einbinder goes head to head with Jean Smart on HBO Max's "Hacks." She plays Ava Daniels, a comedian whose job prospects dry up after an ill-considered tweet, and who finds herself hired by imperious comic legend Deborah Vance (Smart).
Maya Erskine, "Pen15"
Along with Anna Konkle, Erskine writes and stars in the Hulu series that revisits the constant humiliations of a pair of awkward 13-year-old girls. Erskine and Konkle, who are both in their 30s, play the 13-year-olds amid a cast of real teens.
Charlotte Nicdao," "Mythic Quest"
Australian actress Nicdao stars as brilliant but awkward gaming engineer Poppy Li in Rob McElhenney's AppleTV+ comedy about a dysfunctional video-game studio whose dysfunction is embodied in the stormy relationship between Nicdao and McElhenney's characters.
Punam Patel, "Special"
In Ryan O'Connell's Netflix series based on his life as a gay man with cerebral palsy, Patel plays Kim, Ryan's best friend and co-worker at the Eggwoke online magazine. The Florida-born actress of Indian descent landed an Emmy nomination for the first season, when "Special" was in the short-form categories; its second season finds the show moving to a longer comedy-series format.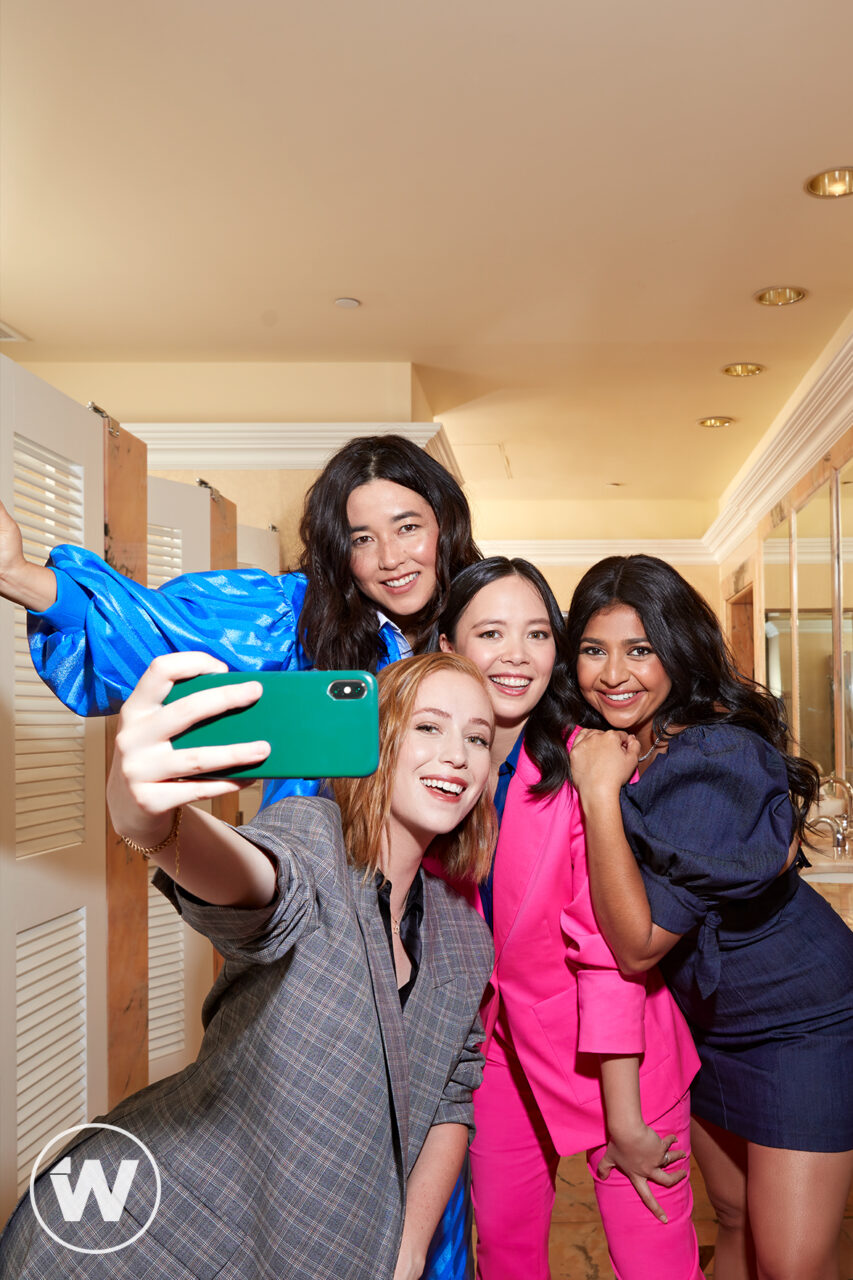 Maya Erskine, Hannah Einbinder, Charlotte Nicdao, and Punam Patel
Photographed by Corina Marie for TheWrap
Styling by Jordan Grossman and Kevin Ericson
Hannah Einbinder, "Hacks"
Photographed by Corina Marie for TheWrap
Charlotte Nicdao, "Mythic Quest"
Photographed by Corina Marie for TheWrap
Punam Patel, "Special" 
Photographed by Corina Marie for TheWrap
Maya Erskine, "PEN15"
Photographed by Corina Marie for TheWrap
Maya Erskine, Hannah Einbinder, Charlotte Nicdao, and Punam Patel are the cover stars on TheWrap's Comedy & Drama Series awards magazine
Maya Erskine, Hannah Einbinder, Charlotte Nicdao, and Punam Patel
Photographed by Corina Marie for TheWrap
Connect
Featured Blogs
WaxWord
Steve Pond
Tony Maglio
Alonso Duralde
BE Conference Blog
TheGrill Conference
Information
Masthead
About Us
Newsletter Subscription
CollegeWrap Magazines
OscarWrap Magazines
EmmyWrap Magazines
CannesWrap Magazines
Jobs
Contact
Advertise With Us
Privacy Policy
Popular Article Tags
Press Releases
Contact
Advertise With Us
Jobs
Privacy Policy
Source: Read Full Article