These 70 Christmas Movies Will Get You Into the Holiday Spirit ASAP
I know we're all supposed to say spending time with loved ones (and opening top-notch Christmas presents, obv) is the most important part of Christmas. But that probably became A Thing before we had a bajillion amazing holiday movies to choose from, to be honest. Even if you're spending the day off with friends or fam, there are still a glorious ~24 days~ (or more, if you start at Thanksgiving!) to keep yourself in the holiday spirit. If Christmas and holiday movies are your thing—congrats, you have taste and everyone knows it—then you are absolutely wealthy with options to watch.
Despite the ongoing debate about whether certain iconic movies are, in fact, Christmas movies (yes, Die Hard is on here, and I will not be taking questions), there's also a bunch of films on here that give the full snow-and-tinsel experience. There are some fam-friendly movies if you're watching together as you drift into a food coma, and then there are picks for watching with friends or after work with a warm beverage. Honestly, IMO, there's no better way to spend a day than bingeing a bunch of Hallmark Christmas movies while you nom on cute lil cookies and eggnog (either with a partner to snuggle or solo—you do you, bb).
So, to help you live out all your Christmas fantasies, we've made a list of old faves and new classics to watch, re-watch, and re-re-watch as much as you like. Here's our list of 70 of the best movies to watch when you're trying to get into the holiday spirit.
1. Elf
Will Ferrell is hilarious as Buddy, a human raised by elves at the North Pole. He travels to New York in search of his true identify and discovers that life outside Santa's Workshop is mean and scary but maybe totally worth it.
Stream It
2. The Knight Before Christmas
Fun fact, this is one of two Vanessa Hudgens holiday romance movies on this list! And although she doesn't play a princess in this one, she gets romanced by a cute medieval English knight (Josh Whitehouse) who somehow finds himself in present-day America. Vanessa's character, a science teacher, is disillusioned by love but starts to change her mind when she finds herself smitten with this stranger who magically appears.
Stream It
3. Frosty the Snowman
With a corncob pipe and a button nose, Frosty is hard not to fall in love with. This 1969 animated film about magic that brings a snowman to life is a classic for a reason. Also…the soundtrack still slaps.
Stream It
4. Planes, Trains and Automobiles
This one's from John Hughes, the genius behind Home Alone, The Breakfast Club, Sixteen Candles, and all your fave '80s flicks…so you know it's an absolute gem. Planes, Trains and Automobiles features John Candy and Steve Martin as rivals who are stuck navigating the mess that is holiday travel together on their way home for Christmas. (And without cell phones. Can you even?!)
Stream It
5. Die Hard
Yeah, it's an action movie, but as contrarians like to point out: It's also a Christmas movie. It begins on December 24 at a holiday party gone wrong. There's snow. The soundtrack includes "Winter Wonderland." Go with it.
Stream It
6. A Christmas Story
If you don't hear someone say, "You'll shoot your eye out," did Christmas even happen?
Stream It
7. 8-Bit Christmas
This is for all the nostalgia-lovers out there: an adult dad (Neil Patrick Harris) recounts to his daughter the saga of desperately wanting a Nintendo for Christmas in the 1980s. Sound familiar? (It's basically Christmas Story but in the 80s!) But it's also really cute.
Stream It
8. Little Women
This is a lot of things—specifically, a really good remake of the book, a way to fall in love with Timothée Chalamet and Florence Pugh—but it also happens to feature multiple idyllic Christmas celebrations. Sooooold!
Stream It
9. Carol
Fun fact, this is considered one of the greatest films of the 21st century—but also, it's about two women who fall in love over the Christmas season. Oh yea, and it's the 1950s, so things are complicated.
Stream It
10. Kiss Kiss Bang Bang
I'm almost positive this is a new one for ya, but it turns out a neo-noir black comedy taking place over Christmas, starring Robert Downey Jr. and Val Kilmer, and written by Shane Black (Iron Man 3) is the Mad Libs-worthy movie you didn't know you needed.
Stream It
11. White Christmas
If you ever thought, Hey, I love that "White Christmas" song! well, this movie is a must-see. The film featured a new version of the Bing Crosby cover that's also (kind of spoiler alert but not really) really integral to the plot of the film. If you like sweet and silly, put it on immediately.
Stream It
12. The Muppet Christmas Carol
I mean. If you grew up with this movie, you know why so many people love it. If you didn't, then please, I beg you, watch immediately. Michael Caine is giving 1000 percent, which honestly takes it from adorable to holy sh*t this movie is awesome.
Stream It
13. The Snowman (1982)
This short film is the perfect simple story about a boy and his snowman. Pro: You can watch the whole thing for free. Con: It will make you cry so hard.
Watch It
14. The Night Before
This is not a perfect movie, but the fun stuff will make you LOL hard enough to forget that. Three buddies come together to celebrate a wild, party-hard Christmas together—for the last time since they started doing it a decade ago.
Stream It
15. Single All the Way
You've heard the setup: Guy convinces BFF to be his fake boyfriend over the Christmas holiday. Feelings develop. Complications ensue! And, since it's a rom-com, everything turns out GD adorably.
Stream It
16. Batman Returns
Since this is Christmas/winter through the eyes of Tim Burton…it's a weird, dark, moody look at the holiday season. But it's also probably one of the best Batman films (don't fight me), and Christmas and horror go surprisingly well together.
Stream It
17. Better Watch Out
Speaking of! This is Horror with a capital H, but since it stars a bunch of tweens, it's both adorable and totally terrifying?? You'll be shocked by how good this is if your interests include both scary gore-fest and also Christmas.
Stream It
18. Mean Girls
All right, this is a stretch, but there is an iconic Santa dance so we're counting it. May your day be merry and fetch.
Stream It
19. Klaus
This animated Netflix original looks at Santa Claus before he was the jolly man in the red suit. It all begins with a town called Smeerensburg—a sinister place with a generations-old feud between two families. A new postman named Jesper gets deployed there and meets a lonely toymaker named Klaus. Together, they find a way to bring joy to the kids in the town and generate newfound holiday spirit.
Stream It
20. Noelle
Anna Kendrick plays Noelle, Santa's daughter who's the embodiment of Christmas spirit. But it's her brother, Nick (Bill Hader), who's taking over the family business. When the pressure becomes too much for him, Noelle advises that he take a bit of a break. Then he gets cold feet and never comes back….
Stream It
21. Holiday in the Wild
This movie isn't your typical holiday movie, mainly because it's set in Zambia as opposed to your usual wintery wonderland. It's an absolutely touching story about family, finding love, and finding yourself, but it also draws largely from Kristin Davis's own passion for animals, especially elephants.
Stream It
22. Last Christmas
Emilia Clarke and Henry Golding make an incredibly charming pair in this Christmas rom-com. Kate (Emilia) works as an elf in a year-round Christmas store, where she meets charming Tom (Henry). And although they don't get along at first, chance encounters keep bringing them together, and Kate's life seems to take a turn for the better.
Stream It
23. Holiday Rush
A popular radio DJ suddenly gets fired from his job. Now he and his four spoiled kids need to move in with his aunt. With Christmas just around the corner, he's got a plan to get back on the airwaves and provide for his family, but in the meantime, the entire fam has a few lessons to learn.
Stream It
24. The Princess Switch
Think The Parent Trap but with a Christmas twist. A Chicago baker (Vanessa Hudgens) goes on a trip to Belgradia (an imaginary European town) and discovers that the Prince of Belgradia's fiancée (also Vanessa Hudgens) looks exactly like her. They switch places for two days and lots of love and Christmas cheer ensues. It's super cute.
Stream It
25. Office Christmas Party
A CEO (Jennifer Aniston) announces that she's going to shut down her brother's (TJ Miller) branch, so he and his coworker (Jason Bateman) throw the biggest Christmas party of the year to try to save it. It's wild and hilarious, but there are still a few moments that will sucker punch you right in the feels.
Stream It
26. The Santa Clause
We were all obsessed with this movie as kids…but when you think about it, The Santa Clause is actually dark as hell. Tim Allen plays a divorced dad who accidentally kills Santa Claus and has to take over the role of Santa next Christmas. Excuse me? Who approved this? Whatever, it's still a fun movie.
Stream It
27. Just Friends
By now, it's no secret that Ryan Reynolds is funny—see Deadpool or his IG for proof—but this rom-com, in which he stars as a formerly overweight teen who inadvertently returns to his hometown for the holidays, was early proof that he's comedy gold. Anna Faris as a no-talent pop star is equally brilliant.
Stream It
28. Love Actually
"To me, you are perfect," is not the way everyone would describe this ensemble romance, but fans consider it peak holiday for its humor, warmth, and optimism.
Stream It
29. Gremlins
A young man receives a cute, furry creature called a mogwai (oof, parts of this movie have not aged well!) but fails to follow one of the three rules of raising it: He feeds the mystery pet after midnight. This leads to the rapid spawning of evil, destructive gremlins. You will *not* finish the movie hoping to find that present under the tree.
Stream It
30. The Preacher's Wife
Penny Marshall directed this charming remake of the 1947 film The Bishop's Wife, starring Courtney B. Vance as the preacher, Whitney Houston (who also sings on the soundtrack) as his wife, and Denzel Washington as an angel brought to Earth to help the family.
Stream It
31. The Family Stone
This may not be the tightest screenplay of all time, but it stars Sarah Jessica Parker, Rachel McAdams, and Diane Keaton—and they're only half of the stellar cast. Watch with red wine and you won't even notice its flaws.
Stream It
32. Home Alone
The magic of this movie is remembering a time when you were so young and wide-eyed that you really, truly believed if 8-year-old Kevin McCallister could pull off all those stunts, maybe you could too!
Stream It
33. The Holiday
Iris (Kate Winslet), who lives in London, and Amanda (Cameron Diaz), who lives in L.A., swap homes for the holidays and find love on the other side of the Atlantic.
Stream It
34. The Polar Express
Based on the children's book by Chris Van Allsburg, The Polar Express is a coming-of-age story that unfolds on a train ride to the North Pole. Maybe focus less on the "wow, the CGI looks creepy" aspect of it all and just focus on the magic, kay?
Stream It
35. About a Boy
Hugh Grant plays a spoiled man-child living off the royalties of his father's hit Christmas song. When he meets the titular boy while attending a support group for single parents—a ruse Grant uses to pick up women—he finally starts to grow up.
Stream It
36. A Very Harold & Kumar Christmas
If Die Hard can make this list, so can a stoner comedy. The movie follows the title characters on their journey to get a new Christmas tree. Trees, get it?
Stream It
37. The Best Man Holiday
College friends reunite for the holidays, resurfacing all the joy, love—and drama—of the past.
Stream It
38. Serendipity
This holiday movie is full cheese, but you can't deny the magic between Kate Beckinsale and John Cusack. Black cashmere gloves forever!
Stream It
39. Home Alone 2: Lost in New York
New York City, back at it again with the holiday charm. In the sequel to Home Alone, young Kevin finds himself living the life at the Plaza Hotel during the city's busiest and most beautiful time—that is, until the Wet Bandits catch up, forcing Kev to set up all his excellent traps at a relative's empty townhouse.
Stream It
40. A Christmas Carol (original title: Scrooge)
The 1951 Alastair Sim picture takes the figgy pudding as the best film version of the Dickens classic. Scary enough to qualify as a legit ghost story but also sappy enough to remind you it's a Christmas tale of redemption. Bonus points for the use of sad music to pull tears out of your eyes.
Stream It
41. How the Grinch Stole Christmas
There have been a lot of remakes, but the original's still (IMO) the best, simplest, and sweetest. Watch this before you watch any of the others.
Stream It
42. A Christmas Prince
This Netflix darling from 2017 checks all the holiday movie boxes: a handsome prince (Ben Lamb); a meet-cute that could definitely, maybe happen IRL between an aspiring young journalist (Rose McIver) and said prince; and all the charms of (fictional) Aldovia in the winter.
Stream It
43. Frozen
It's time to stop denying how many words you know to the Frozen soundtrack. Go ahead, sing your heart out. Again.
Stream It
44. While You Were Sleeping
After a transit token worker Lucy (Sandra Bullock) saves a handsome man named Peter (Peter Gallagher) from the tracks on Christmas Day, he falls into a coma. In an innocent mix-up, his family confuses Lucy for his fiancée and she ends up spending a chunk of the holidays with the group, which includes Peter's equally handsome brother Jack (Bill Pullman).
Stream It
45. It's a Wonderful Life
There's no better tradition than spending just over two hours with George Bailey, arguably one of Jimmy Stewart's best roles.
Stream It
46. The Nightmare Before Christmas
Go ahead, try to watch the Pumpkin King's valiant efforts in trying to recreate the spirit of Christmas Town in Halloween Town and not feel things.
Stream It
47. National Lampoon's Christmas Vacation
The third installment in the National Lampoon Vacation series, this film finds the Griswolds trying their best to get into the Christmas spirit. But this is National Lampoon, so there are some (entertaining) bumps along the way.
Stream It
48. Jingle All the Way
This '90s comedy stars Arnold Schwarzenegger and Sinbad as frazzled fathers on a quest to get the year's hottest holiday toy for their respective kids. Wacky situations, slapstick comedy, and cringey displays of consumerism ensue. It's not a good movie, but you won't hate watching it.
Stream It
49. The Christmas Chronicles
Real-life Greatest Couple of All Time Kurt Russell and Goldie Hawn as one of fiction's Greatest Couples of All Time, Santa and Mrs. Claus? Netflix's The Christmas Chronicles makes that exact Christmas wish come true.
Stream It
50. Scrooged
This modern retelling of the Charles Dickens classic A Christmas Carol is hilarious and pitch perfect. In it, Bill Murray plays Frank Cross (aka the story's Scrooge) as a high-powered and highly heartless TV exec who learns the meaning of Christmas (and living a meaningful life in general) when he's visited by three ghosts.
Stream It
51. The Grinch
The Grinch is a classic Christmas character, so it's no surprise he keeps popping back up in pop culture through seemingly endless retellings and reboots of the story from the Dr. Seuss children's book. (This one is better than the Jim Carrey version.)
Stream It
52. A Bad Moms Christmas
The cast of Bad Moms is a Christmas gift on its own, and getting these hilarious women back together for a holiday installment of the saga? Even better. Plus, the Bad Moms Christmas tale introduces the Bad Moms' moms, played by legends Cheryl Hines, Christine Baranski, and Susan Sarandon.
Stream It
53. Bad Santa
Sometimes you're in the mood for a dark comedy, even during the merriest and brightest of seasons—and that's where Bad Santa comes in. In the movie, Billy Bob Thornton plays a con artist who is gearing up for his annual Christmas con but struggling as he deals with his growing depression and alcoholism. Don't worry: It's funnier than that description makes it sound.
Stream It
54. To Grandmother's House We Go
This made-for-TV classic from the Olsen twins' heyday focuses on a pair of young twins (obviously) who run away from home to travel to their grandma's house in an attempt to give their overworked, stressed-out single mom a vacation when they overhear her having a mini breakdown ahead of the holidays.
Stream It
55. You've Got Mail
For two enemies to meet under the anonymity of the internet and fall in love online, it pretty much has to be a Christmas miracle, right? That's the premise of the Tom Hanks/Meg Ryan rom-com classic You've Got Mail—which includes some equally classic Christmas in New York moments.
Stream It
56. The Shop Around the Corner
If you love You've Got Mail, then you need to take the time to watch the movie it's based on, The Shop Around the Corner, starring Margaret Sullavan and James Stewart as the star-crossed enemies turned lovers. In the pre-internet version of the story, the leads fall for each other via personal ads in the paper, culminating in a romantic Christmas Eve reveal.
Stream It
57. 12 Dates of Christmas
Yes, this is another movie that feels like a younger sibling to Groundhog Day. 12 Dates of Christmas, starring Amy Smart and Mark-Paul Gosselaar, is the Christmas take on the concept. In the movie, a woman named Kate, who is woefully hung up on her ex, finds herself reliving the same Christmas Eve blind date over and over until she gets out of her own way and opens herself up to love and life.
Stream It
58. I'll Be Home for Christmas
Jonathan Taylor Thomas stars in this Christmas comedy as Jake, a selfish kid who plans to blow off his family's Christmas celebration in favor of spending a week on the beach with his girlfriend—until his dad bribes him with a vintage 1957 Porsche. The rules are simple: Be home in time for dinner at 6 p.m. on Christmas Eve and the car is his. But when Jake is robbed and left penniless in the desert by the bullies at his boarding school on the other side of the country, making that deadline becomes exceedingly difficult.
Stream It
59. Happiest Season
Abby (Kristen Stewart) and her girlfriend, Harper (Mackenzie Davis), have been together for a year and their relationship is getting serious. Now, they're spending the holidays together and Abby is going to meet Harper's family for the very first time. This would be a huge step for them as a couple—except Harper hasn't come out to her parents.
Stream It
60. Jingle Jangle: A Christmas Journey
Toy maker Jeronicus Jangle (Justin Cornwell, Forest Whitaker) was once full of magic, joy, and whimsy until his apprentice (Keegan-Michael Key) stole his most prized creation. But hope enters his life once more with the arrival of his granddaughter Journey (Madalen Mills).
Stream It
61. Krampus
Who said Christmas and horror movies had to be mutually exclusive? In this movie, a demonic presence called Krampus begins to prey on a family and they must band together to defeat the monster.
Stream It
62. Miracle on 34th Street
An old man named Kris Kringle fills in as Santa in the annual Macy's Thanksgiving Day Parade and people love him, but things change when he begins telling customers that he is the real Santa Claus, causing them to question his sanity.
Stream It
63. Barbie in the Nutcracker
This classic Christmastime tale gets a Barbie makeover. And honestly, this animated film has become a classic in and of itself. Clara wakes up one night and finds that her nutcracker doll has come to life. She becomes caught up in a battle with the Mouse King, is shrunk, and now has to find the sugarplum princess to undo the spell and save them all.
Stream It
64. A Charlie Brown Christmas
Charlie Brown becomes the director of their school's Christmas pageant at Lucy's suggestion. He takes the job but finds that it's much more of a struggle than he thought. All the while, he's trying to figure out what the true meaning of Christmas is.
Stream It
65. Get Santa
In this movie, Santa Claus crashes his sleigh, and the local police are out to get him. He has to ask for the help of a father and son to help save Christmas by gathering his reindeer to help him return home.
Stream It
66. Holidate
Sloane (Emma Roberts) and Jackson (Luke Bracey) are fed up with being single during the holidays, so they use each other as platonic plus-ones, or "holidates." This little scheme of theirs seems like the perfect plan, until actual feelings get in the way.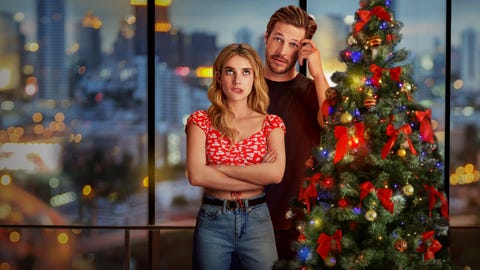 Stream It
67. Let It Snow
A snowstorm hits a small town on Christmas Eve, bringing a group of high school seniors together. They soon find their friendships and love lives entangled because of complications involving a stranded pop star, a stolen keg, a dance squad, a mysterious woman covered in tinfoil, and a big party.
Stream It
68. The Holiday Calendar
Abby (Kat Graham) is a struggling photographer who is talented but down on her luck. One day, she inherits an antique advent calendar that seems to have the power to predict the future. And it seems to be telling her that love might be in the air this holiday season….
Stream It
69. To All the Boys: P.S. I Still Love You
There's snow and a party involved, so it must be a holiday movie! In this second installment in the TATBILB series, Lara Jean (Lana Condor) and Peter (Noah Centineo) are no longer denying their relationship and are a full-fledged couple. But they quickly realize that comes with its own challenges too.
Stream It
70. Happy Christmas
Anna Kendrick likes starring in Christmas movies, y'all! Here she's the messy one, moving in with her brother's family, drinking too much, and generally just trying to pull her life together. It's all about the dysfunction (relatable!!), but it's actually v sweet too.
Stream It
Source: Read Full Article