The Truth About Sonny And Cher's Relationship
Cher holds the honor of being the sole singer to ever score at least one No. 1 "single on a Billboard chart in six consecutive decades," per The Ringer, between the '60s and the 2010s — but if it'd been up to her back in the Swinging Sixties, her first smash hit may never have been recorded. While appearing on "The Late Show with Stephen Colbert" in April 2021, the singer-actor revealed that she was less than enthused when her then-husband, the late Sonny Bono, woke her up in the middle of the night, excited about the duet he'd just written: "I Got You Babe." Cher recalled telling Bono, "This is a stupid song. I'm going back to bed."
Released in 1965, the tune soared to the top of the charts and propelled the duo of Sonny and Cher to the heights of pop stardom. Over the following decades, they very publicly navigated the ups and downs of fame, as well as marriage, parenthood, divorce, and new beginnings in Hollywood and beyond. Though their professional — and romantic — relationship didn't last far past the mid-1970s, Sonny and Cher have remained one of showbiz's most iconic pairings. 
Here's what you need to know about their relationship.
Inside Sonny and Cher's Hollywood coffee shop meet-cute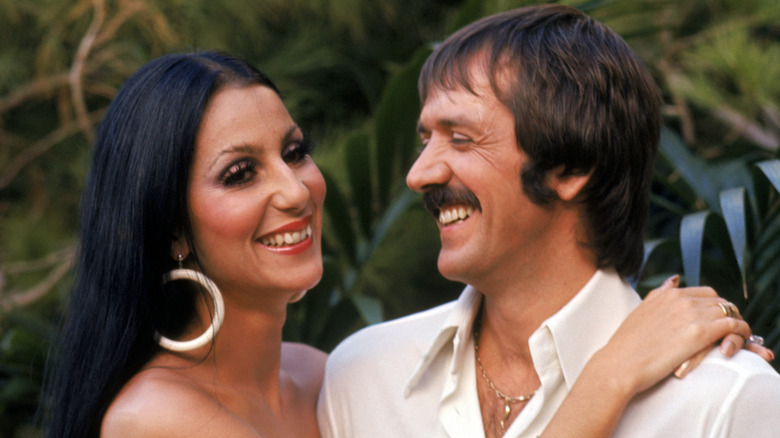 When Cherilyn "Cher" Sarkisian walked into Aldo's Coffee Shop in Hollywood for a double date with her roommate one afternoon in 1963, she wasn't expecting her life to change. But then Salvatore "Sonny" Bono showed up. "Everyone just disappeared," Cher told Elle in 2018. "He was the most unusual person I'd ever seen." As the "Believe" hitmaker recalled on SiriusXM's "The Cher Show: Making the Musical" (via People), her love-at-first-sight feeling wasn't mutual, as Bono was initially more interested in said roommate (with whom he'd originally been set up). "He liked her, so he didn't really say anything to me," she said.
Cher was living with some friends in a Los Angeles apartment at the time, after dropping out of high school due to her dyslexia. Bono happened to move in next door. When the 16-year-old Cher ran out of money, she didn't have to relocate very far: She moved in with Bono, who was 27 and had separated from his first wife. Bono, a singer-songwriter who was already working in the music industry at this point, quickly took notice of Cher's musical talents, and he helped her get gigs singing backup on classic hits like "You've Lost That Lovin' Feeling" by the Righteous Brothers. 
As Cher later wrote in her 1998 memoir, titled "The First Time" (via The Ringer), despite their auspicious start, it wasn't a straight path to happily ever after: "It wasn't quite a crush yet. It was more like hero worship. I thought the sun rose and fell on his a**."
Sonny and Cher started off with a different stage name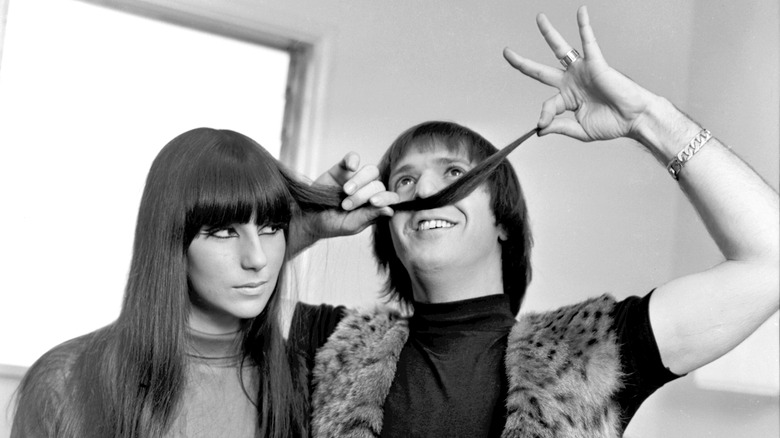 It may be hard to believe that the woman who wore a mesh thong bodysuit on an aircraft carrier in the "If I Could Turn Back Time" video was ever anything but a thousand percent confident on stage, but when Cher was just starting out, she didn't like performing alone. Her record-promoter beau, Sonny Bono, urged Cher to go solo, but she felt too nervous singing by herself — and so, the Sonny and Cher duo was born. Well, sort of. Per Billboard, they were originally known as Caesar & Cleo, before eventually landing on their household moniker.
"I was this massive amount of energy with no direction," Cher told the outlet in 2017. "I knew what I wanted to do, but I never would've gotten there without Sonny." Though their original stage name proved to be a bust, they made it big with the Bono-written No. 1 anthem, "I Got You Babe," in 1965. As Cher shared with Elle: "It sounds so dumb, but everything happened so fast. I didn't even know where I was. One day we were poor … three days later, we were famous."
With other hits like "The Beat Goes On" and a Grammy nomination for best new artist, Sonny and Cher were suddenly one of the biggest pop acts, but just like their flash success, they came to be seen as uncool by the end of the '60s. "We broke big barriers, but we didn't do drugs," Cher explained to Elle. "And we didn't change our sound."
The Sonny and Cher Comedy Hour was a hit in the 1970s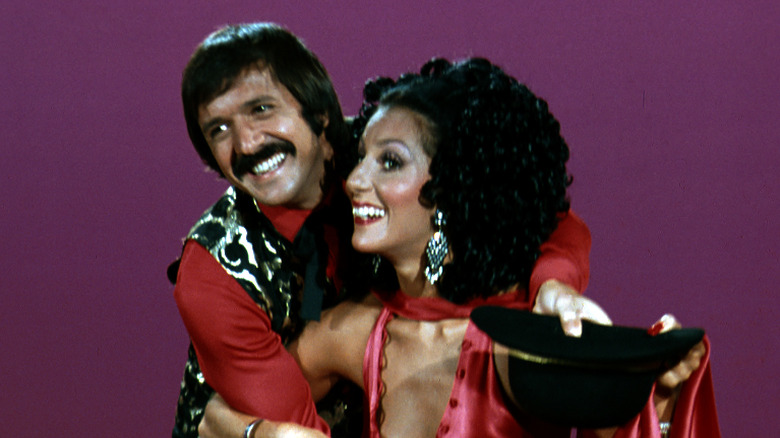 Sonny and Cher's popularity as a musical act waned in the late '60s, but their personal and professional lives reached new heights by the start of the next decade. In 1969, five years after they "married" each other at home in their bathroom (via Showbiz CheatSheet), they officially got hitched and also welcomed a child together, Chaz. That same year, though, Bono self-financed the movie, "Chastity," which starred Cher and bombed both critically and at the box office, leaving them broke.
But by the early '70s, Sonny and Cher were back on top of the world with the hit CBS variety show, "The Sonny and Cher Comedy Hour." On the series, which ran from 1971 to 1974, Sonny and Cher sang duets and welcomed famous guest stars while letting their marital banter take center stage. "He was Lou Costello, and I was Bud Abbott," Cher told Billboard in 2017. "I was the sharp one who looked good in clothes. Sonny was the lovable goofball."
With her signature long black hair and deadpan wit, Cher's wild and sparkly outfits added to the show's must-see status. Her legendary costume designer, Bob Mackie, described the lure to Elle in 2018: "She can look like anything. She loved getting dressed up, and nothing intimidated her. By the end, people were turning on the show just to see what she was going to wear."
Cher filed for divorce from Sonny Bono, claiming 'involuntary servitude'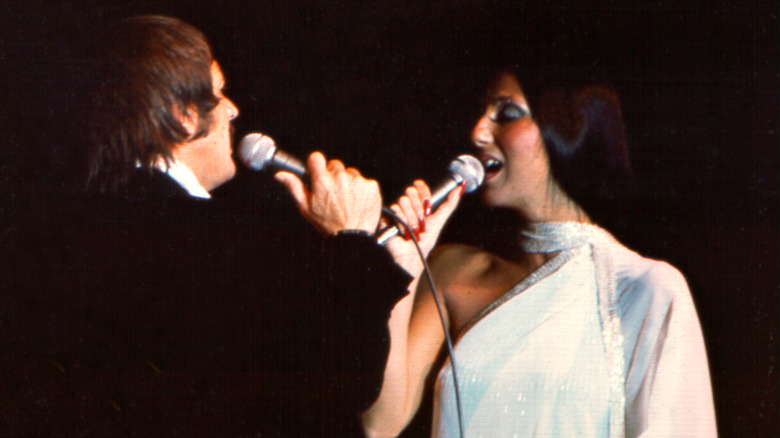 "Sonny and I have been together since I was 16," Cher told People in 1974, following her separation from Sonny Bono. "So we've been more than husband and wife. It's like husband, mother, brother, sister, daughter, father. To break up something like that is a hard thing."
Sonny and Cher's TV show was a hit in the early 1970s, but behind the scenes, their marriage was deteriorating. Both openly saw other people, but by 1974, Cher let it be known that she was tired of what she felt were Bono's controlling ways. She cited "involuntary servitude" when she filed for divorce that year, per Elle, and claimed their work arrangements constituted "a violation of the Thirteenth Amendment," as the outlet put it. In 2018, Cher alleged to Elle that Bono had told her at the end, "America will hate you and you won't have a job."
In his 1991 memoir, "And the Beat Goes On," Bono blamed the split in part on Cher supposedly not wanting to share the limelight, writing (via The Washington Post), "She really wanted to be bigger than [Bob] Dylan and [Mick] Jagger." When she left, Cher learned that Bono owned a 95% stake in their business, with another 5% belonging to their lawyer. With outstanding contracts broken, she even ended up "ow[ing] Sonny millions," according to Elle.
It was all forward movement, though, for the pop icon. Three days after finalizing her divorce from Bono in 1975, Cher married rocker Gregg Allman, with whom she had son Elijah Blue Allman.
After their split, both Sonny and Cher went on to bigger and better things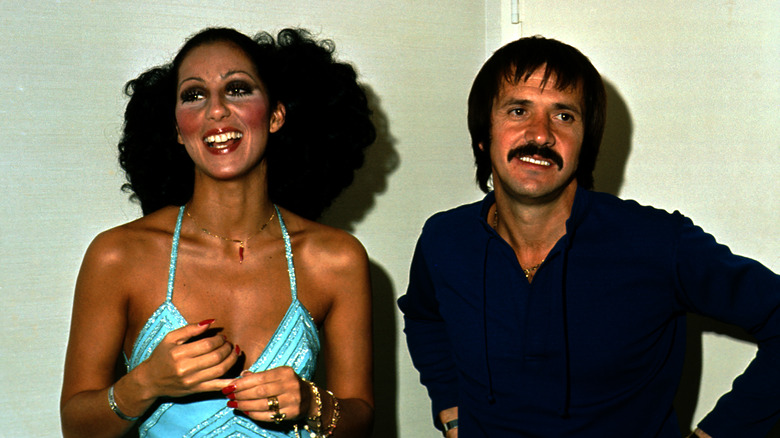 Following Sonny and Cher's divorce in 1975, the latter's solo career soared with hit singles like "I Found Someone" and "After All." And though her CBS variety show, "Cher," lasted just a year (from 1975 to 1976), she eventually found a new home on the big screen, starring in classic films like "The Witches of Eastwick," "Silkwood," and "Mask." 
In 1987, Cher starred alongside Nicolas Cage in the romantic comedy, "Moonstruck," and went on to win the best actress Oscar. "I don't think that this means that I am somebody," Cher said in her acceptance speech, "but I guess I'm on my way." In 2018, the multi-talent — who boasts a $360 million net worth — released her 26th studio album, "Dancing Queen," to coincide with her role in "Mamma Mia! Here We Go Again."
For Sonny Bono, Hollywood became less easily navigable after his divorce from the "Dark Lady" singer. He told David Letterman on "Late Night" in 1987 that his move into entrepreneurship and politics had been spurred on by his post-divorce lack of success. "I didn't leave it. It kind of left me for a while," Bono told Letterman. "After Cher and I broke up, it got really hard for me. I mean, I love show business." In 1988, he was elected mayor of Palm Springs, California, after delving into the restaurant business there (and becoming a first-time registered voter!). Representing California's 44th district, he was elected to the U.S. House of Representatives in 1994.
They often had an up-and-down relationship after calling it quits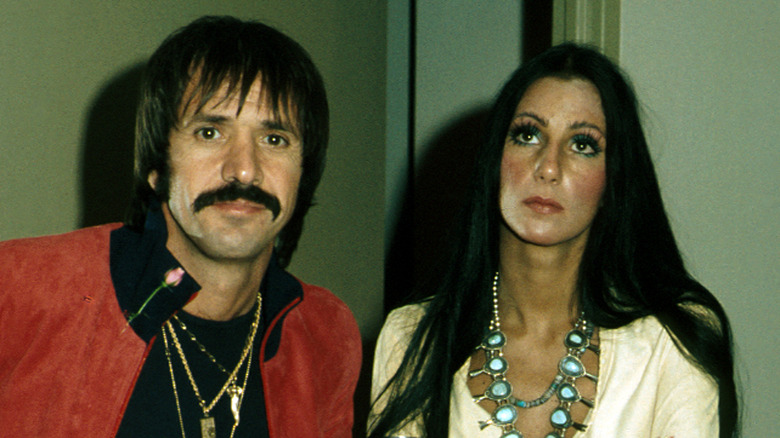 Despite their individual successes, things between Sonny Bono and Cher were sometimes strained following their 1975 divorce. In his 1991 memoir, "And the Beat Goes On," Bono claimed that his ex-wife had been checked out of their marriage and was more interested in fame, like practicing signing autographs in the mirror at home. "She wasn't a victim. It wasn't me [who was] fixed on the notion that we had to be stars," he wrote (via People).
Cher's reaction to Bono's book? "I think he should stick to writing songs. He does that better," she said in a statement at the time (via The Washington Post). The singer-actor added: "Of all the people who have known me well, Sonny knew me the least."
Over the years, Cher has talked about the enduring connection she shared with Bono, but also how she felt that he was too controlling. "He had made every decision for me," she claimed to Billboard in 2017. "I knew how to sing and how to be a mother. I didn't know anything else." However, Cher added, "I could forgive him almost anything. I mean, he tried to take our [child] away from me during the divorce, and it didn't work. The day our divorce was final, he grabbed me in front of the courthouse, bent me back, and stuck his tongue in my mouth. We were both laughing hysterically."
Sonny and Cher publicly reunited for the last time in 1987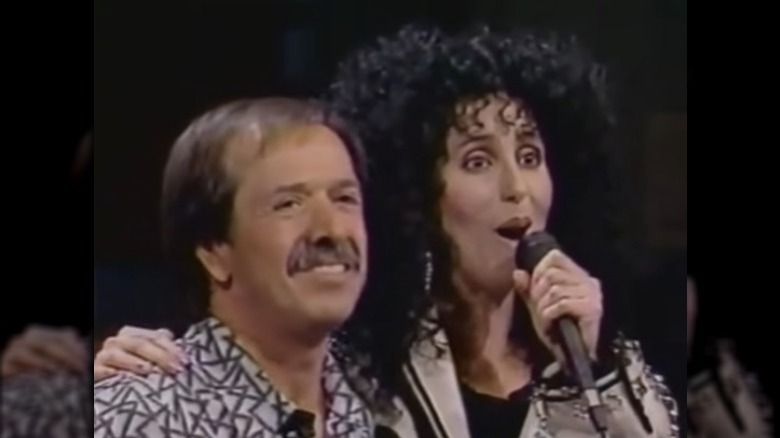 Cher hadn't been expecting to perform with her ex, Sonny Bono, when she agreed to appear with him on "Late Night with David Letterman" in 1987. But with some encouragement from the host, and wild cheers from the audience, the two were soon holding hands and singing their classic hit, "I Got You Babe." Bono even appeared to tear up at the end of the song.
Their late-night reunion marked the last joint appearance and performance of one of Hollywood's most popular couplings. Bono, who chatted with Letterman before Cher came out, talked about what went wrong in their relationship. "It is just so hard, I think, for two people to first be in love and then be partners and then be in show business together and go into business together and be equal in that business together and kinda stay married," he said. "It's impossible. … You lose the relationship."
But the bond was still there, according to Bono: "Cher and I have a thing that no one else will understand. … When we see each other, there's something that always connects us. … That won't ever go away." When Cher joined Bono in the interview, the two held hands, and the pop diva echoed her ex's sentiments. "We have a very strange relationship that no one will ever understand, except us," she said. Cher then joked, "Do you know what a scoop this is? … We shoulda gotten paid for this, Sonny."
Sonny Bono died tragically in a 1998 skiing accident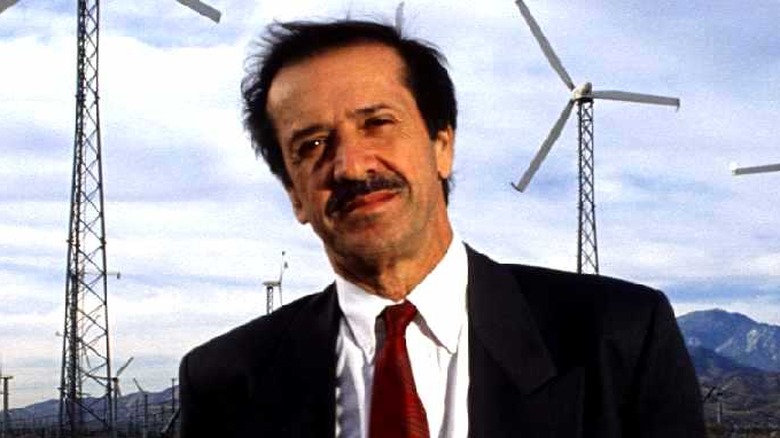 What was supposed to be a fun family getaway turned tragic on January 5, 1998. While skiing in California's South Lake Tahoe with his wife, Mary, and two young children, Sonny Bono crashed into a tree, per History. He wasn't wearing a helmet when the accident occurred. "We skied to the bottom, and he wasn't anywhere," Mary Bono recalled to the Desert Sun in 2017. "I was wondering if he fell, or if he went to the right and I went to the left — if he went down to a different chair." It took rescuers three days to locate Sonny's missing body.
The tragic news of the congressman and former entertainer's death sent shockwaves around the political and showbiz worlds. After the accident, Mary said Cher was "a constant source of comfort" and invited her to play a big part in the funeral. "I thought it was really important that all of the bad words, all the bad years, become meaningless," Mary told the Desert Sun. She went on to get elected and serve in her late husband's congressional seat until 2013.
At the nationally-televised funeral, Cher delivered an emotional eulogy for her late ex-husband and singing partner. "When I was young, there was this section in the Reader's Digest, and it was called 'The Most Unforgettable Character I've Ever Met,'" she said through tears. "And for me that person is Sonny Bono."
Cher went to court over royalties for herself and Sonny Bono's children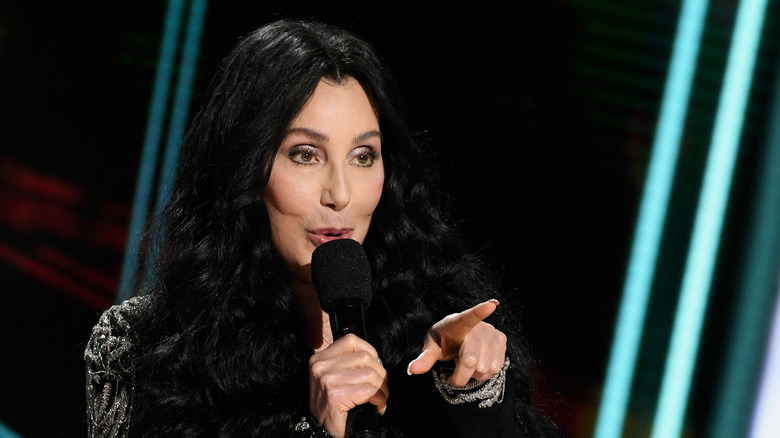 Cher once quipped to Billboard, "I loved all the men I was with, but I seem to have a two-and-a-half-year sell-by date." It's obvious, though, that her relationship with Sonny Bono was her most meaningful — and she's continued to fight for it.
In 2009, she sued Universal Music Group (UMG) for $5 million for royalties she believed were owed both to her and her late ex's four children. In the lawsuit, according to The Hollywood Reporter, Cher claimed that UMG "engaged in wrongful tactics" and hid profits from two of her greatest-hits albums.
While it's not clear what came of the lawsuit, in filing it, Cher was taking a stand not only for herself but also Bono's kids. Following their divorce in 1975, Bono and Cher had agreed to split the revenue that came in from their joint recordings. After Bono's untimely death in 1998, a third of his estate went to his widowed wife, Mary Bono, and a sixth of it was split among his kids (Christy, with his first wife, Donna Rankin; Chaz, with Cher; and Chianna and Chesare, with Mary).
Chaz Bono has been open about growing up with his famous parents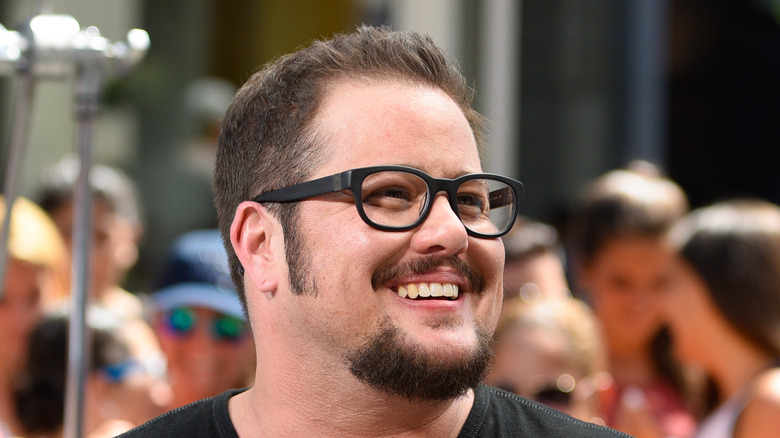 With Sonny Bono and Cher as parents, Chaz Bono wasn't just famous from a young age — he was also a featured player, frequently appearing on his parents' variety show, "The Sonny and Cher Comedy Hour." But as Chaz recounted in his 2011 memoir, "Transition: The Story of How I Became a Man," he doesn't see his early fame through the rosiest of rose-colored glasses. "For years, random people have approached me with their memories of me as a young child, hoping that I will share in their enthusiasm and offer a precious pearl of nostalgia from the family vault," he wrote (via The Buffalo News). "What they have never quite understood is that these memories are theirs, not mine."
When Chaz came out as gay, he shared that his father was accepting, but his mother was upset because she heard it from Sonny first and not Chaz. Cher and Chaz were not on good terms after that, but later reconciled. Sadly, at the time of Sonny Bono's death, Chaz and his father were "estranged," largely stemming from issues Chaz had with Sonny's Republican political stances, per the Desert Sun.
In 2020, Cher talked to CNN about how she evolved and came to accept Chaz after he came out and transitioned: "It was very unlike me to — in the beginning — have a problem with Chaz being gay, and it disappeared like that. … But then you have one child, but you don't really lose them — they just are in a different shape."
The beat goes on for Sonny and Cher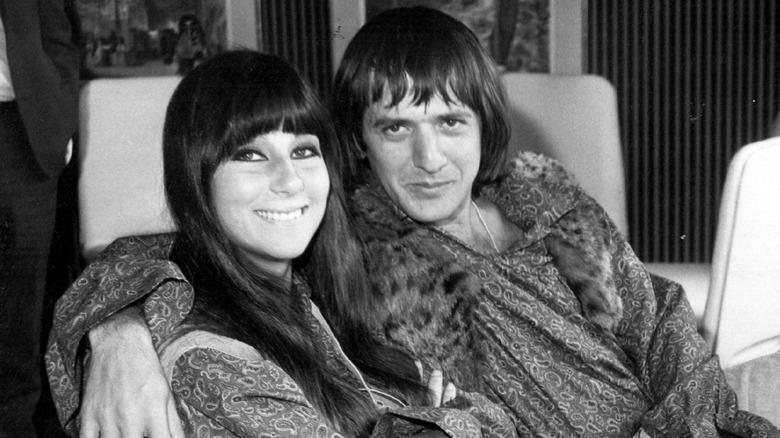 In the years after Sonny Bono's tragic death in 1998, his ex-wife and singing partner has talked about the ups and downs they faced as a couple and also the connection she continues to feel with him. "I wouldn't have left him if he hadn't had such a tight grip," Cher told Vanity Fair in 2010, adding that she felt "more like a golden goose than like his wife." She added, "I forgive him, I think. He hurt me in so many ways, but there was something. He was so much more than a husband — a terrible husband, but a great mentor, a great teacher."
Though they were legally married for only about five years, Sonny and Cher have remained one of Hollywood's most popular and iconic pairings — and their bond over the years has clearly endured. In 2002, Cher described a dream she had about Bono "right after he died" to Oprah Winfrey. "I saw him, and it was like sitting here seeing you," she said, explaining that she "kept talking to him, and he wouldn't talk back to me." Cher continued, "Then all of a sudden, he turned, and he smiled. And it was like the most real thing that has ever happened in a dream. And then he smiled, and I thought OK, well it's fine." 
Revealing that the dream helped her heal following Sonny's sudden death, Cher added, "I've never been close to anyone … other than him."
Source: Read Full Article