The Transformation Of Christina Ricci From Childhood To 41 Years Old
Christina Ricci became a household name when she still had her baby teeth. Her film debut saw her share the screen with big names, including Cher and Winona Ryder. Her second film was "The Addams Family," which immediately shot the middle-class girl to stardom for her masterful portrayal of the death-obsessed Wednesday Addams. Her subsequent appearance as the lead in "Casper" cemented her endearing image of dark, quirky teenager. And as such, Ricci wasn't immune to the hardships of navigating high school while working as an actor.
As a teenager in New Jersey, Ricci developed an eating disorder and struggled with depression and anxiety, she detailed to Rolling Stone. But Ricci sought professional help early enough and managed to find a healthy balance between her life and career. She soon transitioned out of her oddball teen roles and into more mature ones that were soon earning her accolades, including a Golden Globe and Emmy nominations. "I think the reason why many child stars don't make it is that it's hard to see someone as cute, and then all of a sudden they become adults. In hindsight, I was lucky that, when I was younger, nobody thought of me as cute," she told The Independent.
Ricci, who turned 41 in February 2021, is still in her prime. It just feels like she's further along in her career because, well, she has been in the spotlight for more than three decades. Keep scrolling to check out her amazing transformation over the years.
Christina Ricci got into acting to entertain her siblings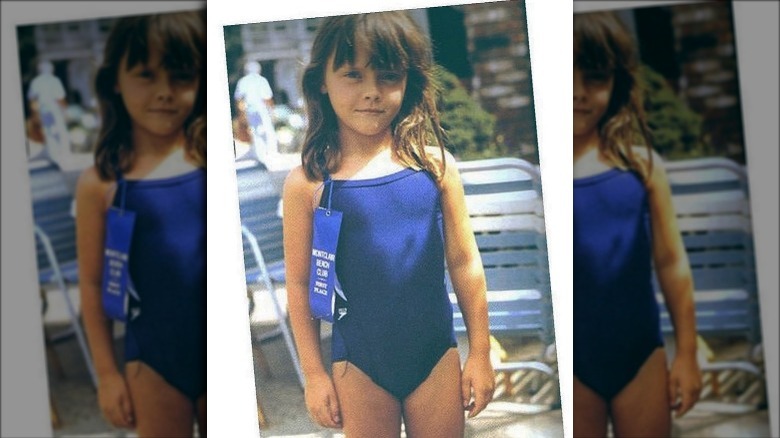 Despite hailing from Santa Monica, California, Christina Ricci has no ties to the entertainment industry and does not "come from money," she told The Guardian in 2011. Her earliest experience with acting took place on the school stage when she was 7, an experience not uncommon to many elementary school kids. But Ricci's abilities went beyond that of her peers, so the mother of a student pointed that out to Ricci's parents. Her three older siblings convinced her mom that Ricci should try out at auditions, an idea Ricci entertained to please them. "[They] bullied my mother into letting me make the decision. And they were so into it — they thought it would be hilarious, to see me on TV. And I was like, 'Sure, I'll do anything to make you guys laugh,'" she told the publication.
And, despite her last name, Ricci's ancestry is not all that Italian. In a 2003 interview, she explained that there was a Ricci on her father's side several generations ago. He married an Irishwoman and had several boys. They went on to marry into Irish families and have more boys, so the name lived on way longer than the genes. "[T]he Italian blood has been bred out of me… Now I'm basically Scots-Irish," she said. Nevertheless, her father showed he carries those few genes with pride when he named his children Rafael, Dante, Pia, and Christina. "He thought he was [a] Mafioso," she joked.
Christina Ricci was fiercely ambitious, even as a child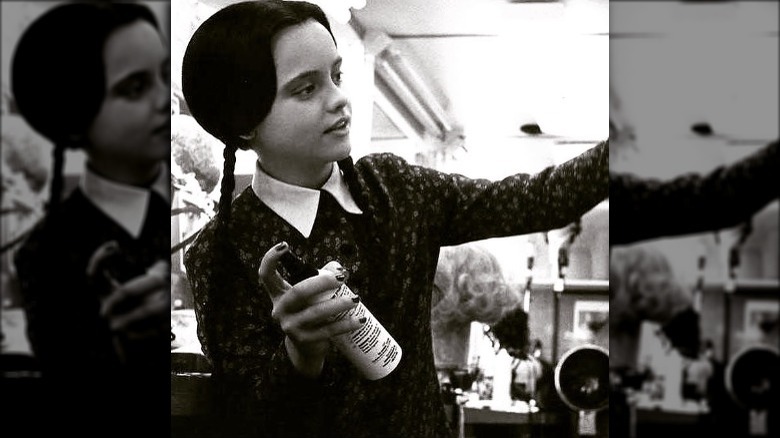 Just nine months after Christina Ricci starred in her elementary school's production of "The Twelve Days of Christmas" in 1987, she snagged a spot in her first commercial. In 1990, just three years after launching her acting career, Ricci starred in "Mermaids" opposite none other than Cher, as The Guardian noted. From Day One, Ricci decided she would succeed, no matter what. In a 2008 interview with New York Magazine, Ricci described devising a plan to eliminate her competition during the auditions for her school play: She basically taunted the boy until he hit her, which made him lose the part. "I've always been a really ambitious person," she said. I guess that's the first time it really reared its ugly head."
Ricci loved the whole thing. Even as a kid, she knew a normal childhood was not for her. "I always knew that I was kind of bored; the regular life of a child didn't fit me. I wanted to work. I wanted to be utilized," Ricci told The Guardian. A year later, Ricci became a household name when she portrayed Wednesday in the 1991 version of "The Addams Family," and again two years later in "Addams Family Values." Her performance captivated film critics, who praised her portrayal of the gothic teen. "Each [actor] has a few highlight moments, but for me, it was 13-year-old Christina Ricci, as the Addams daughter Wednesday, who stole the show," the Deseret News noted.
Christina Ricci struggled with an eating disorder as a teenager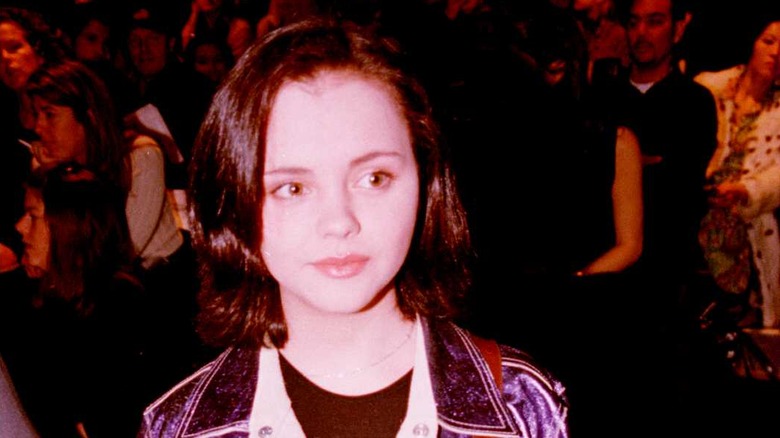 Even amid her growing success, Christina Ricci's family didn't pressure her, so she didn't look at acting as a job. "It was always something that me and my family had said I would keep doing until I didn't think it was fun any more," she told The Guardian. It was not until she was 14, right before she starred in 1995's "Casper," that Ricci decided she wanted to pursue acting as a career for life. Around that time, her parents divorced and Ricci became largely estranged from her father. She also began to feel the pressures of being a woman in Hollywood. Her early roles banked on her unusual looks, but being different is not exactly what the industry prefers. "I stopped feeling fabulous around age eleven. I got much less confident and more angsty," she told Rolling Stone in 1999.
During high school in New Jersey, she struggled with an eating disorder for a year-and-a-half, until therapy helped her control it, she said on The Talk. "It's just really awkward to go through puberty, and go through growing up and becoming a woman, when everybody is always kind of looking at you," Ricci explained. In her senior year, Ricci moved to New York with her mother — a period during which she gained weight quickly. She was not getting parts and her anxiety was getting the best of her, she told Rolling Stone. "I felt like a failure," she said.
Christina Ricci cemented her adult career with 'Sleepy Hollow' and 'Monster'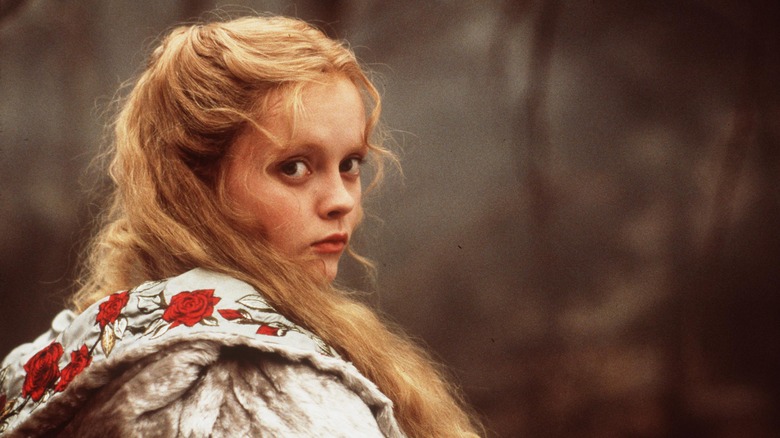 In 1997, Christina Ricci starred in Ang Lee's acclaimed film "The Ice Storm," which took 17-year-old Ricci to Cannes. A year later, she played the sexy lead in "The Opposite of Sex," and Ricci was feeling more confident. Her performance also earned her a Golden Globe nomination. "I started to do press again, and people really seemed to like me, so I thought, 'OK, so I'm fabulous again,'" she told Rolling Stone. As Ricci left her school years behind, she began to see that her looks could also be an asset. "This business is all about appearances, which leaves a lot of the more interesting roles to actresses like me," she told The Independent. 
In 1999, Ricci starred alongside Johnny Depp in Tim Burton's "Sleepy Hollow," a role that took her career to the next level. For her portrayal of Katrina Van Tassel, she won a Saturn Award. Her performance in "Prozac Nation" in 2001 — though the film itself received mixed reviews — once again was praised by critics. While her co-star stole the show in "Monster" (2003), Ricci's portrayal of Aileen Wuornos's young lover impressed the late-film critic Robert Ebert as "sublime acting in its portrayal of a bad actor."
Since then, Ricci has appeared in films almost every year. Alongside her film career, Ricci also dedicated quite a bit of time to TV, starring in ABC's "Pan Am" and in "Z: The Beginning of Everything" as Zelda Fitzgerald. 
Christina Ricci continued to work amid her contentious divorce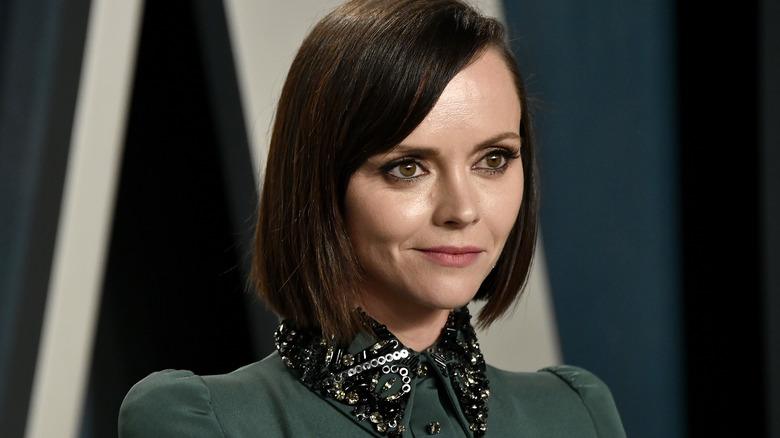 Christina Ricci's childhood eagerness for work has proved to be a lifelong trait. In 2020, she appeared in two films, "10 Things We Should Do Before We Break Up" and "Percy," and she's also set to star in the upcoming "Monstrous" and in "The Matrix 4," after her name was "quietly added to the star-studded cast list," as Deadline pointed out. On top of it all, Ricci is also working on Showtime's upcoming coming-of-age drama, "Yellowjackets," in which she portrays the adult role of one of four teenagers who survived a plane crash. 
Ricci managed to pack her work agenda even through a bitter divorce. In July 2020, Ricci filed for divorce from James Heerdegen, a camera technician whom she met on the set of "Pan Am" and married in 2013, according to People. Ricci requested sole custody of their son Freddie, born in 2014, as the divorce came just days after she was granted an emergency protective order over accusations of physical abuse, per a separate People report. In January 2021, Ricci received a restraining order and, in April 2021, the couple reached a custody agreement that determined Ricci would maintain full custody of their child, while Heerdegen would have visitation rights, as People detailed.
Freddie will travel with Ricci to Canada this year as she works on "Yellowjackets," an American-Canadian production, per People. In the past year, Ricci has shown just how strong and willful she has always been. 
Source: Read Full Article