'Stranger Things': Why Joseph Quinn Says His 'Ridiculous' Wig Is a 'Blessing'
Stranger Things characters have hairstyles reflecting styles from the '80s. Joseph Quinn explained why the wig for Eddie Munson helps him even if it's "ridiculous."
Joseph Quinn plays Eddie Munson on 'Stranger Things'
Season 4 kicked off with new high school characters at Hawkins. Eddie Munson is one of them. He made waves being energetic, having long hair, and being the leader of the Dungeons and Dragons club known as the Hellfire Club.
Some cast members must spend hours in hair and makeup to prepare for their roles. Netflix released a video of Quinn getting ready to play the high school student. The makeup artist clips the front of his hair puts on a wig cap and then puts the familiar wig on his head.
It's unclear what inspired their look of Eddie. But it's known his story was inspired by Damien Echols of the West Memphis Three. He and Jessie Misskelley, and Jason Baldwin were accused of murdering 8-year-old boys Steve Branch, Michael Moore, and Christopher Byers in a Satanic ritual in 1993 and were tried for it. Echols was sentenced to death, but new DNA evidence allowed him to enter an Alford plea.
Joseph Quinn said his wig makes him unrecognizable to 'Stranger Things' fans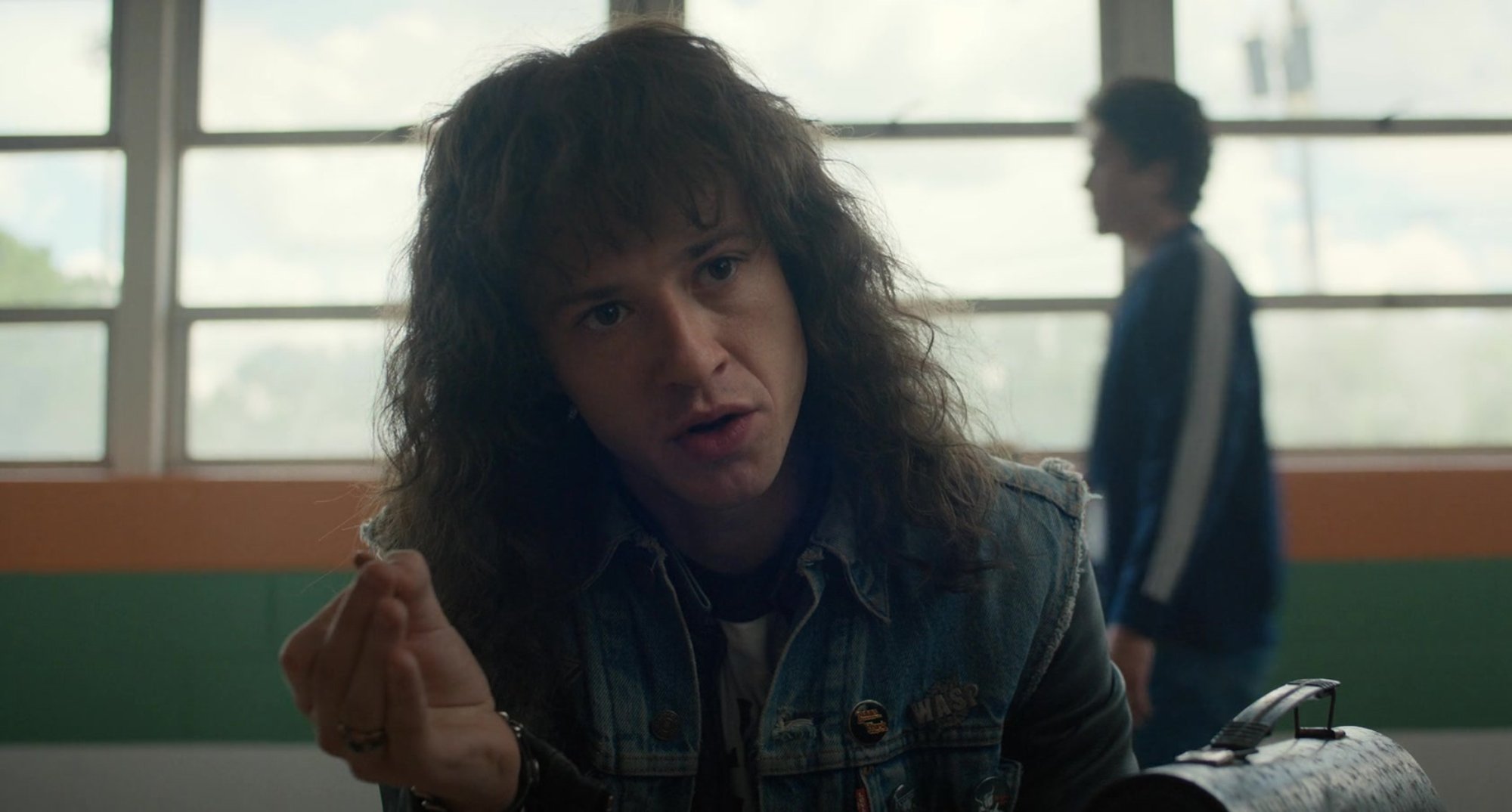 The actor talked about realizing how popular the new season of Stranger Things has become with The Guardian. "Mainly its influence on the zeitgeist," he said. "Kate Bush is now back in the charts, which is so cool. I was in LA last week and two cars drove past playing Running Up That Hill. I've seen people walking down the street wearing Hellfire Club T-shirts, which was spooky."
This might be a problem for the stars. But Quinn said there is one thing that helps him: his wig. 
"It's objectively ridiculous," he said. "When I take it off, that helps me go unrecognised, so it's been a blessing in that respect."
Other 'Stranger Things' stars wear wigs
Quinn is hardly the only actor to have a wig for his character. There were a lot of flashback scenes of Eleven (Millie Bobbie Brown) in Hawkins Lab in season 4. Instead of having her shave her head again, she wore a wig. 
But the one character who has the most similar hairstyle to Eddie would be from season 3 with Billy Hargrove (Dacre Montgomery). The character's mullet was a wig too.
There are some actors with longer hair that use their own hair for their characters, like Joe Keery, who plays Steve Harrington. Montgomery joked about this.
"It's a wig," Montgomery said, according to PopSugar. "I can only dream of growing beautiful locks like [Joe Keery]. . . . A lot of the crew didn't even realize that it was not my hair on the sides." So wigs have become very important to Stranger Things, and some stars are thankful for them.
Source: Read Full Article