'RHONY': Why Did Leah McSweeney and Dorinda Medley Have a Rocky Start?
Dorinda Medley and newcomer Leah McSweeney from The Real Housewives of New York City didn't exactly get off on the right foot.
Medley teased that she and McSweeney might endure some rockiness when she posted an early cast photo but placed an emoji over McSweeney's face. "Prepare to be SHOCKED 😱, " she shared on Instagram.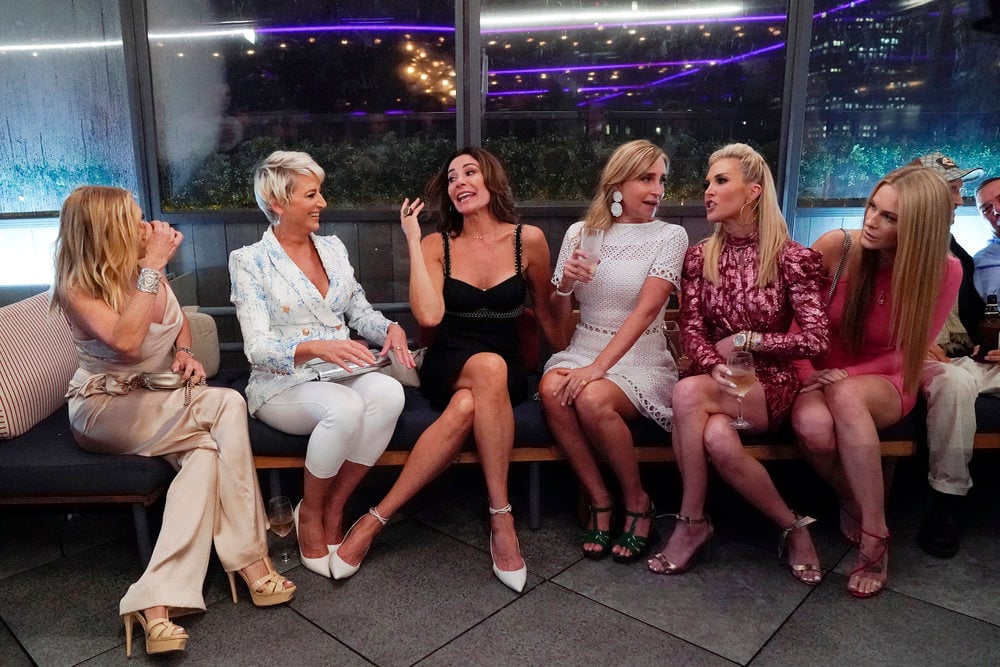 McSweeney told US Weekly Medley was a challenge to get to know in the beginning. "Dorinda was definitely the hardest on me in the beginning, but it didn't last long," she dished.
"And then once I got past this — she was a little cold to me — but once you get past that she's actually the warmest of everybody," McSweeney added. "It wasn't really joining the group that was intimidating it was more the, 'OK, I'm going to be on TV now and I'm not an anonymous person going through the world anymore,' which was kind of a mind F."
McSweeney and Tinsley Mortimer are friends (which may explain why Medley was cold)
Medley and Tinsley Mortimer tussle during a party. McSweeney sat next to Mortimer, trying to stay out of the fray, but at the same time, she wanted to have her friend's back.
Medley aggressively attacks Mortimer at the party while McSweeney sits by looking uncomfortable. Finally, she cannot remain silent any longer. "Why are you acting like this," McSweeney asks Medley when Medley likens Mortimer to a Kindergartener. "You're acting, like crazy."
"Dorinda looks like the snake from Beetlejuice," McSweeney says in a confessional. "Except even scarier and meaner." Medley walks away from the women saying, "You bore me. You bore me." But she then returns to dig into Mortimer saying she didn't have to "lay on her back" to earn her expensive shoes when one gets stuck. McSweeney's eyes become huge as she is in shock.
But Medley and McSweeney seem to work out their differences
McSweeney dished about her first season on the show in a Bravo Insider digital clip. She shared that Medley "scared" her. But ultimately, the two came together. McSweeney recently shared a photo of with Medley wearing matching t-shirts. "With my gangster boo  @dorindamedley  #ClipClipClip  #wellbehavedbitchesseldommakehistory," she captioned the photo.
Medley, in fact, has shared that she likes McSweeney.  "I was the old gangster in town, but this one I think, she's like Jesse James. I mean, I'm even a little taken aback by this one," she told Bravo. "She's blonde and blue-eyed as well, and she's quite a little number. I really like her. She's really good."  
What were McSweeney's first impressions of the rest of the cast? "Ramona [Singer] doesn't like it when I chew gum," McSweeney said in the Bravo Insider clip. But she added that her first impression of Singer was "Warm vibes but the eyeballs were like staring at me. And I was like, you need to bring them down a little." She also referred to Luann de Lesseps as being a "cool-ass countess." Sonja Morgan has "glowing skin" and Tinsley Mortimer is "actually a fairytale princess Barbie."
The Real Housewives of New York City airs Thursday at 9/8c on Bravo.
Source: Read Full Article