Marvel Hinted at the Avengers' Defeat in 'Infinity War' Years Before Thanos Landed on Earth
The Marvel Cinematic Universe (MCU) prides itself on being a series of adventures that appeals to just about every type of moviegoer. Such mainstream appeal is why the franchise has been able to endure more than 20 films, with many more to come. Still, the series took a dark turn in Avengers: Infinity War, a move Marvel teased years before it happened.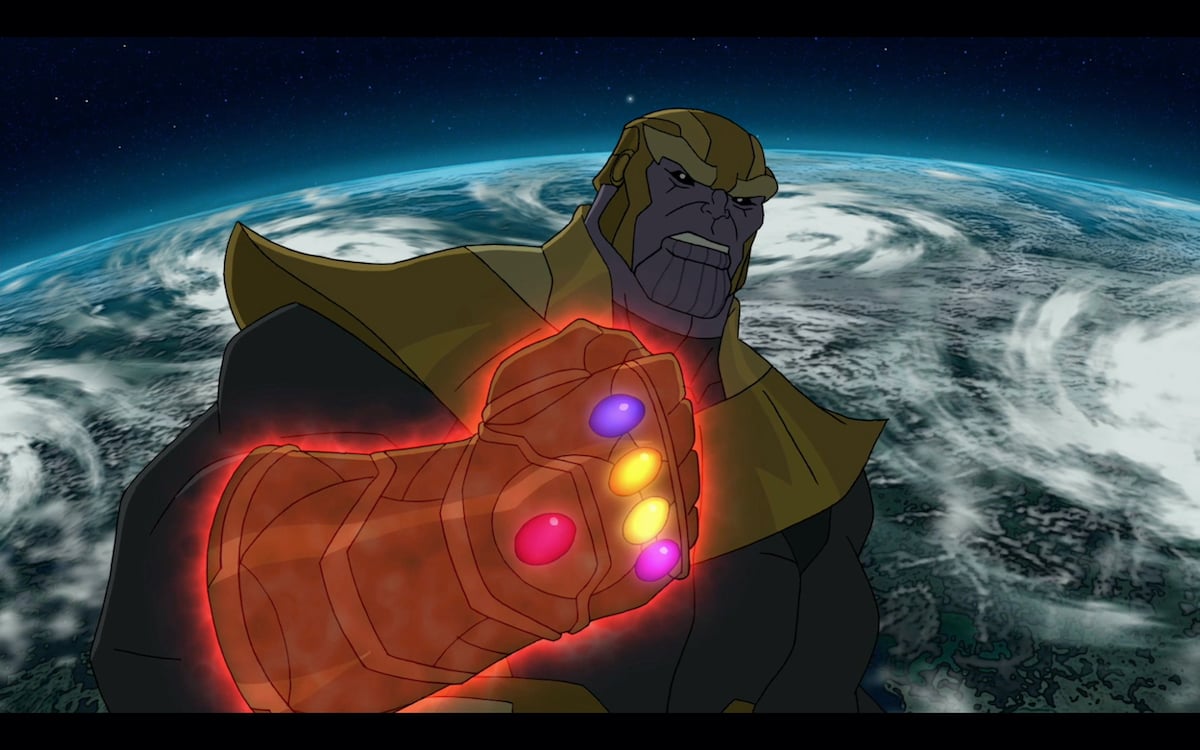 'Avengers: Infinity War' highlights the team's first epic defeat
For years, the Avengers went undefeated. Sure, Iron Man (Robert Downey Jr.), Captain America (Chris Evans), and company faced difficult odds. But they'd already triumphed over Loki (Tom Hiddleston) and Ultron (James Spader). So their victory seemed inevitable. But when Thanos (Josh Brolin) arrives in Avengers: Infinity War, fans knew the heroes met their match.
What better way to introduce the Avengers' latest challenger than having him defeat Thor (Chris Hemsworth) and Hulk (Mark Ruffalo) — not to mention kill Loki — minutes into the movie? The heroes already went their separate ways, which is a major reason why they ultimately fail to stop Thanos. But one hero called it two years before Thanos arrived on Earth.
1 hero's absence should have tipped fans off about the battle's ending
When Thanos arrives, most of the heroes scramble to assemble a last-minute defense. Iron Man and Doctor Strange (Benedict Cumberbatch) lead a group all the way to Thanos' homeworld of Titan. Thor heads off to find a weapon to defeat Thanos. Meanwhile, Captain America and most of the remaining heroes attempt to fend off Thanos' army in Wakanda.
Only two surviving heroes from Avengers: Infinity War return to help set things right in Avengers: Endgame. But while Ant-Man (Paul Rudd) inspires the heroes to embark on a "time heist," it's surprisingly Hawkeye (Jeremy Renner) who makes the biggest difference. Infinity War is notably the first and — so far — only Avengers movie in which he doesn't appear.
Rather, Hawkeye is retired when Thanos arrives. As ComicBook.com points out, Hawkeye is apparently the glue holding the MCU together. As the character observes in 2016's Captain America: Civil War, "I retire for what, like, five minutes, and it all goes to s**t?" The line is humorous in context but reveals a fundamental truth about how much the Avengers need him.
Hawkeye will likely head back for retirement after his Disney+ show
Hawkeye seems like the Avenger least eager to keep fighting. For that reason, it's ironic he is one of the only original Avengers who returns in Phase 4. Renner is signed on to star in the Disney+ series Hawkeye. But rumor has it the series will likely wrap up his run in the MCU, as his Clint Barton trains a new Hawkeye in young Kate Bishop.
After the Hawkeye show, Renner's character will likely retreat back into retirement for the third time in his MCU run. Hopefully, if he has a replacement lined up, this attempt at stepping away from the hero business will yield a more positive result than the first two. If another Avengers-level threat shows up, another archer will be ready to fight back in his absence.
Source: Read Full Article