'Friends' Christmas Episode Guide: How to Watch the Festive Episodes This Season – The Cheat Sheet
'Tis the season for binge-watching your favorite holiday-themed movies and television shows. Speaking of which, many want to know: Does Friends have a Christmas episode? The hit television series doesn't just have one Christmas episode, it has a total of nine episodes to help spread some holiday cheer. Get festive with our Friends Christmas episode guide.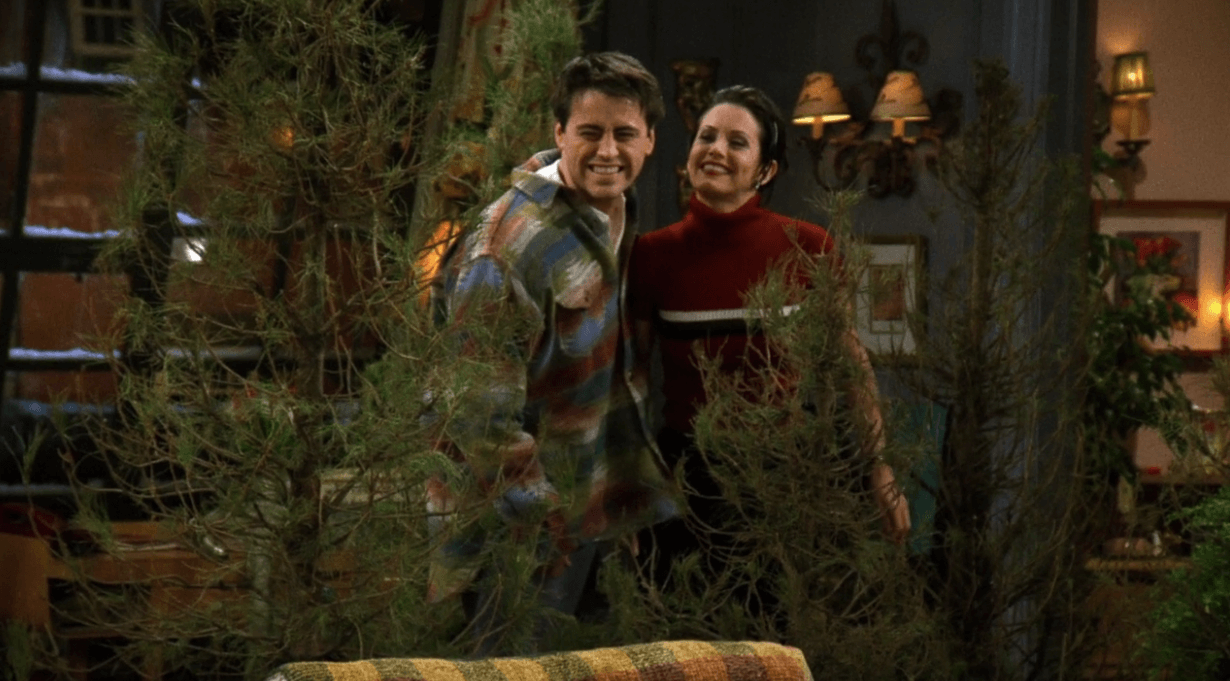 'Friends' Christmas episodes showcase many diferent sides to the holiday. | NBC via Netflix
Does 'Friends' have a Christmas episode?
Friends is one of the most festive throwback shows. Not only did the series include a Thanksgiving episode in nearly every season, but it also got in the spirit of the season with Christmas episodes, too. That said, not every Friends Christmas episode is decked out with holiday cheer. Some of them tackle real-life holiday scenarios like family trouble, spending the holidays alone, and even worrying about who you'll ring the new year in with. Curious to know more about the Friends Christmas episodes? We share a guide, ahead.
'Friends' Christmas episodes in order
If you want to ring in the holiday season with Friends, you're in luck. There are 9 official Friends Christmas episodes to watch this season. Up ahead, we share all the Friends Christmas episodes in order, plus a sneak peek at what each episode is about in our Friends Christmas episode guide.
Season 1: 'The One With The Monkey'
Friends kicks off the series with a Christmas episode that focuses mostly on New Year's Eve. And, while it's not exactly the holiday episode you might be looking for, it does spread a decent amount of holiday cheer and touches on a very real topic: What it's like to be single around the holidays. The group spends most of the episode worrying about who they will spend New Year's Eve with, but they ultimately learn a very valuable lesson about friendship during the holiday season.
Season 2: 'The One With Phoebe's Dad'
It wouldn't be the holidays without a little family drama. After learning that her grandmother lied to her about who her real dad is, Phoebe goes on a mission to find him in The One With Phoebe's Dad. Meanwhile, back in the city, Ross and Rachel are still upset over the pros and cons list, which puts a damper on their Christmas spirit. Luckily, Joey and Chandler save the day with hilarious gifts from a gas station pit stop they went on while helping Phoebe find her dad.
Season 3: 'The One Where Rachel Quits'
Quitting your job around the holidays might not be the best idea, but Rachel is willing to risk it (and, it ultimately pays off). In the season 3 Friends Christmas episode, a fed-up Rachel quits her job as a waitress at the coffee shop to pursue her dream of working in fashion. At the same time, Phoebe discovers what happens to unwanted Christmas trees and has a hard time dealing. Fortunately, Joey saves the day with a sweet holiday gesture.
Season 4: 'The One With The Girl From Poughkeepsie'
This episode doesn't really feel like a Christmas episode. However, it plays an important part in the Friends Christmas episode guide, as it is the one where Phoebe sang her legendary Christmas song (and couldn't find anything to rhyme with Rachel and Chandler).
Season 5: 'The One With The Inappropriate Sister'
This episode touches on the (sometimes) truths about giving back during the holiday season. After volunteering as a bell-ringer for the Salvation Army, Phoebe learns just how cruel the city can be. Things reach a somewhat hostile level and Phoebe's Christmas spirit plummets.
Season 6: 'The One With The Routine'
Hunting for presents before Christmas is a big no-no. But, that doesn't stop Rachel and Phoebe from trying. The two even force Chandler to join in on the present hunt, to which he finds a note from Monica (the gift-giver) that reads: "Chandler, I knew they'd break you."
Season 7: 'The One With The Holiday Armadillo'
The One With The Holiday Armadillo is one of the best Friends Christmas episodes ever. In the episode, Ross dresses up as Santa's half-Jewish friend, the Holiday Armadillo to teach his sone, Ben about Hannukah. Things kind of go south when Chandler shows up in a Santa costume and Joey shows up dressed as Superman. Fortunately, they are able to work together to share the holidays with young Ben.
Season 8: 'The One With Ross's Step Forward'
When Ross' new girlfriend, Mona wants to send Christmas cards out as a couple, Ross feels a bit uncomfortable. So, in typical Ross manner, he takes things up a notch and offers Mona a key to his apartment instead. Talk about moving quickly!
Season 9: 'The One With Christmas In Tulsa'
Ironically, the last Friends Christmas episode is probably the most real (and most depressing). After Chandler gets stuck working in Tulsa over Christmas, he realizes how hard it is to be alone on the holidays — and how his job is not worth missing out on his family and friends. In an effort to make things right, Chandler quits his job and flies home to New York City just in time for Christmas.
Check out The Cheat Sheet on Facebook
Source: Read Full Article