'Everybody Loves Raymond': Katherine Helmond Said a 'Boring' Couple Inspired Her Performance as Debra's Mother
It's fascinating to hear the back stories of how some of our favorite television characters developed.
On Everybody Loves Raymond, one of the show's recurring characters was that of Debra Barone's mother Lois Whelan played by Katherine Helmond.
Helmond opened up about the very real inspiration that served as the foundation for her performances as Raymond Barone's upper-class mother-in-law.
'Everybody Loves Raymond' smartly cast classic television actors in its smaller roles
In addition to Helmond, Everybody Loves Raymond's executive producer Phil Rosenthal cast other fan-favorite actors in the show's recurring roles.
As noted, Helmond played Debra's mother, with former I Spy star Robert Culp completing the sophisticated couple in the role of her husband Warren Whelan.
Portraying Robert Barone's in-laws as Amy Barone's parents were TV veterans Fred Willard as dad Hank MacDougall with The Mary Tyler Moore Show alum Georgia Engel as his wife Pat.
Helmond appeared on other TV classics
Helmond was instantly recognizable on Raymond to classic TV fans. She was famous for her roles as the scatterbrained Jessica Tate from the 1970s ABC comedy Soap and from long-running sitcom Who's the Boss? in the 1980s as the plucky Mona Robinson.
She made her debut as Debra Barone's mother on Everybody Loves Raymond in the episode aptly titled "The In-Laws" during the show's first season.
"'The In-Laws' introduced Debra's parents," Rosenthal said.
In the episode, Warren and Lois invite the entire Barone family to join them for dinner at their favorite Manhattan French restaurant. Ray's parents Marie and Frank object to the entire snobby setting. It's Ray however who, caught in the middle between pleasing his parents or his in-laws, chooses to side with his family. He makes insulting remarks about the food, horrifies his parents, and ruins the evening for everyone.
Rosenthal added, "Katherine Helmond and Robert Culp played Debra's parents and they stayed with us for nine years and they were fantastic."
Katherine Helmond was brought on to 'mix everything up'
Helmond, who died in 2019, explained to the Archive of American Television that she felt she and Culp were brought on the sitcom to provide "an outside force to come in and mix everything up. The show was going to kind of turn into itself. There were only so many shows that could be done about a husband and a wife and the kids and keeping it in one place."
The actor added that her inspiration for her role as the cosmopolitan yet detached mother came from a couple she knew.
"I knew a couple that were very wealthy and sort of always going someplace, traveling, taking classes in foreign languages," she revealed. "They had one child who was given all the advantages in life. But they were rather distant from the child because they were totally involved with each other. The child was nice, but incidental."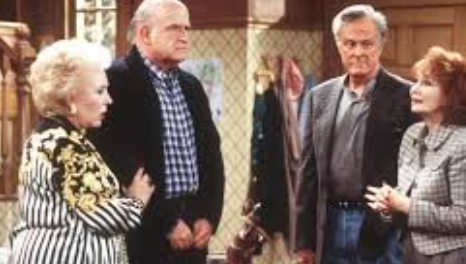 Like Debra's parents, Helmond said, the real-life couple was tiresome in social settings with constant references to their travels and fine way of life.
"The child was taken care of but in no way did that child ever interfere with their lives together," she added. "They were a little boring and told absolutely boring stories about foreign lands.
"It was a kind of self-absorption," Helmond said. "When I talked to the writers going into this show, they thought this was a funny idea that would reveal why the married couple were the way they were."
Source: Read Full Article