'Breaking Bad' and 'Better Call Saul's Real-Life Reformed Gang Member Served Time Before Superstardom: 'I Had to Change'
One glance from the Salamanca twins and you know you're in trouble. The Breaking Bad and Better Call Saul stars — Luis and Daniel Moncada — have made bank off their trademark silent yet threatening stares over the course of 13 years. But, there was a time when Luis didn't have such a stellar fate. Long before tracking down Walter White (Bryan Cranston), Luis served time in prison and it's something he's not exactly "thankful" for.
Yes — the 'Breaking Bad' Salamanca twins are actually brothers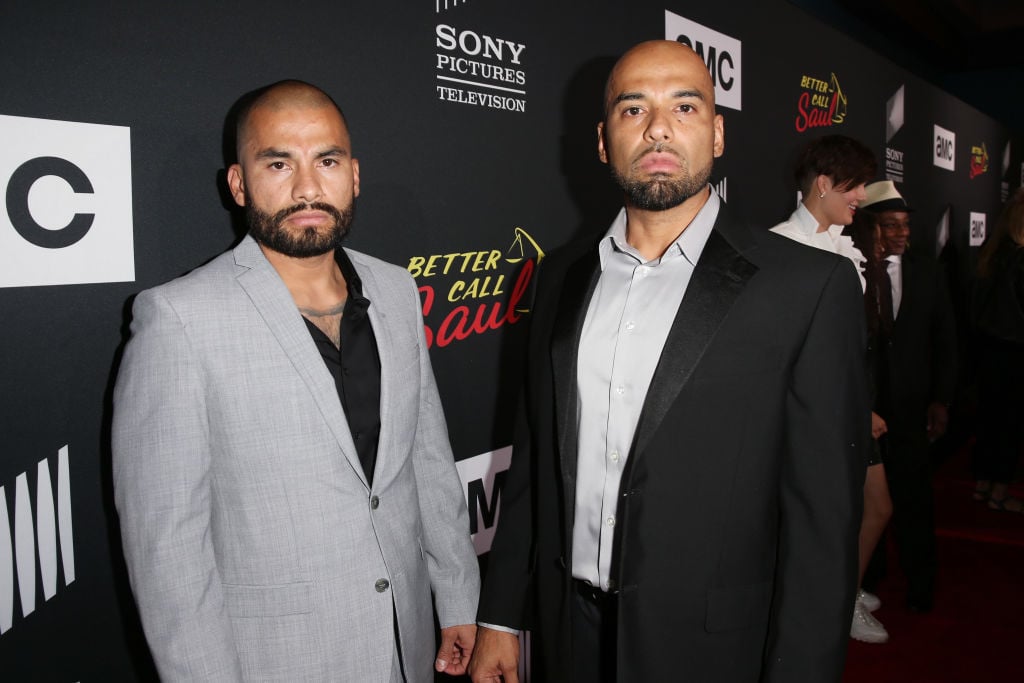 As Marco and Leonel Salamanca on Breaking Bad and Better Call Saul, Luis and Daniel Moncada are two forces to be reckoned with. They may not be cousins — as they portray on TV — but they are brothers. Luis had already forged a path in acting long before Daniel, whose first role was on Breaking Bad.
The Honduras-born-California-raised siblings may look identical but Luis told AMC they're pretty different.
"They made us look alike, especially with the suits. I'm not [personally] a very social guy. Danny is a lot more social than I am. Me? I'm a homebody," he said adding Daniel is "shyer."
Another way the two differ? Luis served time — something he now regrets.
Luis knew things had to change after a stint in prison
While Breaking Bad is one role he'll be remembered for most, Luis has done well for himself since his first acting gig in 2002. Before that, however, the Salamanca star told the LA Times in 2010 about a time in his life things weren't going so well.
The former gang member had an expletive tattooed on his eyelids at the age of 18 as an irate farewell to show the world when he passed. It was around that same time, he also received a prison sentence for driving a stolen vehicle.
"I'm not thankful I went to prison," he said, "but after going to prison, that's when you really, really, really think, 'Wow, what a waste of time.' I had to change."
And he did change. He's now a married father of two who volunteers at youth prison camps to tell his story. He and Daniel moved out of their neighborhood with new hope for the future. Luckily for Luis, his tattoos soon became a pivotal part of his new story moving forward.
"I tell my wife all the time, 'Wow, look at how far we've come,' " he said.
Becoming a star happened 'by accident'
Playing a tight-lipped assassin out for blood on a hit show didn't come by accident — except it kind of did. While working as a security guard on the set of El Padrino, director Damian Chapa took notice of the gang tattoo printed on his neck and asked if he'd like a walk-on part. The role was "bodyguard" for Jennifer Tilly but Luis passed on the offer.
"I was getting off in 10 minutes so I said, 'You know what, sir? No thank you. I don't know if I can do eight or 12 more hours,'" he said.
Little did he know, the creator of Suspect Entertainment — Manuel Jimenez — would talk him into taking that role. The company helps reformed gang members get their big break in Hollywood and more often than not, studios contact Suspect when there's a "bad guy" character available. This gives them a chance for a new start; a new career.
What followed was a contract with the agency was a contract and more roles, albeit, typically as "the bad guy." But Luis is OK with that. It wasn't until Breaking Bad came along did the trajectory all fit together.
"We knew we were going to have these very scary, very silent Mexican cartel assassins in our third season, so we put the word out and needed to find these guys," series creator Vince Gilligan said in the same interview. "We needed a couple of guys who were very charismatic, whose expressions and eyes told us a lot."
This is where Daniel got the break he didn't know he wanted or needed. He auditioned at their request and the rest is Salamanca history.
"They exuded a certain authenticity," Gilligan said. "They don't have to glare at you to scare you."
Cranston made Luis cry on the set of 'Breaking Bad'
It's been years since Breaking Bad aired its finale and they signed off with leading man Cranston's seal of approval.
"Whenever it's the last scene for an actor in a season, the [assistant director] will make an announcement and people will applaud — especially if we like them," Cranston said, adding that they received "loud and long" applause at their final curtain call. "These two guys, their lives could have gone a very different way and our industry somehow showed them an avenue of alternatives, and they took them."
Cranston revealed that moment made Luis cry.
"You can't call it crying if a tear doesn't come down," he said in response. "But, OK, my eyes got a little watery. It was a beautiful experience."
Source: Read Full Article