'Better Call Saul' Showrunner Says He Feels No 'Obligation' for Walt and Jesse Cameo in Season 6
Breaking Bad fans may have started out watching Better Call Saul eager for character cameos, but over the past five seasons, the show has gradually begun to stand on its own two feet. Most recently, the spinoff prequel is rumored to potentially pass its predecessor in terms of popularity during the final season.
But even with fans fixated on the fates of Jimmy/Saul, Kim,Nacho, Lalo, and the rest, it hasn't stopped the conversation about whether Waltand Jesse will makean appearance in the last episodes. Showrunner Peter Gould addressed thepopular question in an interview, basically saying he feels no obligation toinclude the duo.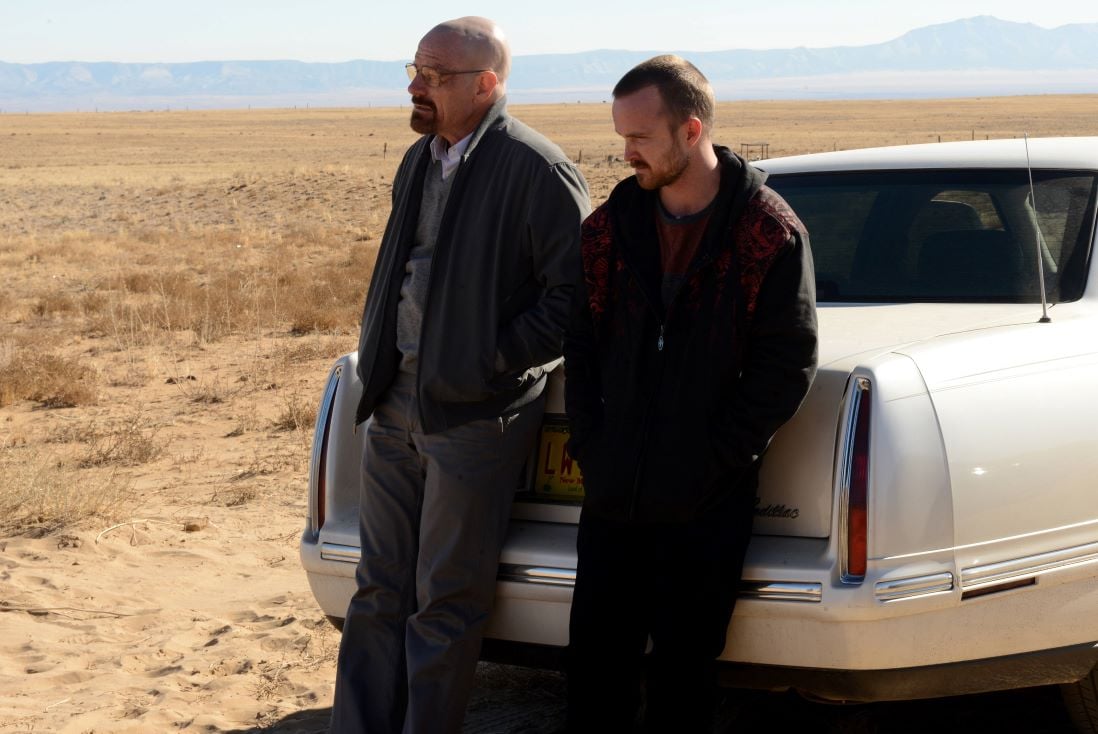 RELATED: 'Breaking Bad' Stars Bryan Cranston and Aaron Paul Prepare for 'Better Call Saul' Cameos — 'We're Ready to Do It'
Plenty of 'Breaking Bad' characters already appeared on 'BetterCall Saul'
Better Call Saul explains the backstory of con man criminal lawyer Saul Goodman. When Gould and Breaking Bad creator Vince Gilligan first conceived of the series, they saw it as more of a comedy. But over time Jimmy's story of becoming Saul has revealed that it's just as tragic as Walter White turning from Mr. Chips into Scarface.
The prequel introduces new characters that fans have become fully invested in. But along the way, familiar faces such as Mike Ehrmantraut, Gus Fring, Lydia Rodarte-Quayle, Huell Babineaux, and so many others have made their appearances on Better Call Saul. The highly anticipated return of DEA agents Hank Schrader and Steve Gomez occurred during season 5.
Peter Gould doesn't think 'Better Call Saul' needs a Walt and Jesse cameo
Gould is remaining tight-lipped regarding details of season6, which may or may not be split into two parts. But he did admit that a Waltand Jesse cameo doesn't feel necessary.
"I like to think that we don't have as much of an obligationto have Walt and Jesse back in Better Call Saul because they're such agreat appearance in El Camino," he told Collider.
He would, however, consider having them on set for differentreasons.
"But having said that, I would love to have them back. I'dlove to have Bryan direct an episode. I got to write an episode [of BreakingBad] that Bryan directed and I was on set with him every day, and it was awonderful experience. He's a magnificent director…. And Aaron Paul is possiblythe happiest human being I've ever met, and he makes everybody around himhappy. So yeah, I would love to have them back."
The timing might be off for Walt and Jesse to appear on 'BetterCall Saul'
It made sense to show Walt on the Breaking Badsequel, El Camino, via flashback scenes. But since Better Call Sauloccurs in the past before Walt and Jesse start cooking meth together, it wouldbe tricky to include them into the narrative.
Walt and Jesse don't run into Saul Goodman until season 2 ofBreaking Bad. But there's a chance Saul and Jesse could meet in BetterCall Saul, or Saul could see Jesse in the future flash-forward scenes whilemasquerading as Gene Takovic.
One thing that's for sure is Gould won't add cameos that don'tfit the storyline. At this point, Better Call Saul is so popular on itsown that he doesn't need to.
Source: Read Full Article