'American Idol': Kenedi Anderson Drops Out of Top 24, Calls It 1 of the 'Hardest Decisions' She's Made
American Idol Season 20 platinum ticket winner Kenedi Anderson has dropped out of the competition, host Ryan Seacrest revealed on Monday, April 11's episode. Her final performance in Hawaii as part of the Top 24 aired on Monday, but fans were unable to vote for the singer. Here's a look back at her journey on American Idol.
Kenedi Anderson became the second platinum ticket winner when she auditioned with Lady Gaga's 'Applause'
Kenedi's journey on American Idol began with an impressive season 20 audition. The 17-year-old Virginia resident told judges Katy Perry, Lionel Richie, and Luke Bryan that she came from an athletic family, but she often turned to music instead. Her family often moved due to her father's work, and music helped the young singer cope with the challenges of starting out in new cities.
Kenedi performed a breathtaking piano rendition of Lady Gaga's "Applause." Once the teen finished singing, Katy immediately declared herself a fan of Kenedi's.
"You're a five-star recruit," Luke added. "I believe you might be the biggest star we've ever seen."
Kenedi's talent earned her the season's second platinum ticket to Hollywood. Introduced as a way to celebrate 20 seasons, these special tickets went to only three singers. They allowed the recipients to sit out of Hollywood Week's first round so that they could size up the competition.
Kenedi Anderson delivered her final performance in the Top 24 as 'American Idol' revealed she withdrew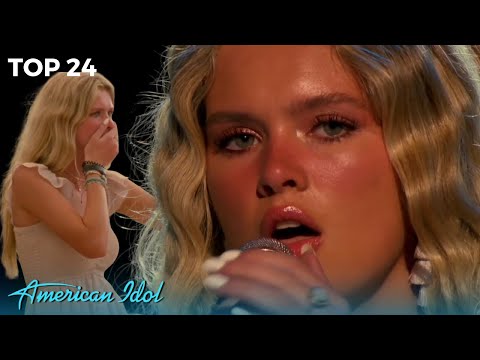 Kenedi impressed the judges again and again throughout Hollywood Week, making it to the Top 24. She performed alongside her fellow Top 24 contestants at Disney's Aulani Resort in Hawaii. However, that performance turned out to be her last with American Idol.
The April 11 episode of American Idol showed Kenedi singing Christina Perri's "Human," but viewers had no way to vote for her. Then, at the end of her performance, host Ryan Seacrest announced that she had left the competition after they taped the Top 24 due to "personal reasons."
"We send her well wishes," he added.
After her performance aired, Kenedi took to Twitter to share a statement. She said it was "one of the hardest decisions" she's ever made. Read her full statement below:
"For personal reasons, I'm unable to continue on American Idol. This has been one of the hardest decisions I've ever had to make, but I know it's necessary. I'm so grateful to American Idol, the judges, the producers, the amazing contestants, and all the fans who have supported me. Thank you for giving me such an amazing opportunity to share my voice, chase my dreams, feel so much joy and happiness doing what I love, and make lifelong friends along the way."
Fans wished Kenedi luck on social media after her departure
While many fans felt disappointed to see Kenedi go, they offered support to her on Twitter.
"I'm sorry to see you leave. You were the obvious winner. Best of luck and I hope all is well," one user wrote.
"You were amazing and definitely would have made the top 3. Hope all is well. Keep following your dreams," another person added.
New episodes of American Idol air on Sundays and Mondays at 8 p.m. ET on ABC. Stay tuned to Showbiz Cheat Sheet for more updates.
Source: Read Full Article