Mark Sanchez makes butt fumble recovery years after infamous blooper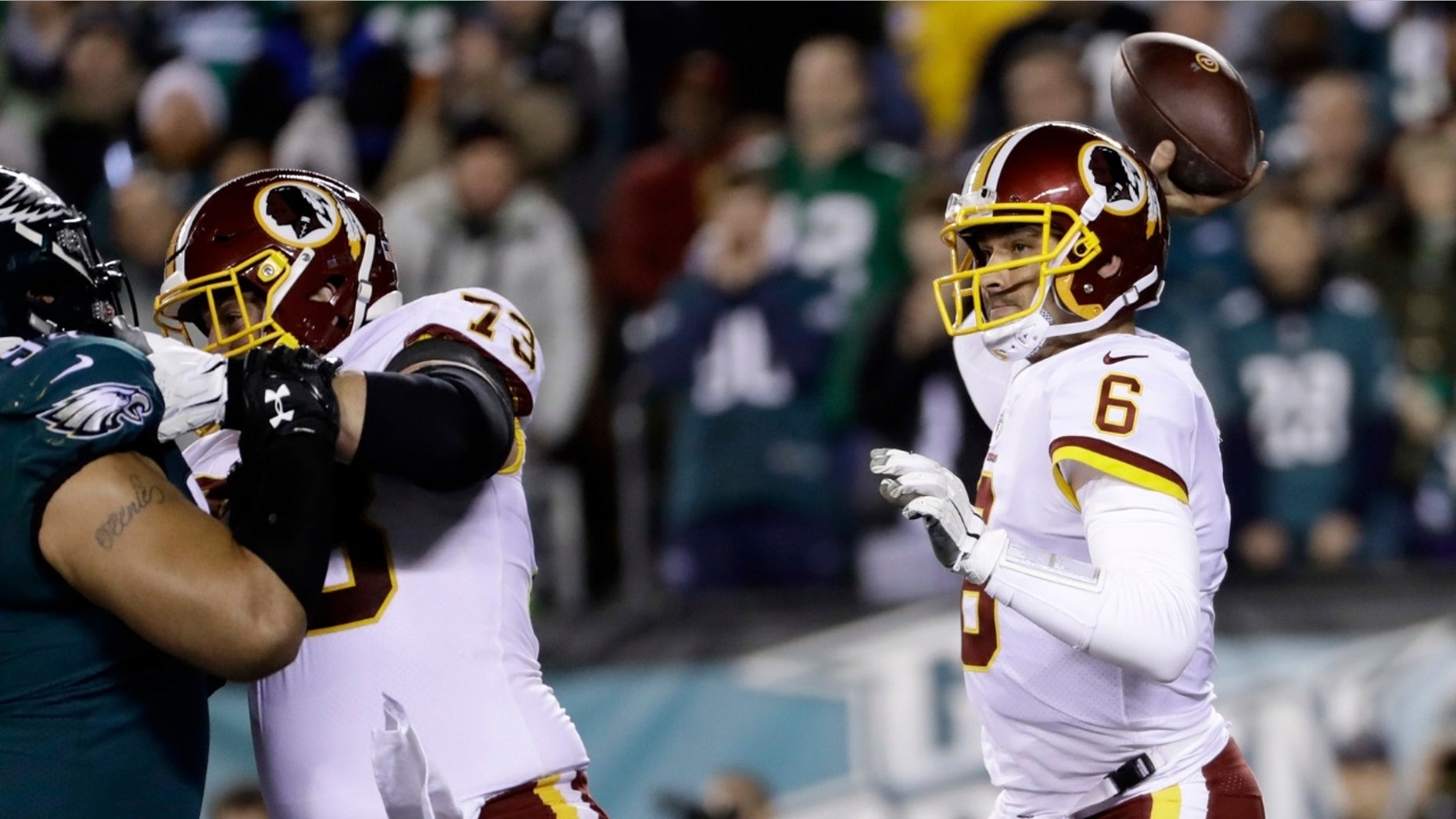 Backup quarterback pulled off a fantastic butt fumble recovery on Monday, Dec. 3, 2018.
(AP)
Washington Redskins backup quarterback Mark Sanchez, who made headlines — and memes — with his infamous "butt fumble" while starting for the New York Jets on Thanksgiving Day 2012, made another play with his rear end Monday night.
Sanchez, 32, came into the game against the Super Bowl-champion Philadelphia Eagles after quarterback Colt McCoy broke his fibula. The team's quarterbacks have been snakebitten this season, with starter Alex Smith breaking his fibula and tibia during a week 11 game, necessitating the switch to McCoy.
PATRIOTS' BILL BELICHICK, VIKINGS RECEIVER HAVE HEATED EXCHANGE DURING FOURTH QUARTER
When he entered Monday night, Sanchez had not thrown a pass in the NFL in more than a year. As he attempted to avoid being sacked by Eagles' defensive lineman Brandon Graham, Sanchez tumbled to the ground and the ball fell from his grip. However, he was able to catch the ball between his legs and his rear end to retain possession.
Unlike last time, Sanchez's 2018 "butt fumble" was a success. It'll wind up being a far better memory than his last backside blooper.
In 2012's version, Sanchez ran into an offensive lineman on his own team before falling straight on his butt and losing possession of the ball. A member of the opposing team, the New England Patriots, grabbed the ball and returned it for a touchdown. The Patriots ended up winning, 49-19.
Despite Sanchez's recovery on Monday night, the Eagles beat the Redskins, 28-13.
Sanchez went 13-for-21 for 100 yards and threw one interception.
Source: Read Full Article