Under fire on Israel, Albanese says 'things can always be done better'
Prime Minister Anthony Albanese has acknowledged his government could have better handled its announcement it no longer recognised West Jerusalem as Israel's capital, while defending the decision as returning Australia to the international mainstream.
Albanese's comments came as more mysterious changes to the Department of Foreign Affairs and Trade (DFAT) website surfaced, this time through deleted references to democracy and good governance on its Palestinian Territories page.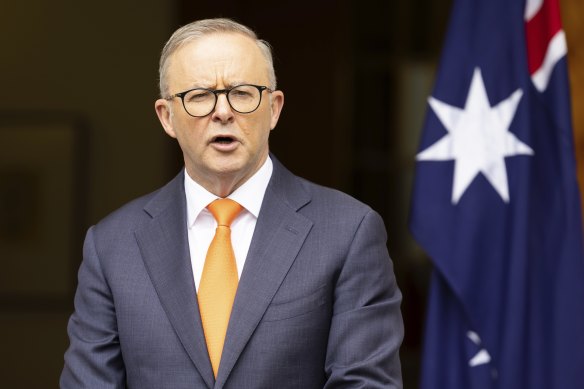 Anthony Albanese said Labor made its position on West Jerusalem clear in 2018.Credit:Alex Ellinghausen
DFAT caused the government a major headache by removing references to West Jerusalem from its Israel country page, pre-empting an official cabinet decision to no longer recognise the city as Israel's capital.
The abrupt timing of Tuesday's announcement, which came on a Jewish holy day and just a fortnight before Israel's elections, angered the Israeli government, which swiftly called in the Australia's ambassador for a reprimand.
Two prominent teal independents with large Jewish constituencies, Zoe Daniel and Allegra Spender, joined condemnation of the government's handling of the issue, describing its actions as "rushed" and "offensive".
Asked about whether the government had could have managed the issue more effectively, Albanese told ABC radio: "Of course some things can always be done better, but the truth is we have been very clear about what our position was."
Albanese said Labor made clear four years ago that it opposed the Morrison government's decision to recognise West Jerusalem and vowed to overturn it if elected.
Albanese accused the Morrison government of behaving in a "duplicitous" manner by suggesting during the 2018 Wentworth by-election that it may move Australia's embassy from Tel Aviv to Jerusalem before deciding not to do so.
All previous Australian governments, and most countries around the world, agreed that the status of West Jerusalem should be resolved by peace negotiations between the Israelis and Palestinians, he said.
This masthead can reveal DFAT this year stripped references to promoting democracy and good governance from its Palestinian Territories page, as well as removing a passage on West Jerusalem from its Israel page.
An earlier version of the page said the Australian Representative Office in Ramallah, the de facto Palestinian capital, "oversees the implementation of Australia's development program and humanitarian assistance in the West Bank and Gaza Strip, which helps Australia to achieve other regional objectives, including support for good governance and democracy in the Middle East".
The current version says only that the Australian government's office in Ramallah "responds to Palestinians' needs, and supports Australia's interest in a more stable, secure Middle East".
A government spokeswoman said the website was changed in February, under the previous Morrison government.
While DFAT's Israel page no longer contains a reference to West Jerusalem as Israel's capital, the current Palestinian Territories' page acknowledges "the aspirations of the Palestinian people for a future state with its capital in East Jerusalem".
Goldstein MP Zoe Daniel said: "Australia's emphasis must be on supporting a two-state solution under which the Israeli and Palestinian people co-exist within secure and peaceful borders.
"Suddenly reversing Australia's position in such an ill-considered way does nothing to advance that policy."
She added: "Making such an announcement on a holy day was offensive and inappropriate."
Wentworth MP Allegra Spender said: "The federal government's decision to withdraw recognition of West Jerusalem was rushed and badly handled – made without proper consultation.
"Every sovereign nation, including Israel, has the right to determine its own capital."
Opposition Leader Peter Dutton said at a press conference in the Northern Territory that he had not "seen a bigger Foreign Affairs blunder in many years".
"This really is a very significant mistake that's been made by Penny Wong and Anthony Albanese," he said.
"They lied about it, they deceived people in relation to the decision-making process. Obviously words went up on the website that they didn't know about and their first response was to cover it up; and in doing so, they've just made a bad situation worse."
Israel's Foreign Ministry's political director, Aliza Bin-Noun, met with Australia's ambassador, Paul Griffiths, for more than 30 minutes on Tuesday to castigate him for the decision.
In a statement Bin-Noun said she had expressed Israel's disappointment at the change in policy, calling it "a wretched decision that ignores the deep and eternal connection between Israel and its historic capital and that goes against the good relations between Israel and Australia".
Cut through the noise of federal politics with news, views and expert analysis from Jacqueline Maley. Subscribers can sign up to our weekly Inside Politics newsletter here.
Most Viewed in Politics
From our partners
Source: Read Full Article