Proof Roger Will Probably, Definitely Follow Brianna Through The Stones On 'Outlander'
In an attempt to save her parents from a deadly fire, Brianna has gone through the stones at Craigh na Dun on Outlander. What will become of her journey is still unknown to those who read the books the show is based on, but it sure seems like she may get a traveling companion. Roger could go through the stones on Outlander to join Brianna. In "Savages," he confirmed his suspicion that Brianna went back in time to find her mother. Like Brianna, he is aware that Claire and Jamie are currently destined to die in a fire in 18th century North Carolina. So, if he truly loves Brianna as much as he says he does, Roger might just be inspired to follow her into the past.
Roger previously went to Inverness in search of Brianna, only to discover she'd left 10 days earlier for the ancient circle of stones at Craigh na Dun. However, she did leave Roger a letter, and while he wasn't supposed to get her message until a year later, Ms. Baird from the Inverness bed and breakfast took pity on him. The letter revealed that Brianna had in fact found out about her parents' deaths and was going to attempt to travel back to warn them. She added, "Please don't try to follow me, Roger." But Roger might feel inclined to follow her — and not just because he loves her, but because of his guilt.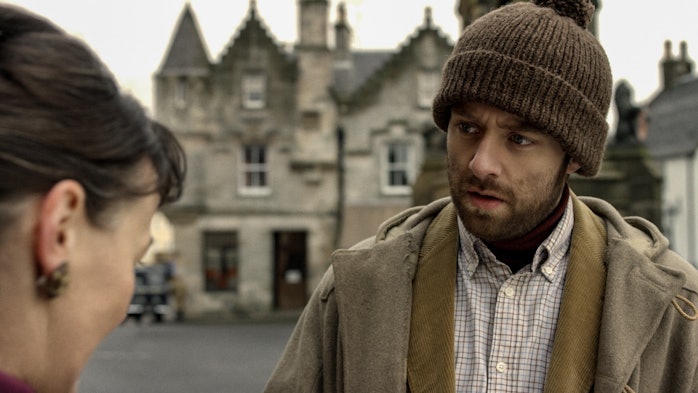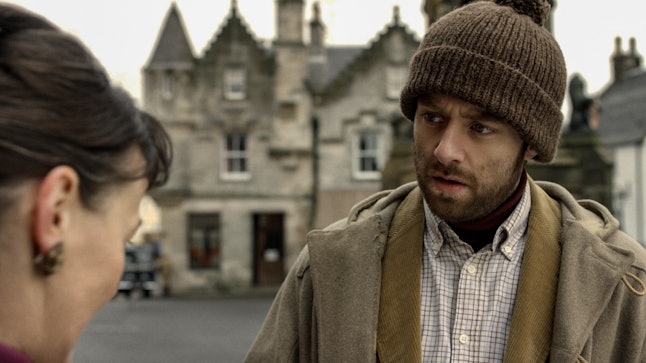 The last time that Roger and Brianna saw each other, they ended things on a pretty terrible note. Roger lashed out after Brianna refused his marriage proposal. And while he reached out by phone to tell her that he found historical evidence that her mom had found Jamie in the past, he chose not to tell her how they would die. Brianna ended up finding out this information herself, but if Roger had informed Brianna of Claire's fate, he could have either helped her with a plan to go to the past or tried to stop her. So, there's no way he doesn't feel at least a little bad about hiding it from her.
Less than two weeks have passed between the time Brianna went to Craigh na Dun and when Roger learns she left, but presumably, more than 200 years separate them. However, Brianna is going to have to find passage from Scotland to the American colonies, so it's possible that Roger will try to go after her and succeed in finding her before she sets out across the ocean. And while the rules of time traveling on Outlander are still pretty mysterious, Roger has a connection to the practice through his ancestor Geillis.
Back in the Season 2 finale, Claire realized that Roger was a descendant of the child that Geillis Duncan had with Dougal Mackenzie. She was hesitant to mess with the time-traveling plans of Gillian Edgars (Geillis' name in the 20th century) since it could have possibly meant that Roger would cease to exist. Claire, Roger, and Brianna were unable to stop Geillis, but Claire's research indicated that Roger had time-traveler blood. And since Brianna was able to pass through the stones like her mother, Roger may also be able to travel that way like Geillis.
During an interview with Bustle at New York City Comic Con, Outlander star Sophie Skelton insinuated that it's likely Roger will meet up with Brianna in the 1700s. While discussing with the dynamic Brianna and Jamie will have later in Season 4, she explained how an appearance from Roger could further complicate matters. "I think meeting Jamie is really good for Bree, but at the same time she goes through a lot … and then Roger maybe comes into the picture," Skelton said. Richard Rankin also told Bustle Brianna and Roger's romance is far from over. So, based on Roger's family tree, the fact that he's currently in Inverness, and the actors' comments, how could Roger not find Brianna in the past?
Of course, readers of the Outlander books know what Roger will decide, while TV viewers will have to wait and see what happens. Still, even without having read Diana Gabaldon's series, it would make sense that the history professor would give traveling through the stones a try. And although Roger might not necessarily be your (or Brianna's) favorite person right now, he could prove to be invaluable when it comes to navigating the past.
Additional reporting by Dana Getz.
Source: Read Full Article