Paris Hilton serves 'stylish royal' in Kate Middleton-approved brand
Paris Hilton is in her transformation era, and we love to see it. Much like Pamela Anderson, the 42-year-old has decided that now is her time to tell her truth, with the release of a new memoir named Paris: The Memoir.
The socialite had an eventful day in London yesterday: discussing her new book, explaining how her persona was a response to the trauma she experienced (more on this below), and joining BBC's employees who were striking on the picket line.
MORE: Inside Paris Hilton's exclusive House of Y2K launch party in LA
RELATED: Paris Hilton is a total Barbie in glitter-clad mini dress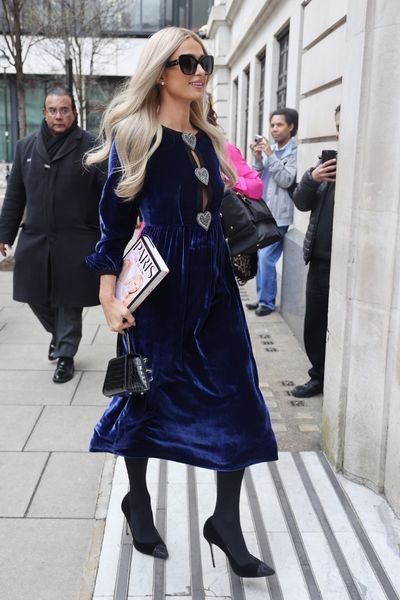 Paris stepped out wearing Saloni on Thursday
If her current sartorial agenda is anything to go by, we are in awe of the 'real' Paris' dress sense. She stunned in two uber feminine dresses from It-girl brand Saloni, giving off major 'stylish royal' vibes and amplified further since the Princess of Wales has also worn the same brand.
Paris first stepped out in the 'Camille Crystal‑heart Velvet Midi Dress', boasting a vintage-inspired silhouette (a la Kate's The Vampires Wife dress). The pearl, beaded heart detailing upped the feminine feel in addition to romantic blouson sleeves. The midi length kept it demure, which Paris paired with black tights and black stilettos.
Perhaps the one signature element from Paris' past that will never change (and we certainly hope not) are her long bright blonde tresses that she wore down and sleek with a slight bit of movement for the whole day.
MORE: Pamela Anderson stuns in her signature 90s style for Pamela: A Love Story documentary premiere
RELATED: Princess Kate's houndstooth skirt is bang on trend for 2023: Get the look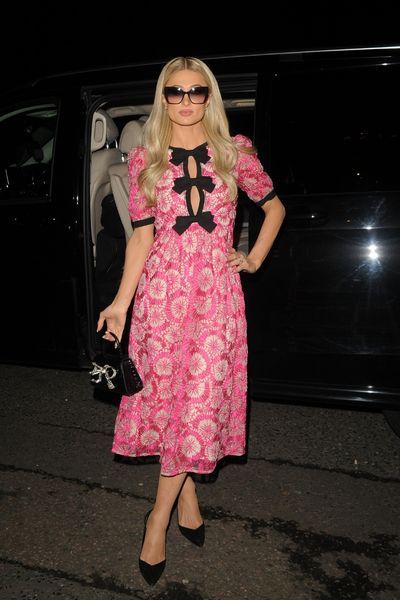 She wore the same brand that evening in her signature Barbiecore pink
The OG Barbiecore girlie stepped out in another dress from Saloni that encapsulated her signature style combined with her new 'grown up' sartorial agenda. She wore the 'Jamie-C bow-embellished embroidered dress', which also boasted the brand's signature three-piece neckline detailing. The opaque black bows contrasting the hot pink colourway, whilst the embroidered tulle and pearl embellishments upped the whimsical-chic ante. The mid-length, A-line silhouette oozed royalty, as Princess Kate's current go-to silhouette. Paris eschewed tights and paired her look with black stilettos and a silver bow handbag from Self Portrait.
Both Princess Kate and Princess Beatrice have both worn Saloni before. Back in 2015, Kate wore a blue belted midi from the brand at the Fostering Excellence Awards.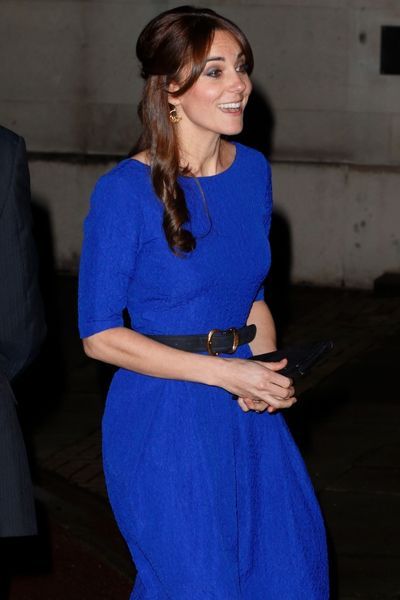 Princess Kate at the Fostering Excellence Awards in 2015
Princess Beatrice donned Saloni polka dots on the final day of Royal Ascot in 2022.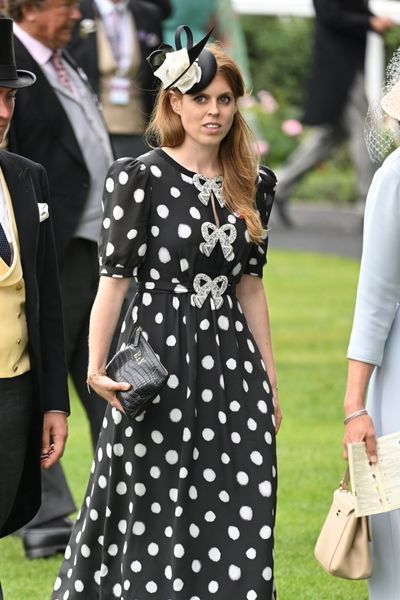 Princess Beatrice wore Saloni to Ascot last year
Prince Harry's cousin Lady Marina Windsor wore Saloni in December last year, juxtaposing the winter season in a sunset-toned dress.
When discussing how the public perceive her on BBC Woman's Hour yesterday, Paris explained: "It's just time for people to know the real me. I've just been underestimated for so long and misunderstood and I can understand [why], I was putting on a character for so many years, and I didn't even realise until recently that that was a trauma response to what I went through. and then getting magnified by the media. I feel like the media has controlled my narrative for so long."
"I think the early 2000's especially, were all about tearing women down and pitting women against each other. […] the media would always do that because that's what sells".
'Stylish royal' suits her and we cannot wait to see her future feminine-chic looks.
Like this story? Sign up to our Hello! Fashion newsletter to get your weekly 'Fashion Fix' delivered straight to your inbox.
Source: Read Full Article