Meghan Markle wears a stunning lavender jumper in trailer for Netflix documentary 'Harry and Meghan'
Netflix have finally released the official trailer for the Duke and Duchess of Sussex's hotly anticipated documentary 'Harry and Meghan', and it's made us even more eager to watch the full thing.
The majority of the trailer is in black and white, but in the short moments we see Harry and Meghan talking to the camera in colour, Meghan looks as effortlessly chic as ever in a lavender jumper with the sleeves rolled up her arm. Her new mid-length tresses are loosely waved falling gently around her face. The Californian beauty eschewed necklaces, in lieu of some simple gold accessories that are seen just in shot on her left arm.
MORE: Meghan Markle has a hair transformation with XXL hairstyle
RELATED: Prince William and Princess Kate appear in Meghan and Harry's Netflix trailer
A post shared by Netflix UK & Ireland (@netflixuk)
The trailer is only 1 minute and 13 seconds long, but in this time we are exposed to numerous unseen photos of the couple – we see some mega cute childhood snaps of the pair, evolving from baby photos to adolescents. We also see Meghan's gorgeous naturally curly hair that is rarely sported anymore, something that she expressed she struggled with growing up on her podcast Archetypes earlier this year. There are plenty of photos from the couple's journey together – from homegrown selfies, to pregnant photos of Meghan on the beach to images and video snippets of the Duchess crying into her hands.
In the clip where we see her staple purple sweater she says, "When the stakes are this high, doesn't it make more sense to hear our story from us?" They really are going to tell all.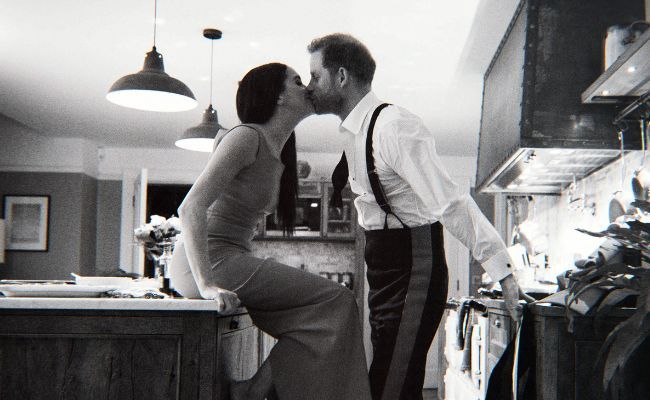 An adorable official photograph released by Netflix
MORE: This limited edition boot is raising money for Meghan Markle's favourite charity
READ: This is going to be the biggest SS23 hair trend according to Princess Diana's hairdresser
The Duchess of Sussex opted for a more tailored look on Tuesday for her appearance at the 'Power of Women' Charity event. She looked radiant in a green midi-dress from Giorgio Armani contrasted with purple Manolo Blahnik pumps, with her hair tied back and gently tucked behind her ears. The reason for green was because the colour "symbolises hope" according to a statement on the International Women's Day website.
https://www.instagram.com/p/Cll7GNFoVXM/
A post shared by Meghan Markle 🤍💐 (@meghanmarkle.duchesssussex)
Alongside a deeper insight into Meghan and Harry's life, we can't wait to see all the phenomenal sartorial choices we've never seen before from The Duchess of Sussex, as she has settled into her new life across the pond.
Like this story? Sign up to our Hello! Fashion newsletter to get your weekly 'Fashion Fix' delivered straight to your inbox.
Source: Read Full Article