Marriott hotels sued over New York murder of college parent during family weekend
video
Hotel staff accused of brushing off suspect's erratic behavior before dad was killed
Fox News correspondent Alexis McAdams provides insight on the killing of a dad while visiting his son at Marist College on 'The Story.'
A former Courtyard by Marriott employee who spent over a decade working in the lobby of its hotel in Poughkeepsie, New York, is suing the hospitality giant after she says she was "inches" from being shot "point-blank" by a guest who should have never been allowed inside, a new lawsuit states. 
Olga Hostyeva was working at the Courtyard by Marriott hotel on the morning of Oct. 2, 2022 when she spotted a guest "staring blankly at the wall, mumbling to himself, and shouting profanities spontaneously," the lawsuit states. Moments later, and now just feet away from her, "he brandished his gun and pointed its muzzle at her." 
Stocks in this Article
The alleged gunman, Roy Johnson, "approached Olga, drew his weapon, and shot at her point-blank, with the bullet missing her heard by inches," states the lawsuit, filed Monday, in New York's Dutchess County Supreme Court. 
MARIST COLLEGE HOTEL MURDER: SUSPECT SHOT DAD WITH AUTOMATIC PISTOL WHILE WEARING SKI MASK, BOXERS: INDICTMENT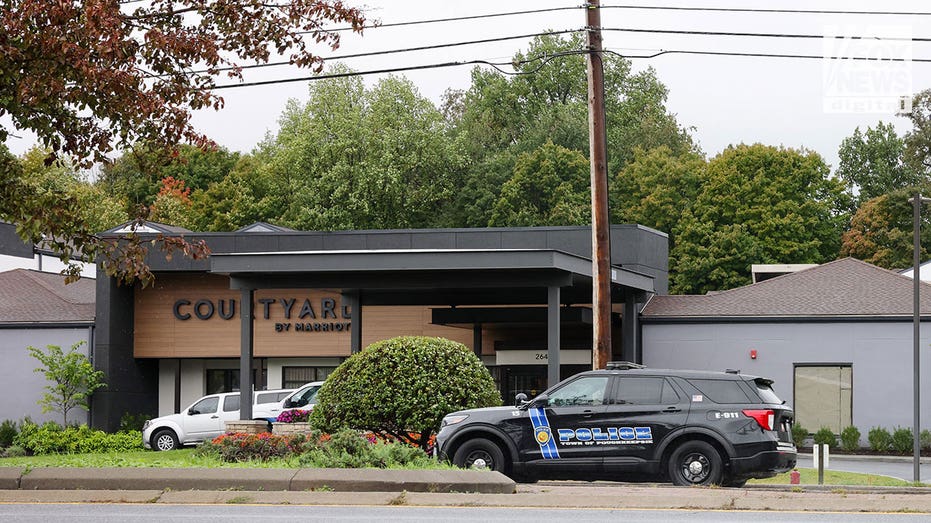 Police vehicles outside the Courtyard by Marriott seen on Wednesday, Oct. 5, 2022, where Paul Kutz was shot and killed on Oct. 2. (Credit: The Image Direct for Fox News Digital. / Fox News)

Hostyeva is now accusing Marriott International, Inc., and its affiliates of negligence and negligent hiring and infliction of emotional distress for failing to address safety concerns or take proactive measures to keep the premises safe, and despite requests that the hotel hire security staff or install panic buttons. The suit also names Johnson, one of the two men charged in connection with the events of Oct. 2, including the shooting death of Paul Kutz. 

"Unquestionably, the tragic and unfortunate sequence of events that unfolded at the Poughkeepsie Marriott on the morning of October 2, 2022, were foreseeable and likely could have been prevented if not for the Corporate Defendants' negligence and recklessness, including their blatant disregard for the safety and well-being of guests, employees, and other invitees and members of the general public, as well as their substandard – and completely inept – operation of the Poughkeepsie Marriott for more than a decade," the lawsuit states.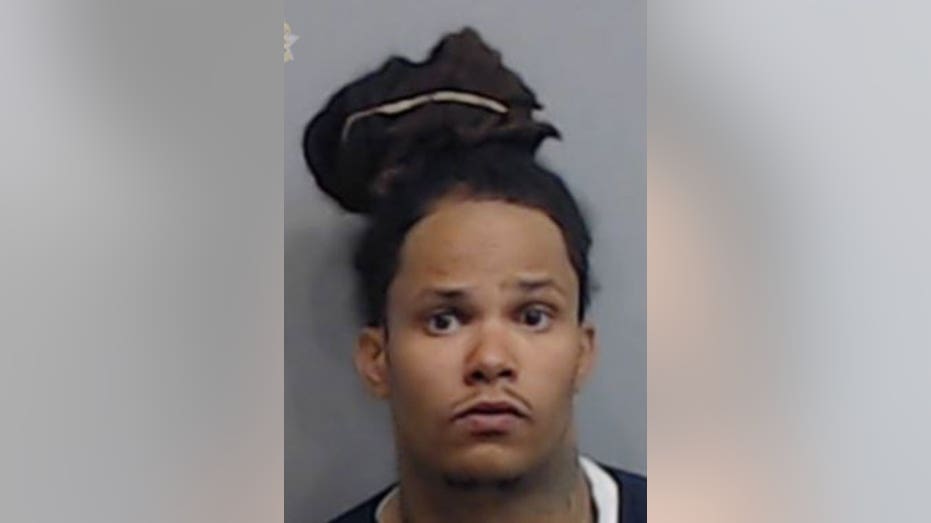 This mugshot is from July when Roy Johnson Jr. was arrested in Fulton County, GA. (Credit: Fulton County Sheriff's Dept. / Fox News)

A spokesperson for Marriott International, Inc. did not respond to Fox News Digital's requests for comment. 

Investigators have previously said that Kutz, 53, was shot and killed when he was gunned down by an allegedly homeless man inside the hotel lobby. Kutz was married with three adult children and owned a Long Island financial planning business.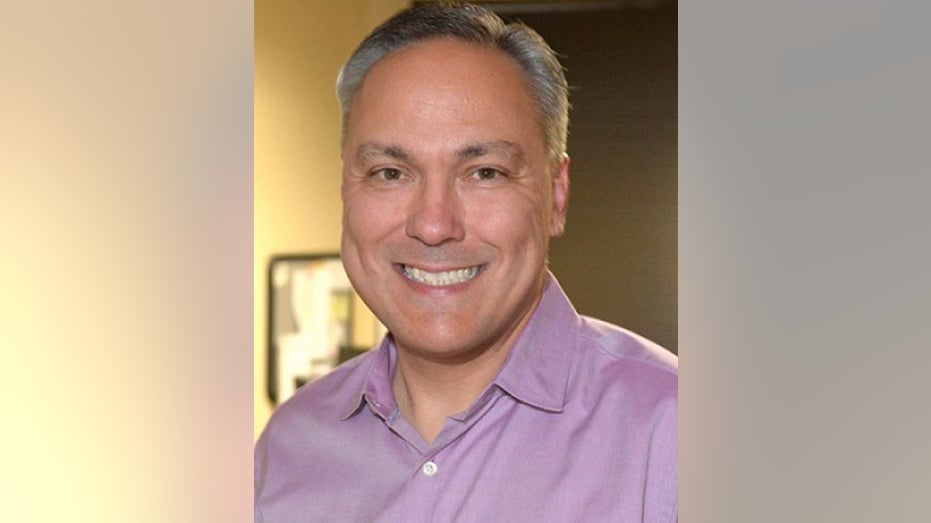 Undated photograph shows Paul Kutz, who was shot and killed in a random shooting in Poughkeepsie, N.Y., on Oct. 2, 2022 (LinkedIn)

Kutz was staying at a Courtyard by Marriott hotel in the New York suburb of Poughkeepsie to visit his son, a student at the nearby Marist College. 

MARIST COLLEGE PARENT MURDER: SUSPECTS INDICTED AFTER 'UNPROVOKED' SHOOTING AS FAMILY RELEASES OBITUARY

Johnson has been charged with several counts, including second-degree murder, second-degree attempted murder and second-degree criminal possession of a weapon. Another man, Devin Taylor, 26, was charged with two counts of criminal possession of a weapon for allegedly having a loaded rifle with no serial number.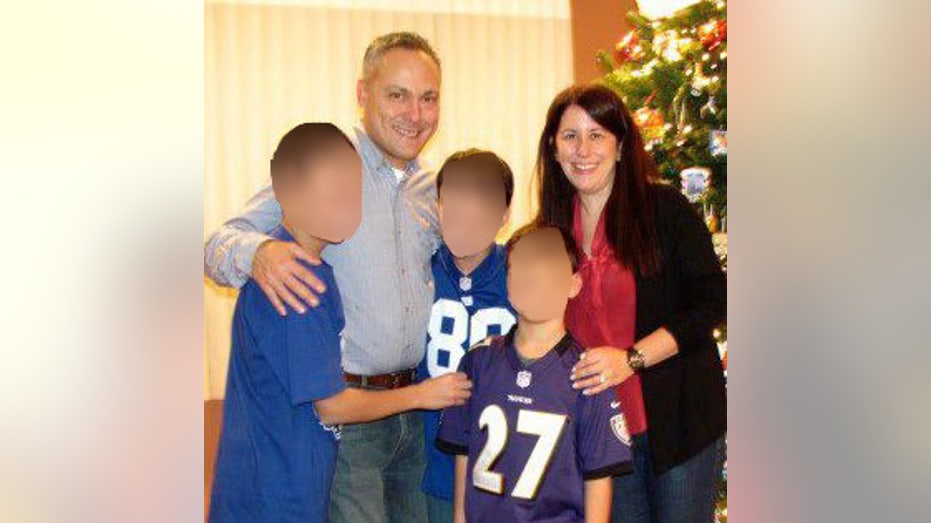 Paul Kutz with family in a Facebook photo from 2013 (Facebook/Paul Kutz / Fox News)

The lawsuit further accuses Johnson of intentional infliction and negligent of emotional distress and assault. But Joseph Gulino, the attorney representing Johnson, argued that his client has not been proven to be the person who opened fire in the hotel lobby – because the alleged gunman was wearing a head covering. He also said his client was wearing sunglasses at the time of the shooting.

"I know they're saying that it's Roy Johnson that did this, but there's no way that they know that other than through law enforcement publicizing the name of the person that they charged with this, because Roy Johnson has never admitted to being the shooter," Gulino told FOX Business. "He maintains that he was not now."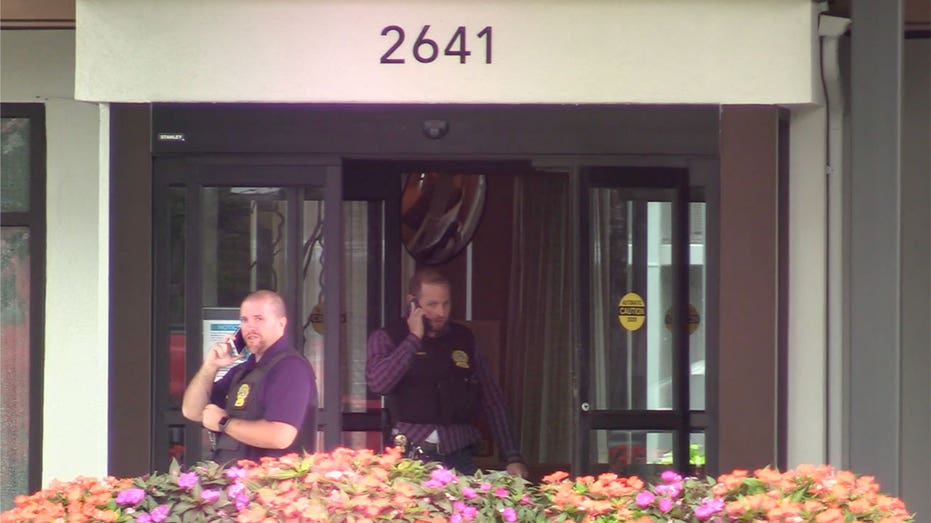 Police are seen outside the hotel where a man was found shot to death in Poughkeepsie, NY, Sunday, Oct. 2, 2022.  (Action News)

He said no one came forward to say "they knew who the shooter was or otherwise said it was Roy until sometime after Roy was arrested and charged. He also added: "Just want to make that clear: they identify articles of clothing, a ski mask and sunglasses, and then they say they later came to know it was him. But that's because of law enforcement publicizing the arrest in the name of the individual they accused."

Gulino further noted that firearm that was allegedly used "was allegedly equipped with a glock switch which is said to allow the user to switch between semi-automatic fire and automatic fire. It is alleged that the automatic fire was utilized in this incident."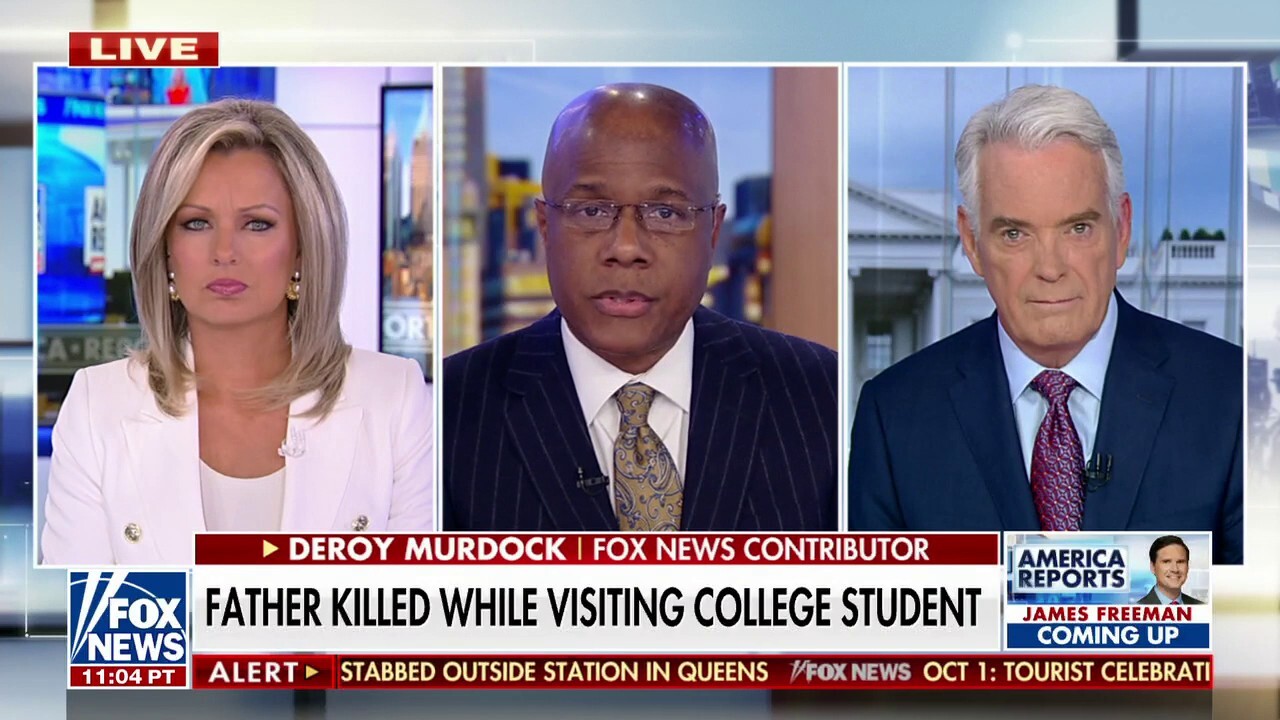 video
Poughkeepsie hotel killing raises concerns over crime crisis
Fox News contributor Deroy Murdock discusses rising crime across America and the effectiveness of NYC Mayor Eric Adams' migrant tent shelter on 'America Reports.'

Hostyeva was in the kitchen, behind the breakfast counter at the Poughkeepsie Courtyard on Oct. 2, when she "heard some commotion in the lobby."

She exited the kitchen to see a man who, according to the suit, was "later identified as Defendant Johnson" behaving oddly. 

MARIST COLLEGE DAD MURDER: MARRIOTT OFFICIALS GO SILENT AFTER TRAGIC SLAYING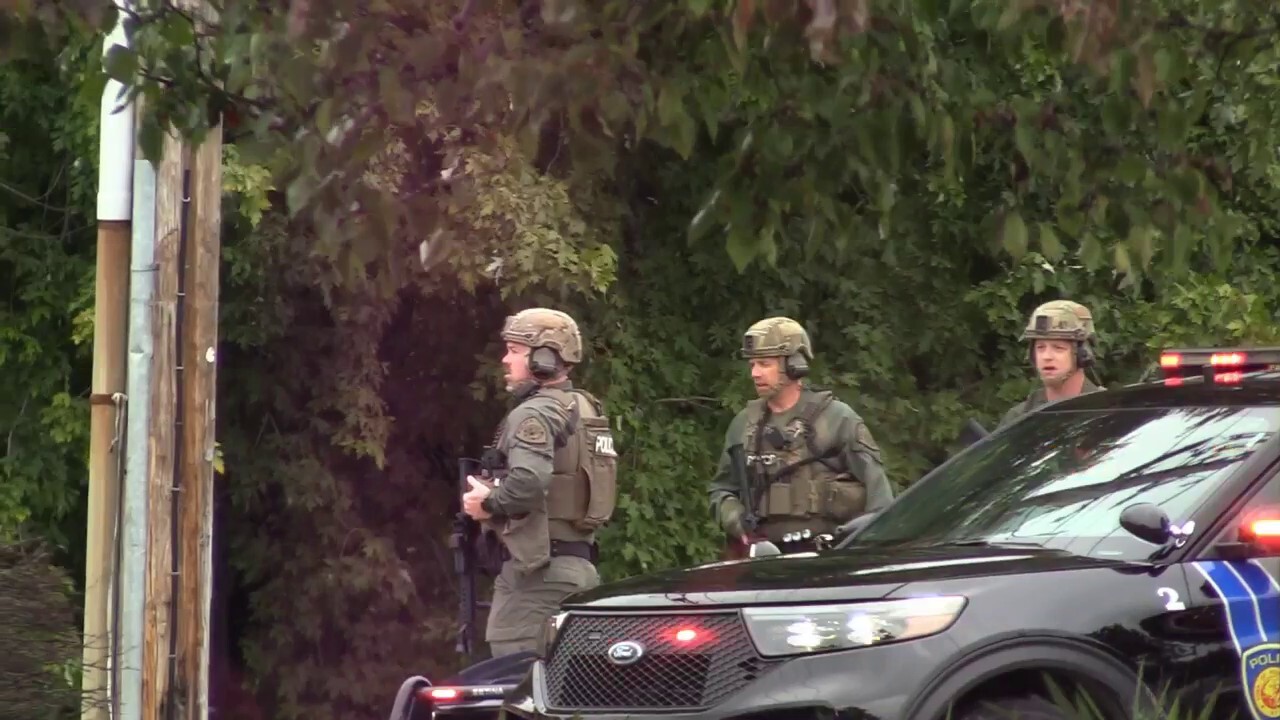 video
Police enter hotel where man was found shot to death in Poughkeepsie
The man was found at the Courtyard by Marriott. During a search of the building, a hotel room was found to contain manuals related to the making of explosive devices and materials with the potential to be used as explosives. (CREDIT: Action News)

"As Defendant Johnson approached Plaintiff Olga, he brandished his gun and pointed its muzzle at her from a distance of merely a few feet," the lawsuit states. "Olga closed her eyes in fear and heard a loud blast; after a moment, Olga opened her eyes only to learn that Defendant Johnson's bullet had missed her head by only a few inches."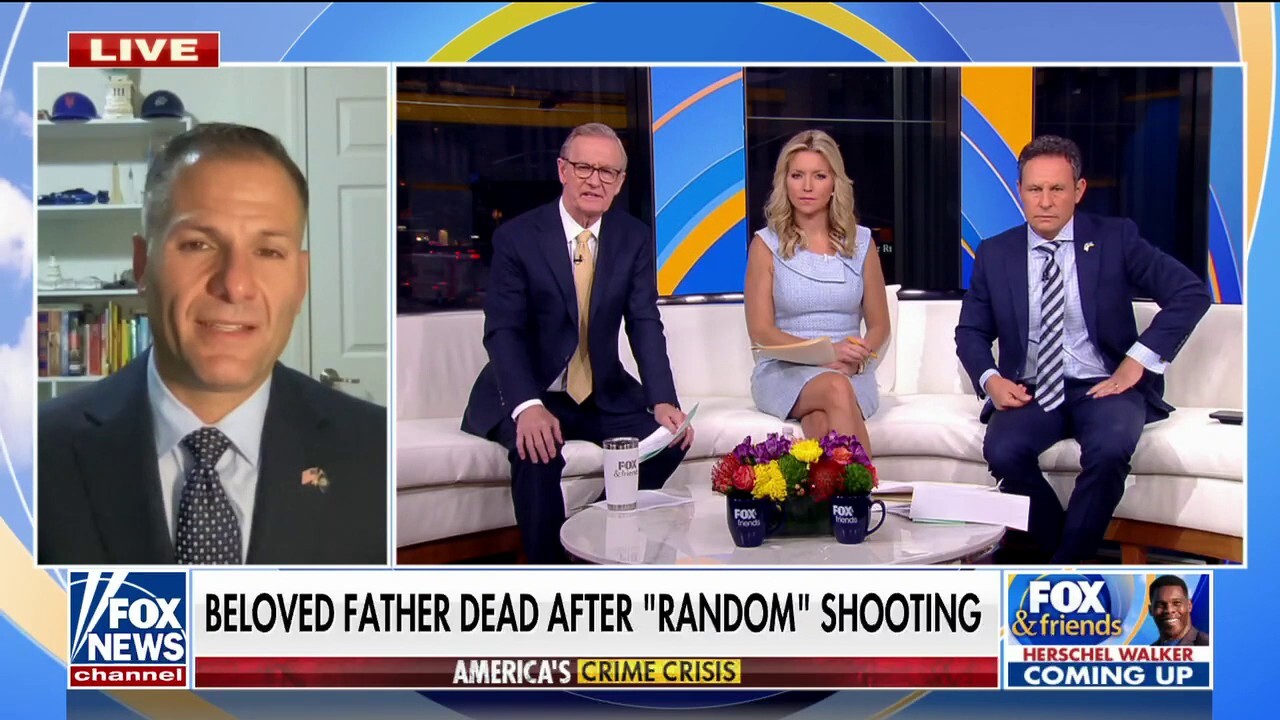 video
Father killed in 'random' shooting during visit to see son at New York college
County executive of Dutchess County Marc Molinaro joined 'Fox & Friends' to discuss the tragic killing and the broader crime surge impacting the Big Apple.

Hostyeva was not physically hurt, but said she has since suffered from severe emotional distress, post-traumatic stress disorder, paranoia, insomnia and hypervigilance, among other trauma. 

GET FOX BUSINESS ON THE GO BY CLICKING HERE

In a statement provided to FOX Business, Hostyeva's attorney, Jesse Cotter, said he and Cotter Law Group are "dedicated to holding all Defendants, including Marriott International, Inc., and its affiliates, accountable for the horrific and preventable events that unfolded at their hotel."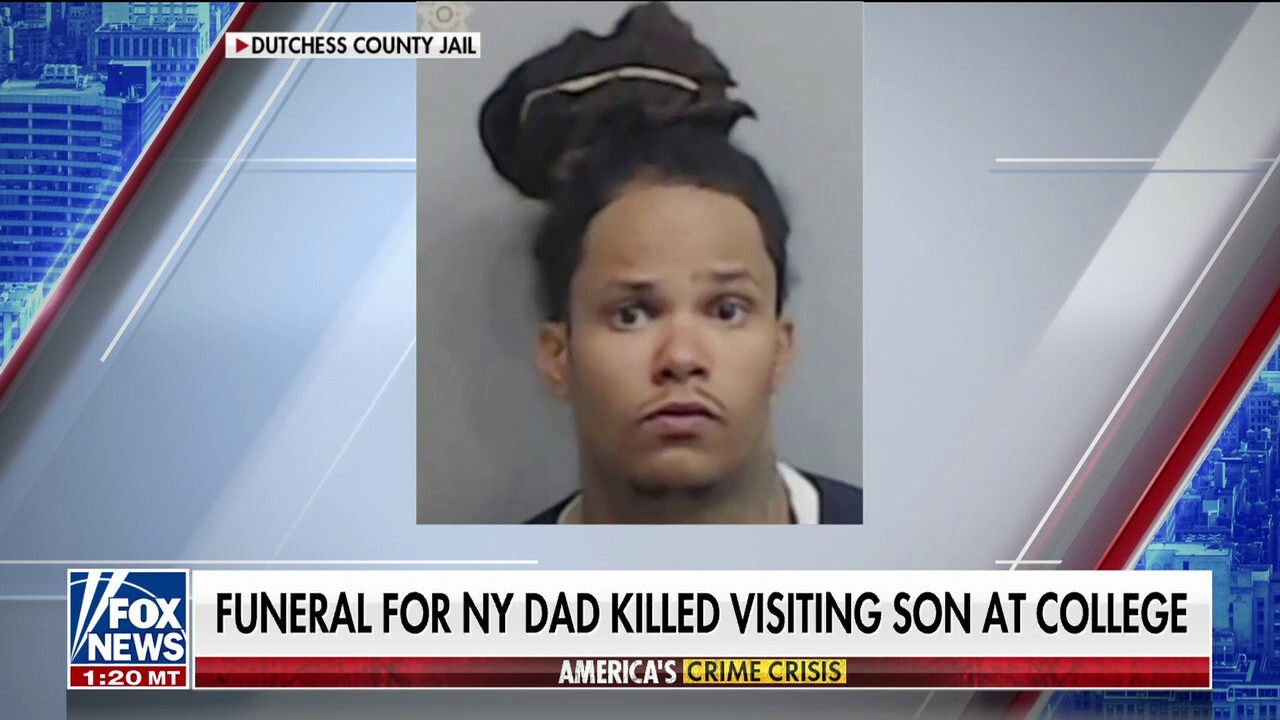 video
Suspect in Marist College parent murder linked to NY gang-related killing
Fox News senior correspondent Eric Shawn joins 'The Story' with the latest details on the investigation.

CLICK HERE TO READ MORE ON FOX BUSINESS

"It is unfathomable that something like this could occur at a Marriott," the statement went on. "Marriott must implement adequate security protocols and properly train its personnel to ensure its employees, guests, and members of the public never find themselves in a similar position to that of our client, Olga Hostyeva."

Source: Read Full Article