Kim Kardashian Came Up With An Unusual, But Sweet Way To Protect Chicago From Flu Season
When it comes to avoiding a sick baby, Kim Kardashian is not taking any chances. The reality star came up with an interesting — and adorable — way of protecting her youngest daughter against the flu: Kim Kardashian sent Chicago to visit her aunt Khloé to keep her from getting sick. The mother of three confessed to Extra at the launch of her KKW Fragrance at Ulta Beauty that the entire Kardashian-West family is currently battling the flu, and that she was concerned that baby Chicago would catch it too.
"Yesterday was a hard day because we have the flu going around," Kardashian confessed, before revealing that she turned to her younger sister to help keep her 10-month-old daughter safe from the germs. "I sent her to Cleveland with Khloé. I said … 'Khloé, please take her for, like, four days, because she'll get sick [at home] with everyone.'"
Thankfully, it seems as if Kardashian's plan has worked — Khloé shared some photos on her Instagram story on Thursday of a healthy-looking Chicago enjoying some very adorable quality time with her cousin, True. In one photo, Chicago can be seen reaching out of her stroller in order to hold onto her 8-month-old cousin's hand, while in another, the two youngest Kardashians took a sweet nap in their car seats at the end of what Khloé noted was a "long day."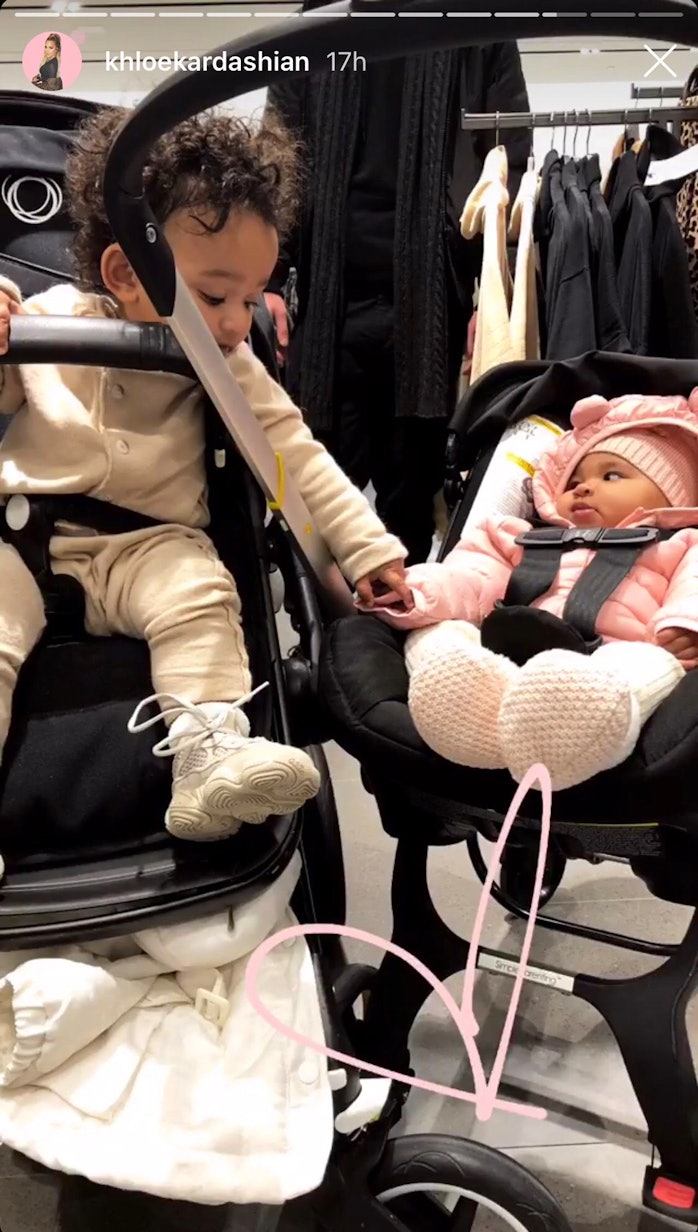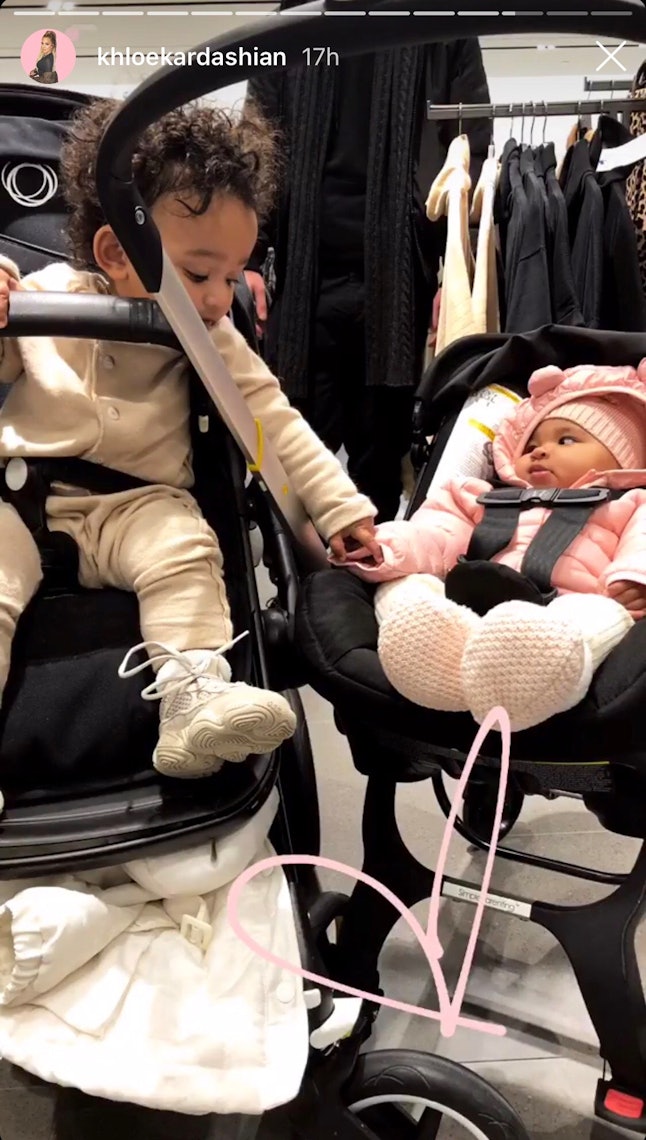 This is far from the first time that the youngest generation of the Kardashians have shown off their close bond on social media; on Thanksgiving, Khloé shared a photo of her mother, Kris Jenner, and grandmother, MJ Shannon, holding Chicago and True. "Thankful for generations of love," the Good American founder captioned the sweet family portrait.
And back in October, Chicago — alongside big brother Saint, 3, and cousins Dream Kardashian, 2, and Stormi Webster, 10 months — celebrated True's six-month birthday with an adorable "Cousin Cupcake" party in Khloé's backyard.
But the cousins' close relationship isn't much of a surprise, considering that the Kardashian-Jenner family is incredibly tight-knit. Back in June, Kardashian revealed that she was extremely excited that her youngest daughter would be able to grow up with two "best friends," and have the same close bond that she enjoyed with her own family growing up.
"The three little girls are gonna grow up together," the KKW Beauty founder told Entertainment Tonight shortly after True's birth. "Chi and Stormi are just two weeks apart and then True is just a few months behind so that's really exciting. We're so excited. Me and Kylie and Khloe are planning one of those kids' photo shoots, just like a silly shot that we can have all the girls, 'cause Stormi and Chicago have so many pictures together. So, we can't wait for True to join the crew."
(Thankfully, the Kardashians have more than delivered on their promise of adorable baby-bestie photo shoots.)
But it's not just the youngest generation of Kardashians who have become closer after the recent "Kardashian Baby Boom": In May, Kylie Jenner told the Evening Standard that having babies so close together helped her connect to her older sisters. "I think recently you have become closer to all the sisters, especially me and Khloé, because we were all expecting at the same time," Kylie said, adding that the trio "hang out all the time."
With the youngest generation clearly already so bonded, it seems as if Kardashian has found the sweetest possible way to keep Chicago protected from flu season — after all, one of the best cure for what ails you is spending quality time with your cousin and best friend.
Source: Read Full Article