How Long Have Blake Shelton and Gwen Stefani Been Dating? What They've Said About Getting Married – The Cheat Sheet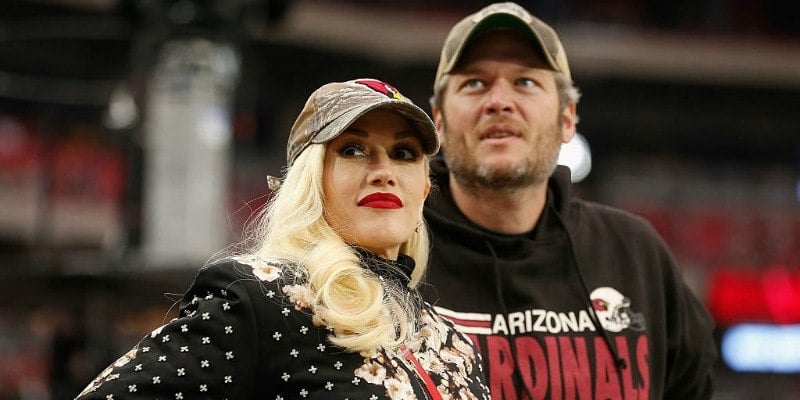 Blake Shelton and Gwen Stefani, spending quality time together | Christian Petersen/Getty Images
Before they became Hollywood's "it" couple Gwen Stefani and Blake Shelton were already turning heads in the entertainment industry.
No Doubt's iconic frontwoman has a successful career going back to 1995. The band's unforgettable album Tragic Kingdom hit the market, garnering media attention and putting the stunning Stefani in the spotlight. Since her humble beginnings, she's become a coveted pop icon with a successful fashion line, millions of albums sold, and tons of accolades.
The country crooner was crowned People's Sexiest Man Alive last year, but that's not all he has going for him. Shelton has been a coach on The Voice since the show's premiere in 2011 and has won six seasons. Nine out of his 11 studio albums have reached gold or platinum status, and several of his songs have held top positions on the Billboard charts. The impressive roster led to Rolling Stone naming him "one of country music's biggest stars over the past decade."
Now, the affluent stars have become one of Hollywood's most stylish couples, but how did they get started?
Blake Shelton and Gwen Stefani met on 'The Voice'
View this post on Instagram
him @blakeshelton @nbcthevoice gx
A post shared by Gwen Stefani (@gwenstefani) on
Before working together on The Voice, Stefani had no idea who Shelton was, a surprising fact for two popular stars in the industry. In fact, Stefani was dismissive of Shelton initially, evident by a statement she said during her interview on Late Night with Seth Meyers.
"Like, I'd heard it on the show, but I wasn't paying attention. I was like, 'Whatever, country guy's on. When's Pharrell coming on?'".
But if Stefani has no previous knowledge of Shelton, what was it that brought the two lovebirds together?
Shelton and Stefani were both going through a divorce
After news of Gavin Rossdale's relationship with the couple's nanny made mainstream media Stefani found herself going through an "insane" divorce with the father of her three children. After thirteen years together, it's no surprise that the divorce tore Stefani apart.
Around the same time, Shelton was dealing with his own relationship drama. The country singer had an extremely rocky start with Miranda Lambert as their sizzling connection took off while he was married to Kaynette Williams and she was dating Jeff Allen McManus. Their significant personality differences, lots of time spent apart and very messy beginning all contributed to the breakup.
Shelton announced his impending divorce to his fellow coaches and the production staff before a round of blind auditions on The Voice. The news initially shocked Stefani but it also resonated with her, and the two became an inseparable pair, providing much-needed support for one another.
When did Shelton and Stefani start dating?
Shelton and Stefani have been dating for a little over three years now, and their relationship can be seen blossoming on Stefani's Instagram all the way back to day one. While the relationship officially began in November 2015, rumors caused by their undeniable chemistry date back to November 2014 when Stefani posted an adorable picture of the pair with the caption :heart: him.
In October 2015 the chemistry built as fans got to see the two perform a comical duet version of Drake's Hotline Bling on The Tonight Show Starring Jimmy Fallon. They were seen later that month at George Clooney and Jared Leto's Halloween celebrations where onlookers spotted them holding hands.
Admittedly the power couple thought their relationship was strictly a rebound but fans are happy to see the relationship going strong after all these years.
Are Blake Shelton and Gwen Stefani going to get married?
View this post on Instagram
❤️ #vegas #justagirl @blakeshelton gx #picsbysophiemuller
A post shared by Gwen Stefani (@gwenstefani) on
Stefani and Shelton don't hold back when it comes to showing their love on social media, much to Shelton's ex Lambert's dismay, but will the two be tying the knot any time soon?
The couple has mentioned that they think about marrying each other all the time. Stefani confessed on The Ellen DeGeneres Show, and Shelton confessed in an interview with CMT's Cody Alan. Despite the growing desire, they feel no need to rush into getting married. Their stable relationship and the knowledge that they are both in it for the long run provides them with all they need, for now. While some of the couple's songs have shown promising plans for the future, like Shelton's I'll Name the Dogs, fans will have to wait for wedding bells.
Source: Read Full Article