Here's How Doing A Couple's Photoshoot Brought Me Closer To My Partner
I love, well, being in love. My boyfriend Zach and I are really passionate about creating and capturing meaningful and memorable moments and love to document our relationship, whether it be filming home videos or just plain ol' Instagramming. However, we wanted to try something different in terms of capturing these meaningful moments in our relationship, so we decided to try doing a couple's photoshoot. From a photoshoot, we'd have professional photos of us to share and show off for years to come. Plus, it would give us an excuse to dress up on a Sunday, look nice, and laugh as we pose for the pictures.
And it's not just about the finished product — doing a shoot with your partner can be a beneficial experience for many reasons, from cherishing them to expressing gratitude. "I believe that couple's photography is the ultimate way to get closer to your partner every day," Philadelphia-based couple's photographer Mike Allebach tells Bustle. "We create pieces of wall art to anchor clients in their love. These photos bring the joy back and remind them why they treasure their partner."
A couple's photoshoot was something neither of us had ever done before, and it was exciting to be trying something out of our comfort zone, while also creating new memories to reminisce about for years to come.
When I brought up the idea of the shoot, Zach was definitely on board— who doesn't love getting all dressed up and feeling like an Instagram model for a few hours? But, he was more excited that we'd be able to keep these professional photos to document our relationship throughout time (how adorable?). Also, it felt really good that Zach, on his own, wanted to capture these memories of us to show off to our friends and family, too.
Getting Ready For The Shoot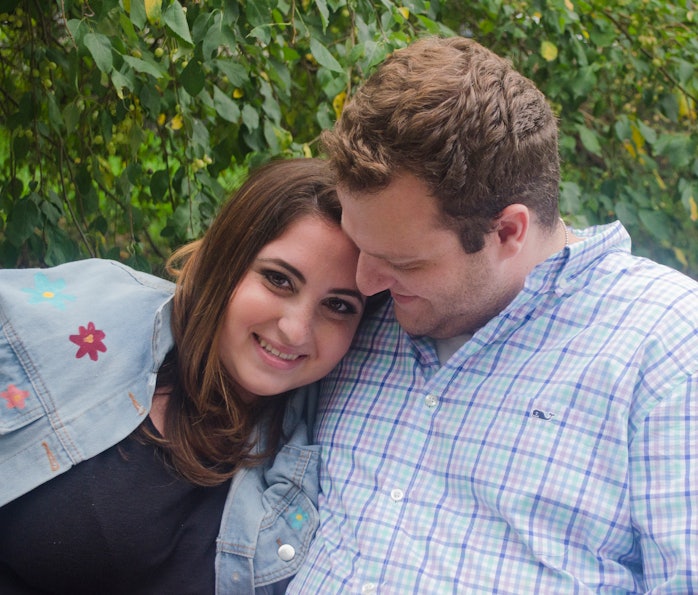 I've never participated in a photoshoot before, unless you count photos from my Bat Mitzvah, and I show those to nobody. Zach, on the other hand, is usually the one behind the camera (after all, he did graduate college with a film production major), that is, unless, I force him into taking cheesy photos and selfies with me.
As a film major, Zach was a little more prepared for the photoshoot going into it, and I had no idea what to expect: Would it be casual, or more fancy like how they show it on TV (like the photographer telling you what poses to do, how to move your arms, where to look, etc.). However, I wanted our shoot to be more ~natural~ and candid to showcase our love, laughter, and goofiness.
Of course, when it came to ideas for different poses and photos, I came prepared with ideas and stalked Pinterest and Instagram for cute couple's pictures I saw and used them as inspo.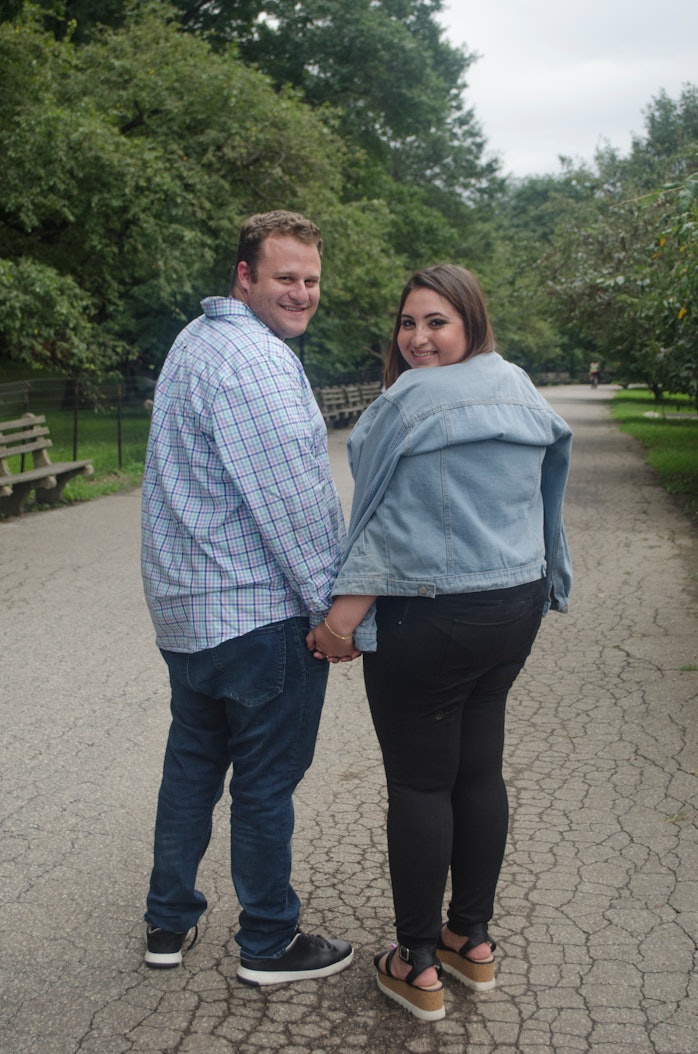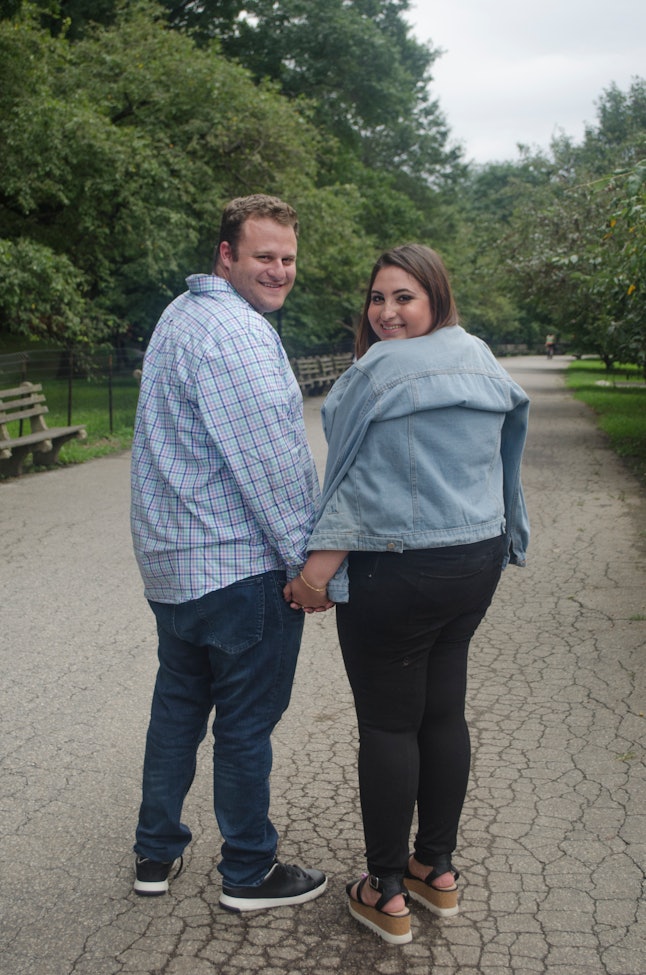 As part of our photoshoot, Zach and I wanted to take advantage of the nice weather, and take some photos of us at our local park as well as some photos of us inside the apartment. In our eyes, the more options and angles we had, the better.
The Photoshoot
The photoshoot itself was a ton of fun. I loved that we got to loosen up, hold hands, snuggle, and even share a smooch or two for the camera. Being able to show off my true, silly, loving self in front of the camera lens can be difficult, but with Zach by my side, it felt like a breeze. All of my small insecurities about my body and makeup seemed to have melted away as soon as our amazing photographer started clicking. Zach usually likes to be behind the camera, but he was surprisingly comfortable, at ease, and even goofy at times. Considering how picky he can get about our amateur selfies (good lighting is key!), Zach was the one being silly (making faces, twirling me around, sharing jokes, etc.), and making me feel more comfortable.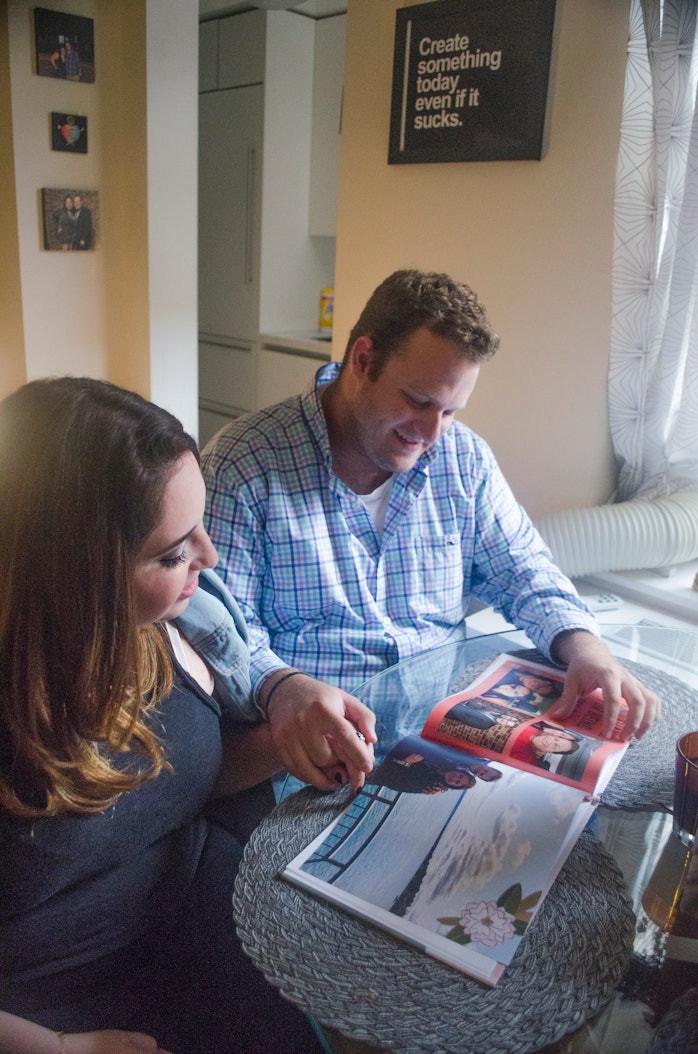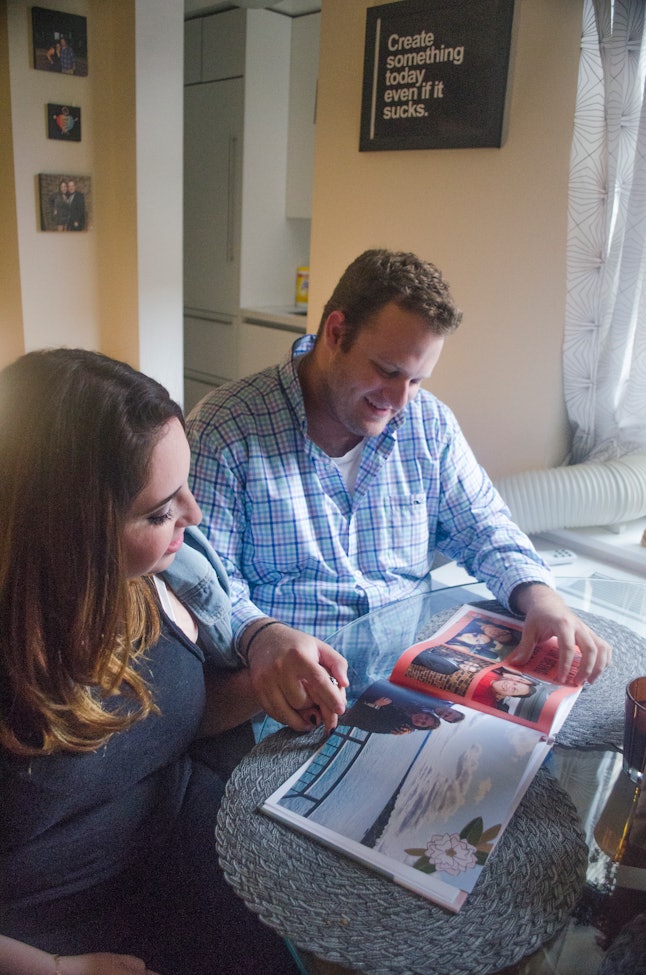 Sara Barber, our photographer, who was an intern at Bustle, helped us feel super comfortable, was amazingly reassuring, and provided me with constant reassurance to ensure I felt comfortable and confident. The key to a successful couple's shoot is a great photographer, since they are the ones that are actually capturing the moments and seeing behind the lens. If you don't have someone behind the scenes to make you feel comfortable, the shots won't come out as good, and your nerves will most likely show through the photos.
How It Helped Our Relationship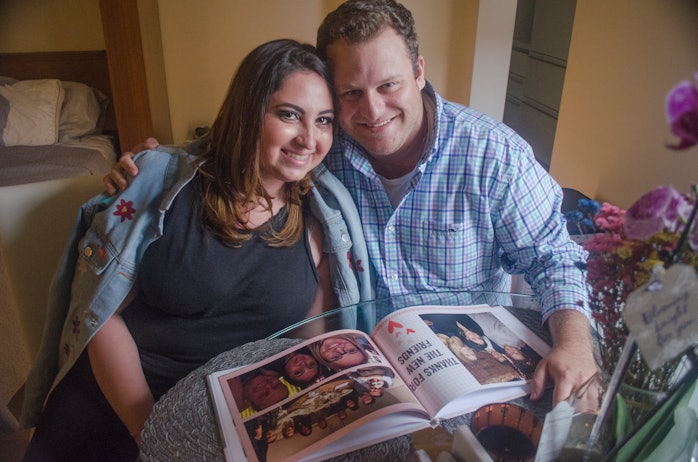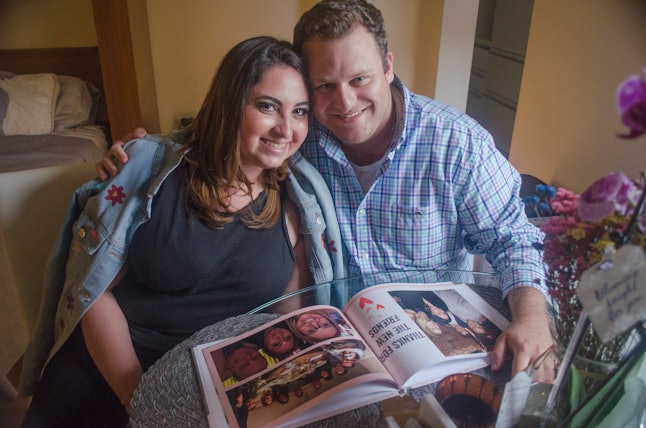 Post-photoshoot, we were feeling really loved up and accomplished. I felt much closer to Zach afterwards, and we spent the rest of the afternoon marathon-watching Law and Order: SVU while also snuggling up in each other's arms (I swear, it's not as cheesy as it sounds!).
I also felt really in-tune with Zach and was feeling relaxed and content. As someone who suffers from anxiety, especially within relationships, the photoshoot really helped to alleviate any nerves and provided me with the reassurance I needed to feel connected to my partner. After getting the photos back, we got them printed out on canvases to hang on the walls,because I'm all about the more wall art, the better.
Besides from being a great Sunday afternoon pick-me-up, the photoshoot truly did help us to embrace each other's strengths, while also accepting each other's insecurities and weaknesses. The shoot fostered growth, respect, and appreciation for one another — which is inarguably a huge factor in maintaining a healthy relationship.
Source: Read Full Article