Escaped Murderer Danelo Cavalcante 'Squeezed' Through Police Perimeter, Spotted In New Trail Cam Images
The convicted killer escaped shortly after he was given life in prison for murdering his ex-girlfriend — who prosecutors said was stabbed 38 times after she learned he was wanted for another murder in Brazil.
The manhunt for convicted killer Danelo Cavalcante has expanded, as Pennsylvania State Police revealed Tuesday new trail cam photos proved he slipped through their previously-established perimeter.
Cavalcante escaped from Chester County Prison last Thursday, setting off a desperate search for the man convicted earlier this summer of brutally murdering his ex-girlfriend in 2021. According to prosecutors, the 33-year-old stabbed Deborah Brandao 38 times after she learned he was wanted for another murder in Brazil; he allegedly killed her in front of her two young children.
While authorities initially set up a search area within two miles of the prison, they've since expanded the grid after a trail camera south of the initial perimeter picked up images of Cavalcante on Monday night.
"He's trying to escape and that's what he managed to do," Lt. Col George Bevins of the PA State Police said during a press conference Tuesday. "He found a point that he could squeeze through that perimeter and he traveled south."
"You're dealing with someone who is desperate and doesn't want to get caught," added Bevins. "He's a bad guy. He needs to be in custody and we're determined to capture him."
"Obviously I wish we would have been able to capture him without him getting through that perimeter but it's also not shocking," he said. "It's dark, it's a large area. Not to make excuses, it's just difficult terrain."
Cavalcante was spotted on a trail camera first at 8:21pm on Monday night, walking north at Longwood Gardens without a shirt on; He was seen carrying a duffel bag and wearing long pants and backpack. He was spotted again on the same camera, this time walking south, about an hour later at 9:33pm, wearing a sweatshirt.
The botanical gardens have since been closed for the day, as authorities continue to search the area with 200-250 reportedly helping with search efforts on the ground. Residents in a 3-mile radius of where he was last spotted were also warned to keep their homes and cars locked, while two nearby school districts — Kennett Consolidated School District and Unionville-Chadds Ford School District — closed for the day.
The latter said they'd "operate on a Flexible Instructional Day."
Unable to render YouTube Video.
Authorities also got Cavalcante's mother to record a plea in Portuguese, urging her son to turn himself in. The message was then played from helicopters and vehicles throughout the continued search.
"As desperate as he is, maybe he has a change of thought and hears his mother telling him to surrender, and his family cares about him," said Robert Clark of the US Marshals during another presser Monday. "Perhaps this is what puts him over the edge where we can get a peaceful surrender," he added.
Cavalcante escaped from Chester County Prison while waiting to be transferred to a state facility; at this time, it's unclear how he escaped. A reward of $10,000 is being offered for anyone with information leading to his arrest.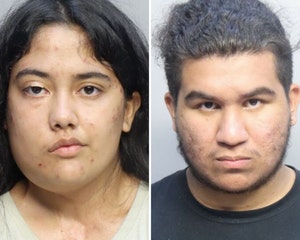 Florida Mom Accused of Using Parody Website to Hire Hitman to Kill 3-Year-Old Son
Source: Read Full Article