Emma Stone Is Pregnant and Expecting Her First Baby With Husband Dave McCary
You know how Andrew Garfield reportedly dated Rita Ora, aka the unsung hero of our time who dressed up like Post Malone for Halloween? Well, Emma Stone has also moved on to ~greener relationship pastures~ and is now MARRIED AND EXPECTING A BABY (!) with Saturday Night Live segment director Dave McCary.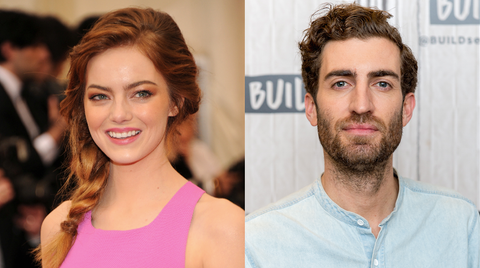 E! News and Us Weekly confirmed the happy baby news on January 4 after new pics of Emma emerged on The Daily Mail's site. "She seems very happy and very excited about becoming a mother—she's constantly oohing and cooing. She looks great, she looks healthy, she's glowing," a source told Us. "She's been keeping up with friends and work lately, she's always staying active and gets her daily exercise in."
As for her and Dave, things seem great! Check out their matching gold wedding bands here and her (nice and blurry) engagement ring for yourself from Dave's Instagram: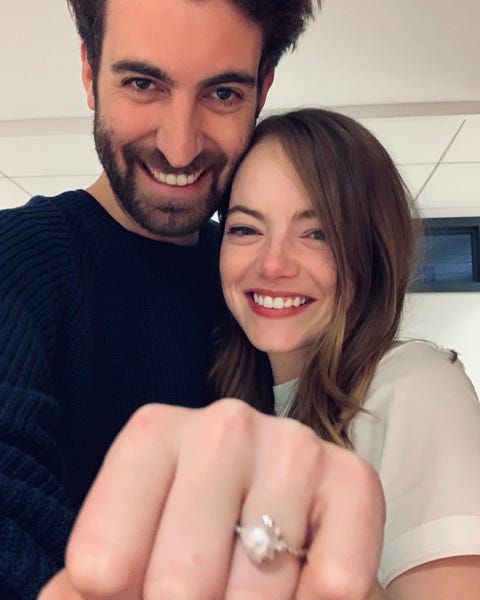 Emma and Dave have been together for more than three years, so TBH, this isn't totally out of the blue, but still, it's time to get to know this dude better. Not much is out there about 35-year-old Dave thanks to the fact that he's behind the camera vs. lurking in the spotlight, but fortunately, his Instagram is public and it's a damn delight.
https://www.instagram.com/p/BKQ338Ohl6Q/?utm_source=ig_embed&utm_campaign=loading
A post shared by @davemccary
Dave (who attended University of Southern California with SNL star Kyle Mooney) made his directorial debut with Brigsby Bear in 2017, and apparently he and Emma have been going strong for a few years–ish now. Now that he's put a ring on it and they're expecting a baby, the time has clearly come for a deep dive into their relationship.
On that note, let's throw things back to…
December 2016

Emma Stone hosts Saturday Night Live and meets Dave for the first time. In fact, he actually directs her in the very-very-very-very funny skit "Wells for Boys," which you can watch right here:
June 2017
Emma and Dave are spotted leaving the premiere of his film Brigsby Bear. No official photos are taken, but a fan records this vid where you can see literally just their backs. Still though! Proof!
October 25, 2017
Reports surface that Emma and Dave have been dating for "months."
May 25, 2018
Dave and Emma aren't seen together for basically all of 2018, but Emma is spotted out at dinner with her ex Andrew Garfield "looking very much like a couple," fueling some Emma/Dave split rumors.
December 12, 2018
Emma hosts a roller-skating party that I wasn't invited to for some reason, and Us Weekly reports that she and Dave are all up on each other. "They stood right next to the stage in their skates for all of Haim's set, dancing together and singing along," a source says. "At one point, they slow-danced to a somewhat upbeat song. He initiated it and she excitedly followed. They held hands [with] his other hand around her waist and hers around his shoulders."
January 6, 2019

Dave and Emma are seen getting cozy at a Golden Globes after-party at the Beverly Hilton hotel, where they hang with Taylor Swift and Joe Alwyn as well as Rachel Weisz and Daniel Craig. So, you know, just a totally normal, not at all intimidating group of power couples!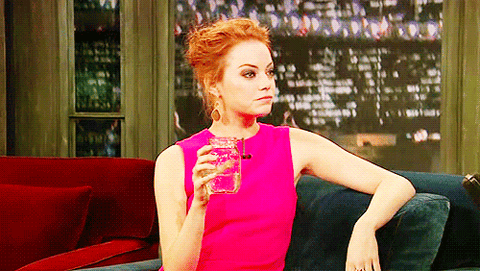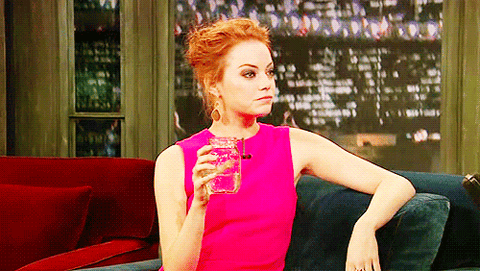 "Emma and Dave were super touchy-feely and affectionate, which seemed to make Taylor more comfortable doing the same with Joe," a source tells Us Weekly. "It seemed like a very fun and lighthearted date night."
January 18, 2019
SPOTTED! Emma and Dave enjoy a date night at a Los Angeles Clippers game. No PDA but still cute.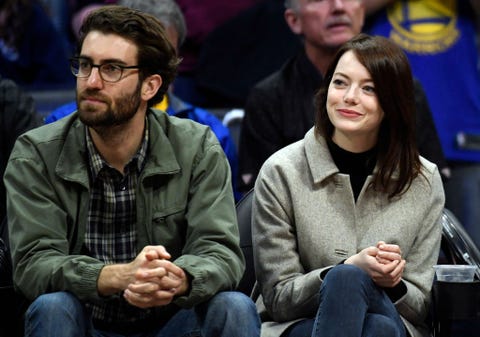 January 27, 2019
Emma and Dave FINALLY hit a red carpet together, appearing at the Screen Actors Guild Awards where these cute pics are snapped: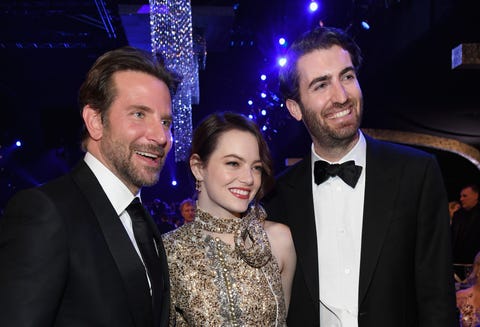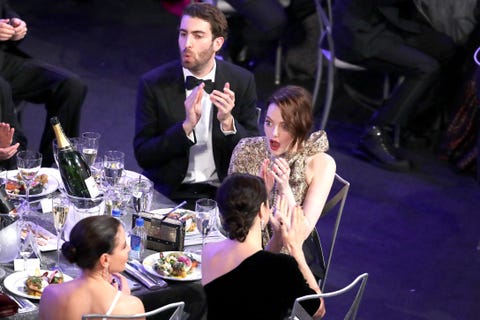 February 24, 2019
Although Emma and Dave do not walk the red carpet together at the Oscars, they sit next to each other for the awards show (and he looks SO happy to support her during the Best Supporting Actress presentation).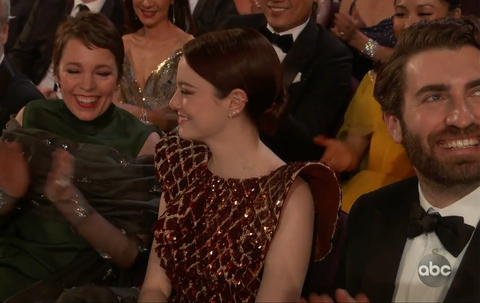 April 4, 2019
I'm sorry, do we hear wedding bells? Nope, it's just a casual RING.
Emma Stone is spotted out wearing a very classy diamond ring on *that* finger in the midst of engagement rumors, which of course has everyone freaking out about the status of Emma and Dave's relationship.
August 9, 2019
Emma and Dave take a romantic trip to Santa Monica for an Italian dinner date, looking extra cute. That's it, that's the update, but what do you expect with a couple this private??
December 4, 2019
Emma and Dave are officially ENGAGED! The notoriously low-key couple filled the world in on their news via a one-emoji-caption'd Instagram, featuring a blurry-AF ring.
https://www.instagram.com/p/B5q8jCvBv7O/?utm_source=ig_embed&utm_campaign=loading
A post shared by @davemccary
March 17, 2020
Welp. Emma and Dave postponed their Los Angeles nuptials. Yet another thing to blame on COVID.
May 11, 2020
Hold up! Do my eyes deceive me or are is Emma wearing a gold wedding band on her ring finger!?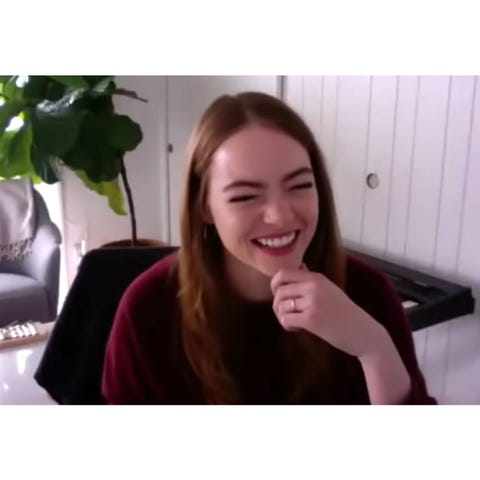 Also, her "Thankfully, I didn't do that" response to psychiatrist Dr. Harold Koplewicz telling her, "If you marry an anxious man, you're going to have to know me the rest of my life" was so telling.
September 22, 2020
Wait, wait, wait. Do my eyes deceive me yet again or is she now wearing a matching gold wedding band with Dave!? (Pics here.)
September 23, 2020
Okay, yeah. Those were fully wedding rings, and I don't need glasses! According to a Page Six source, Emma and Dave married in a super secret ceremony! They didn't say where or when they tied the knot, but it was almost certainly months ago. Congrats to them!
January 4, 2021
Emma and Dave really are a low-key couple: Word broke that they're expecting a baby, but only after pics of a very pregnant Emma emerged on The Daily Mail's site.
E! News and Us Weekly confirmed the baby news, though Emma and Dave have stayed mum. "She seems very happy and very excited about becoming a mother—she's constantly oohing and cooing. She looks great, she looks healthy, she's glowing," a source told Us. "She's been keeping up with friends and work lately, she's always staying active and gets her daily exercise in."
And that brings us up to date! Obviously, this very important timeline will be updated with the next chapter of Emma and Dave's relationship, but until then, we can no longer put off making a shipper name. It's a hard job, but someone (you) has to do it:
Source: Read Full Article