We All Want Ella Emhoff's Inauguration Coat—Here's Why She's a Fashion Girl to Watch
Vice President Kamala Harris has long talked about the importance of family to her and to President Joe Biden. She's name-checked her family members at every key moment on the campaign trail and in her recent days as vice president-elect, including husband Doug Emhoff's children, her stepchildren, Cole and Ella Emhoff. And Ella's arrival at the Capitol for today's inauguration ceremony in Washington, D.C., proved that there is about to be some serious fashion in the White House—and in the vice presidential residence.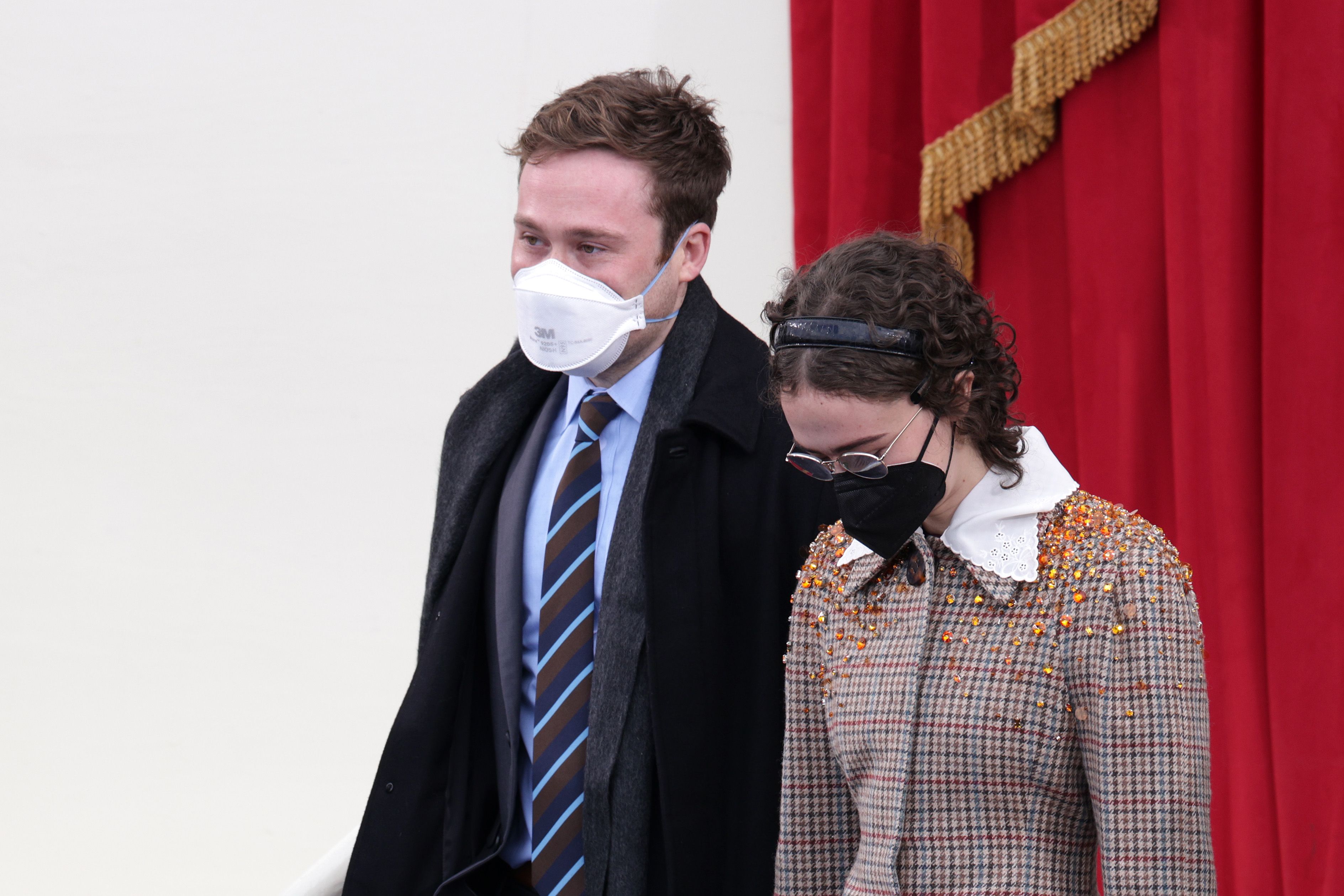 After Biden's children and grandchildren arrived in monochromatic suits of stark white, bold pink, and neutrals, and before her stepmother hit the stage in a look by Christopher John Rogers, Ella made our jaws drop, arriving with her brother, wearing a Miu Miu tartan coat with crystal-encrusted shoulders and a dramatic pilgrim collar. She paired the look with a Loeffler Randall headband to pull back her curly locks, along with oversized spectacles, which made the bold shoulders and collar that much more nerd chic. For more Victorian, American pastoral-inspired vibes, Ella appeared to have layered the coat over a burgundy dress by Batsheva, according to the designer's Instagram.
https://www.instagram.com/p/CKRjILKALoS/?utm_source=ig_embed&utm_campaign=loading
A post shared by Batsheva (@batshevadress)
It was a pure fashion girl move. True to form, the now-famous daughter arrived in Washington yesterday donning a full Thom Browne look, complete with a striped pleated skirt, button-down shirt, and uniform-esque tie. Like today's Miu Miu coat, her look yesterday was a nod to the uniformity and professional dressing this moment demands, but with a twist.
As a young designer herself, Ella seems to be carrying on the message of supporting young American designers, designers of color, and small businesses that her stepmother and Dr. Jill Biden seem to be driving home with their intentional fashion choices. Batsheva is a young label based in New York City created by Jewish designer Batsheva Hay; the label, according to its website, "plays with American styles of feminine dress—from Victorian to Pioneer; from Housewife to Hippie—by taking elements symbolic of restraint and repression (high collars, voluminous sleeves, and skirts) and giving them a modern inflection." It seems Ella could not have chosen a more appropriate brand for this moment in history and to honor her stepmother's historic inauguration.
https://www.instagram.com/p/CKPtvzcBRCv/?utm_source=ig_embed&utm_campaign=loading
A post shared by Kerstin Emhoff (@kemhoff)
Ella's making cheeky style statements with designers that are not typically associated with White House fashion, but what else would you expect from a New York–based fashion student? Ella is a senior at Parsons School of Design, lives in Brooklyn, and recently talked to Garage about her affinity for knitting, vintage shopping, and giving herself stick-and-poke tattoos. When asked if she'd wear one of her own designs to the inauguration, Ella eluded to her style's lack of consistency with past White House children: "I want to, but like I was saying before, my style and my practice are so different, but I think I might have to just make an exception because for such a momentous occasion, I think it does require a pretty momentous outfit."
And this coat was just that: momentous. So momentous, in fact, that we're coveting it—along with an occasion to wear it to—ourselves. For now, we'll continue to live vicariously through Ella Emhoff, who is sure to be a consistent source of epic fashion moments in Washington, and when she's back in Brooklyn.
Source: Read Full Article