EXCLUSIVE: Benjamin Edgar and Season Three's Collaborative Boots Go From Your Porch to the Pyrenees
Upstart footwear imprint Season Three wants to know — why not have your trail mix and eat it too? Their signature Ansel boot
Season Three's Adam Klein, however, will tell you that the hiking inspiration behind the brand's foundational model is only part of the big picture. "We styled [the Ansel] after '70s and '80s European hiking shoes, but the one thing we've always harped on is a really well-made product," he tells HYPEBEAST. Sure, they physically resemble forest-trekking footwear, but the brand's signature Ansel style is "built for probably anything," Season Three's site asserts, including the office and a day at the park.
1 of 5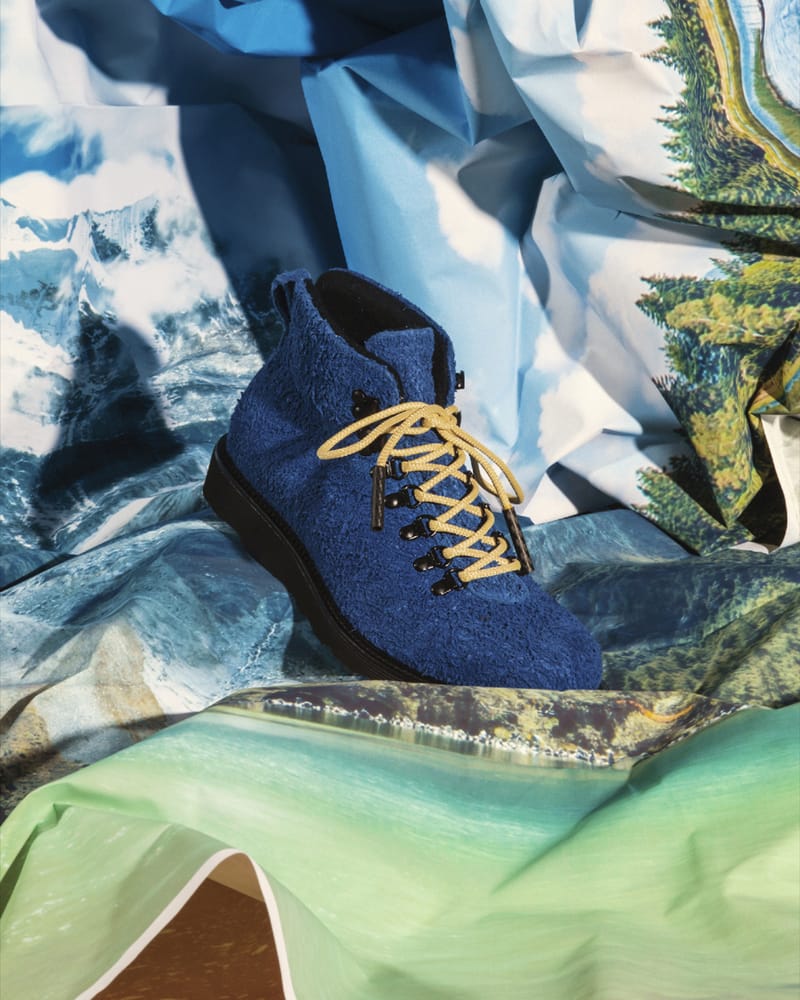 2 of 5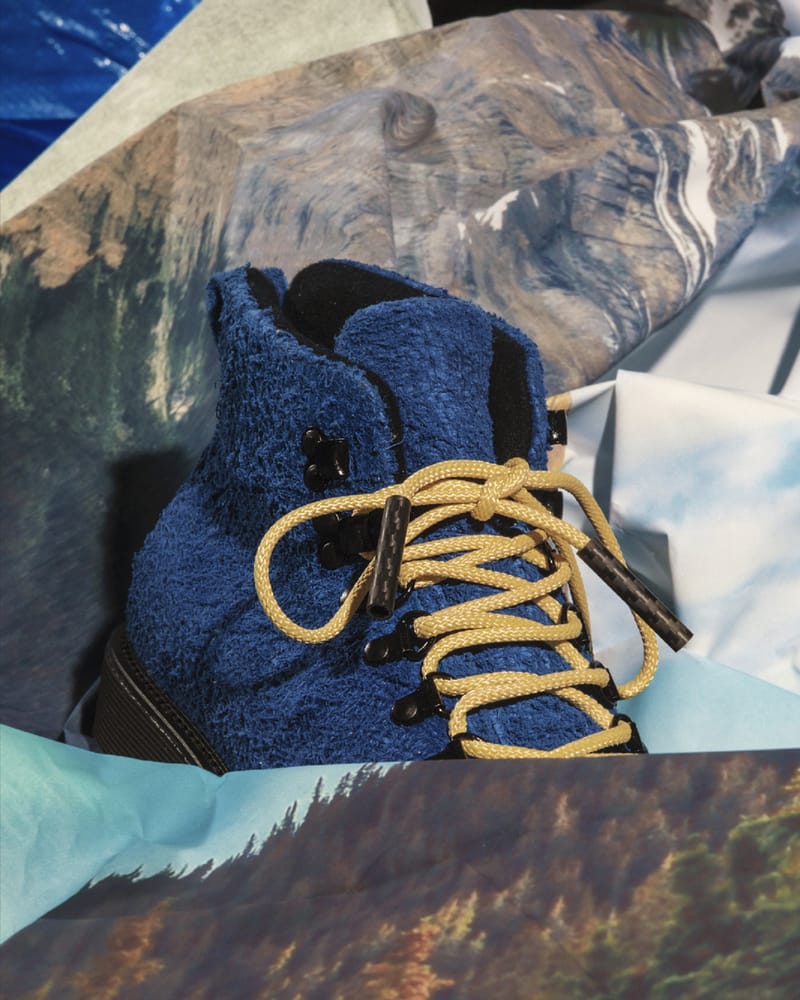 3 of 5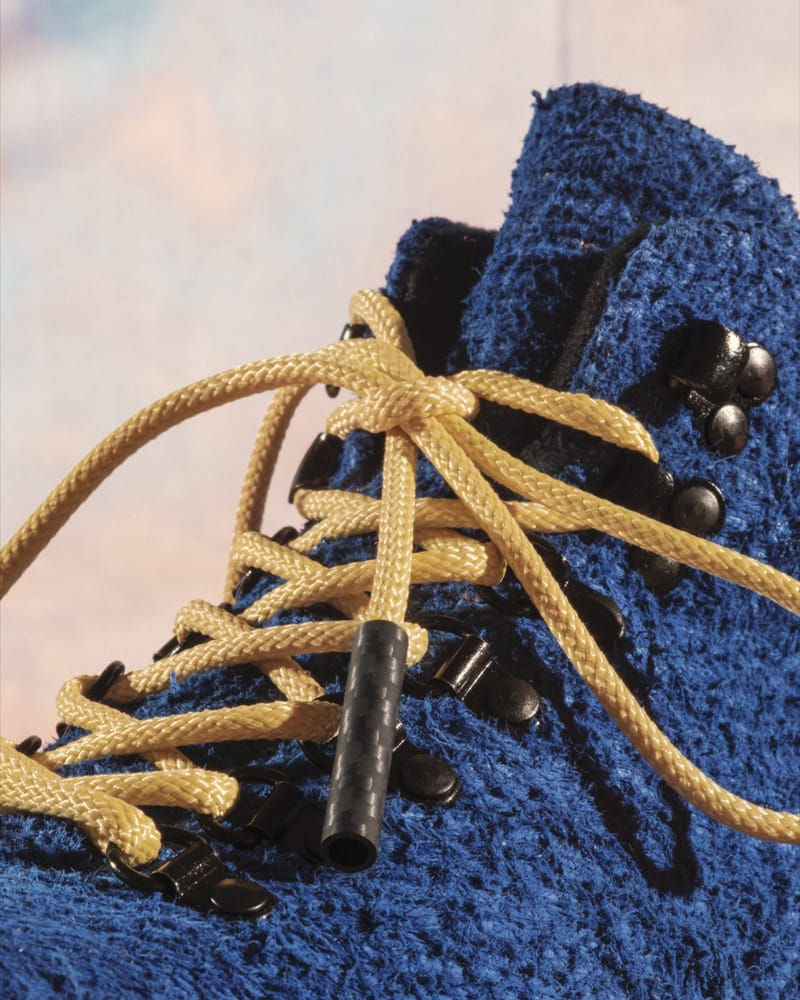 4 of 5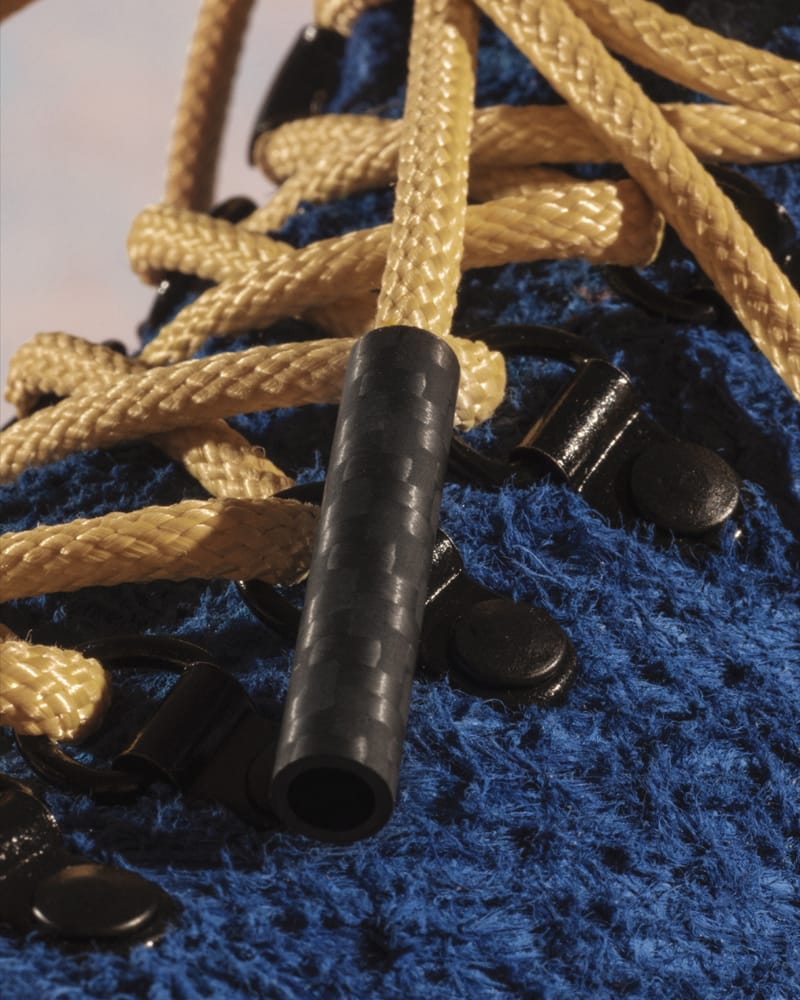 5 of 5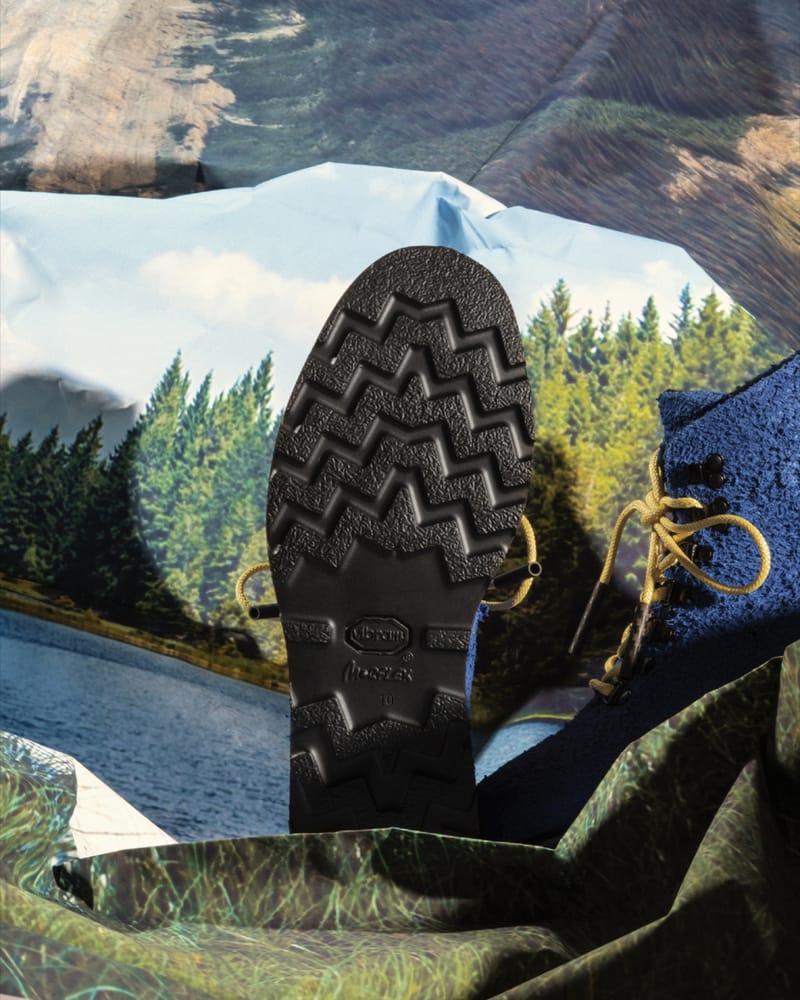 "What we're doing with Benjamin, wasn't picking something super functional — it was more about this exaggeration of materials," Klein explains, citing the unmistakable blue shade that envelopes one of the two collaborative boots. Edgar continues: "That shade of 'Internet Blue' has a lot of nerdy old internet heritage to it, with QBasic and the first hyperlinks, when they were that specific hex code." This personality-first design approach informs much of Benjamin Edgar's brand, which the eponymous creative explains "is about taking something that should be kinda boring or mundane and applying an incredible material to it."
This time, the incredible material is a rich Italian suede that informs each collaborative boot, accompanied by breathable — but not too insulating — merino wool lining, Vibram soles and laces. Those laces are perhaps the partnership's true crux, a physical manifestation of Edgar's obsession with details and Season Three's acumen for craft. A sunshine yellow "Durable" set is crafted from tough-as-nails woven Kevlar with a carbon fiber agelet, while the "Strong" set contrasts a flexible woven Dyneema against a weighty stainless steel agelet.1 of 4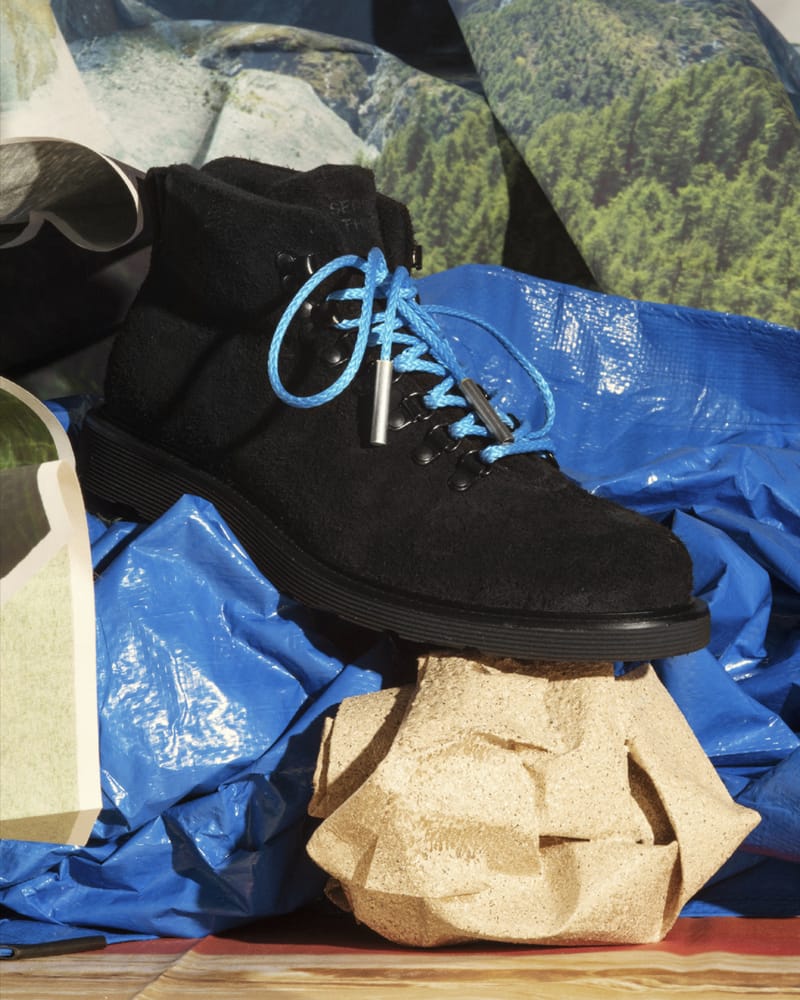 2 of 4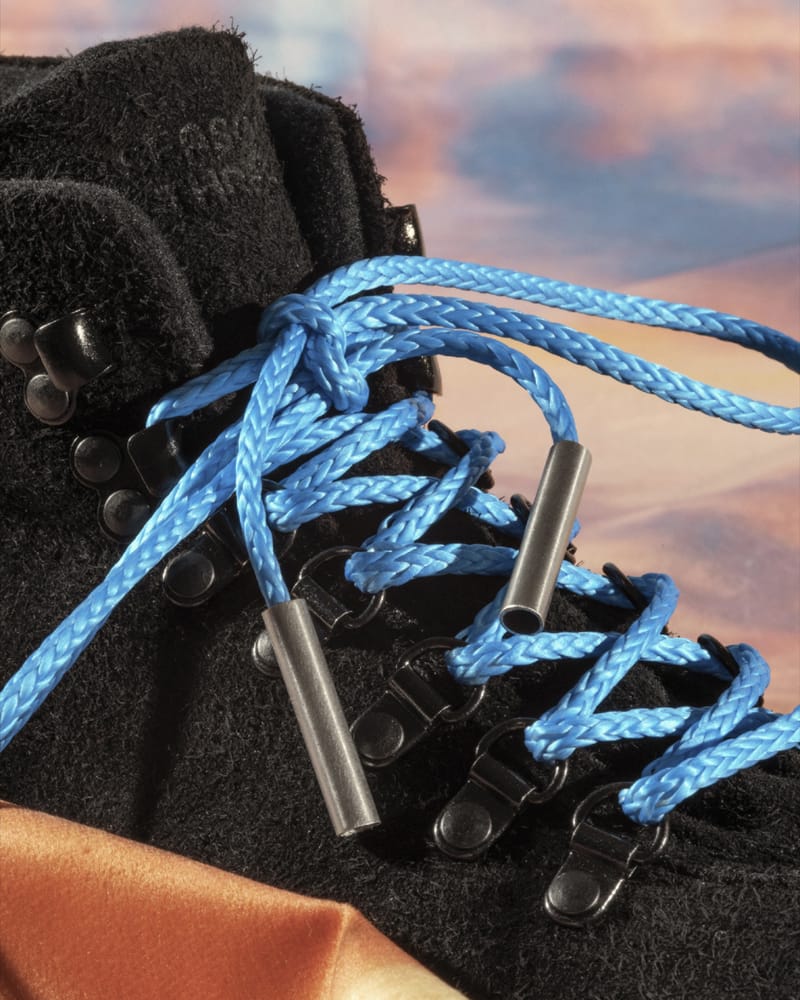 3 of 4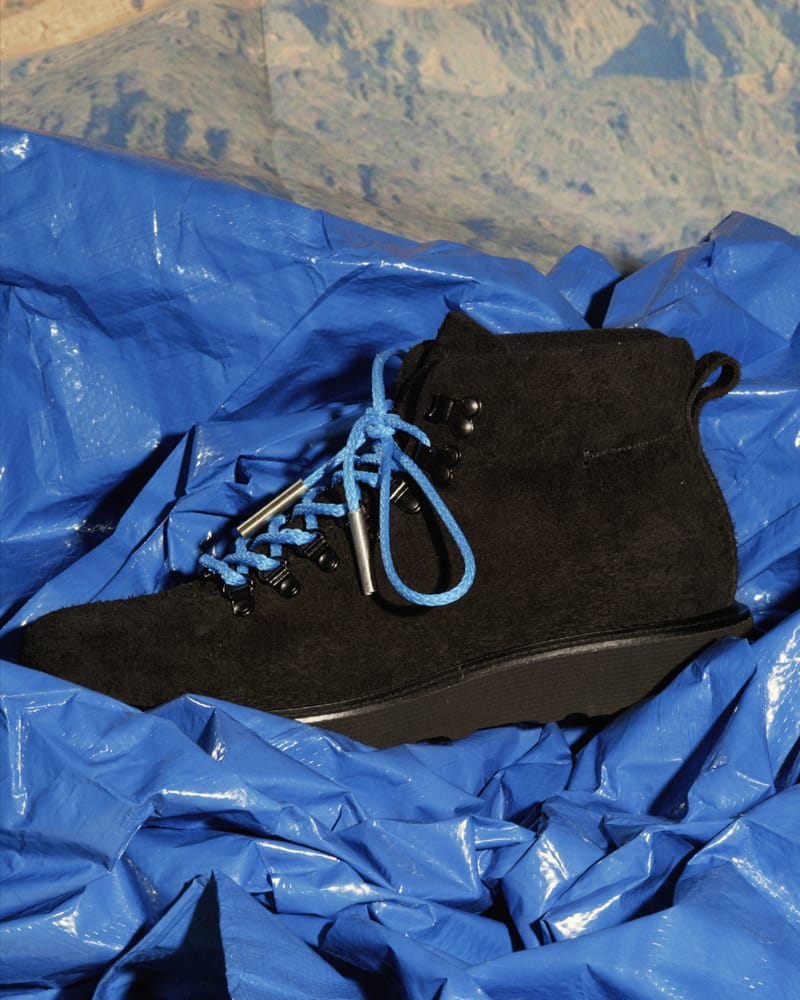 4 of 4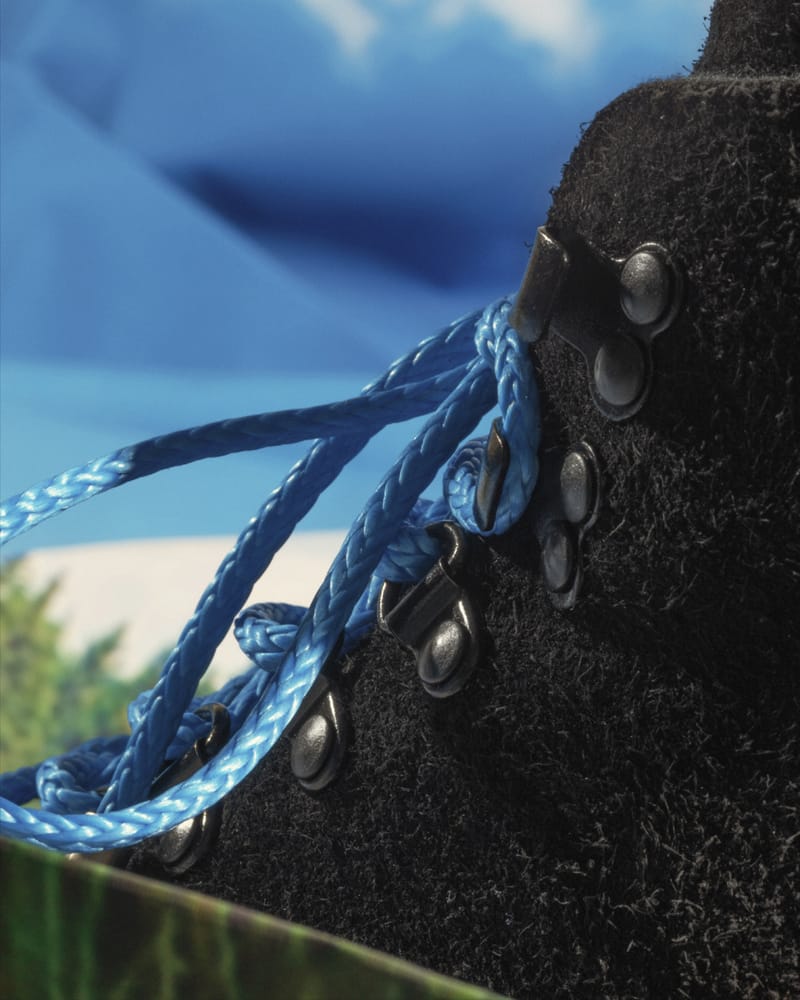 This sense of contrast also informs the PLAYLAB, INC.-directed imagery, which cradles the boots amidst a faux landscape setting. But even the boots themselves are a contrast, a meaty-looking shoe that's surprisingly lightweight and minimizes break-in time, making them no less comfortable than a trail runner, but far more durable and suited to all aspects of life.
That utilitarian appeal informs Season Three's ethos and its signature footwear style. "There's this level of independence in people's lives now," co-founder Jared Ray Johnson reflects. "People do multiple things professionally, they're not putting themselves in just one box. We're [the same]; We think of our products being worn Monday through Sunday, unconstrained. There's a purpose in having something durable, that isn't just bound to a domestic lifestyle." These shoes are unhindered, why aren't you?
That brings us back to Benjamin Edgar's limited edition variation, one of which is perhaps too bold to be a daily driver. "I think it'd be look silly if every boot was in such an intense color and all the laces were so exceptional." Edgar acknowledges. But rigid normality wasn't the point here. "My favorite collaborations are visually interesting and tell a fun story; if we look at this as an art project, as two friends coming together, that's when the sum is greater than the parts.
An extremely limited supply of the Benjamin Edgar-directed "Extreme Conditions" shoes will hit Season Three's website on September 15.
Source: Read Full Article