The Undertaker Told Joe Rogan What He Plans On Doing Now That His Wrestling Career Is Over
Mark Calaway, better known as The Undertaker, recently made it known that his 30-year wrestling career has come to a close. One of the most popular wrestlers ever, Calaway has been a part of the WWE brand for more than 3 decades.
He recently spoke with Joe Rogan about how he plans to transition into the next phase of his life, and how he plans on staying busy now that he's done with wrestling.
The Undertaker knew his Boneyard match against AJ Styles would be his last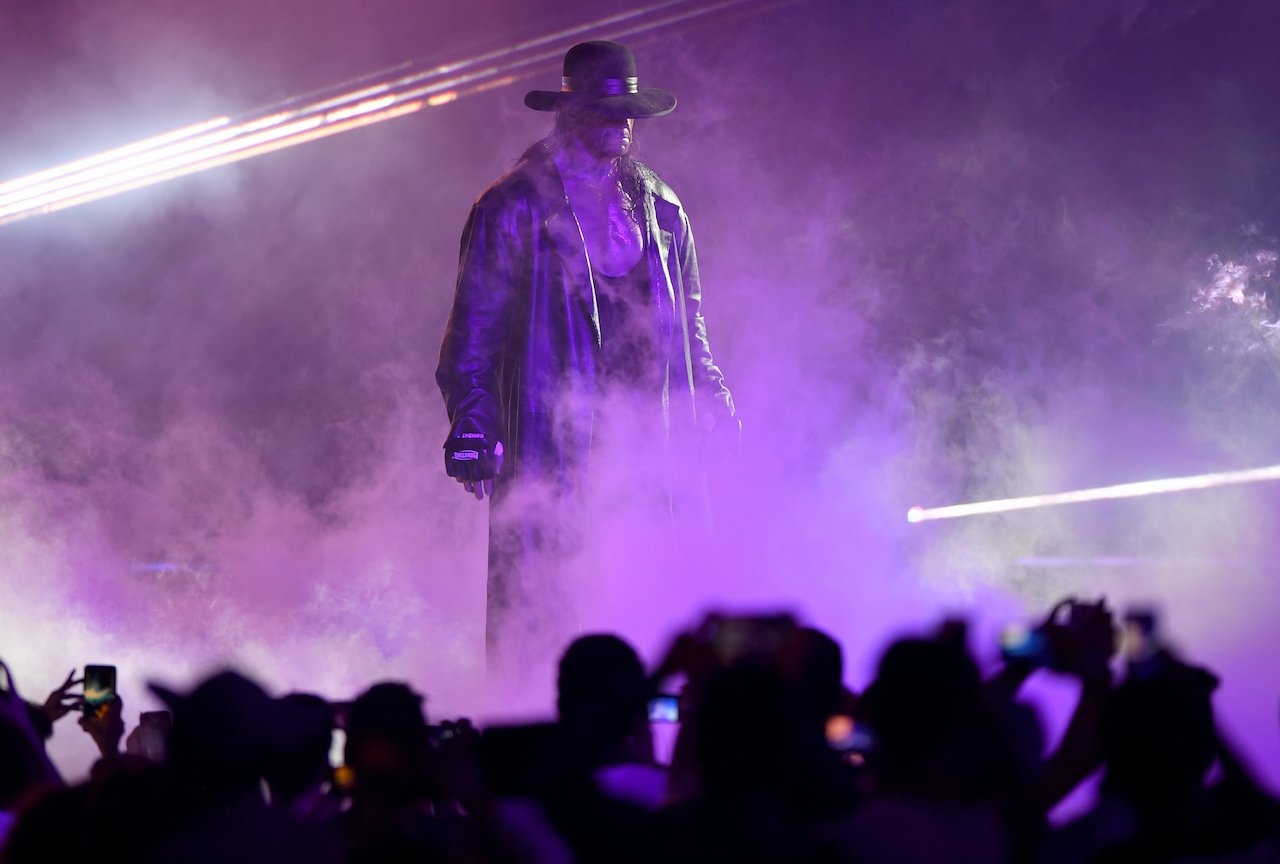 Although Calaway had already been considering retiring for a while, it became clear to him that it was time to walk away from wrestling after his Boneyard match with AJ Styles in April 2020. He detailed the experience during a recent appearance on the Joe Rogan Experience.
"We started filming that at about eight o'clock at night, and we wrapped at about five in the morning," Calaway said. "And at the end of it, I was like, 'I can hardly stand up.' Everything was just locked up … But I was really happy with how this turned out, and I knew at the end of it physically, 'Your day's done, man.'"
He noted that even though he still has the desire to wrestle, his body let him know that it was time to give it up.
"As much as I want to do it here [points to head] and I want to do it here [points to heart], it's just the body, it can't deliver," Calaway said.
The 30-year-veteran isn't sure what he's going to do now that his career is over
Rogan was curious to know what Calaway planned on doing now that his wrestling career is over.
"So what do you do now?" Rogan asked. "I mean, that's a long career."
Calaway didn't have a complete answer, but he admitted that he could see himself mentoring younger wrestlers here and there.
"It is, and I'm trying to figure that part out because I've dedicated my whole life to this business," Calaway said. "And there will be times when I help out and maybe mentor some guys, but I've got to find out what I'm passionate about."
The Undertaker had many conversations about retirement for several years
Even though the Boneyard match made it clear to him that it was time to make a change, Calway had had many prior conversations with his inner circle about retiring.
"There were lots of those conversations, and there were people that I talked to along the way through my career," Calaway said. "I was like, 'Look, if I get to a point where my skills have diminished and I can't recognize it, I want you to tell me or at least bring the conversation up. And it got to the point where nobody wants to have that conversation."
He didn't want to take opportunities away from younger wrestlers
Calaway ultimately decided that even though he could keep going for a few more years, he wants to allow younger wrestlers to have the opportunity to prove themselves.
"That's a huge intellectual property for Vince … I could go out for another few years and I could knock somebody on their ass or I could choke slam somebody, but I can't do it, personally," Calaway said. "I can't, because I know there's so many guys that are coming up that are trying to get that spot."
Source: Read Full Article