The Real Reason David Harbour And Lily Allen Decided To Get Married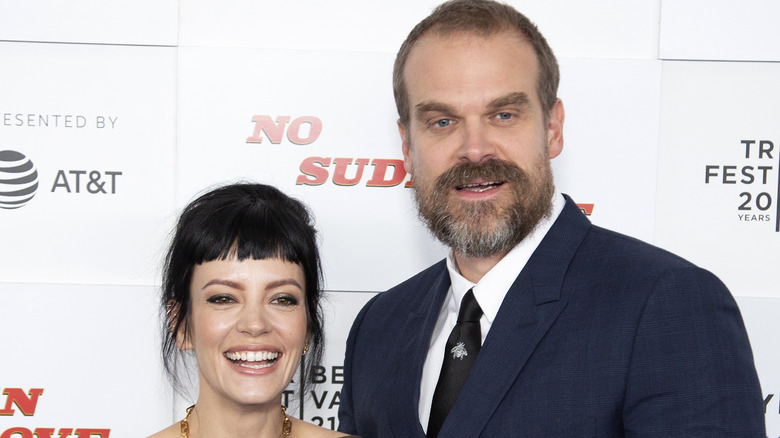 Santiago Felipe/Getty Images
By Sam Ramsden/Sept. 9, 2021 11:08 am EDT
In September 2020, singer Lily Allen and "Stranger Things" actor David Harbour tied the knot in Las Vegas. Writing on Instagram, the couple confirmed details of their wedding ceremony, which was carried out by an Elvis Presley impersonator, and uploaded a series of photographs taken on their happy day. 
"In a wedding officiated by the king himself, the people's princess wed her devoted, low born, but kind credit card holder in a beautiful ceremony lit by the ashen skies courtesy of a burning state miles away in the midst of a global pandemic," Harbour wrote on social media at the time. "Refreshments were served at a small reception following."
Opening up about their decision to wed in the midst of a global pandemic, Harbour revealed that it was ultimately down to Allen's children. During an appearance on "Jimmy Kimmel Live!" in June 2021, the actor explained that the pair "got engaged right before the pandemic," and, while riding bikes out in the country during lockdown with the singer's young daughters, he received a major wake-up call (via Us Weekly). 
Why did Lily Allen and David Harbour get married?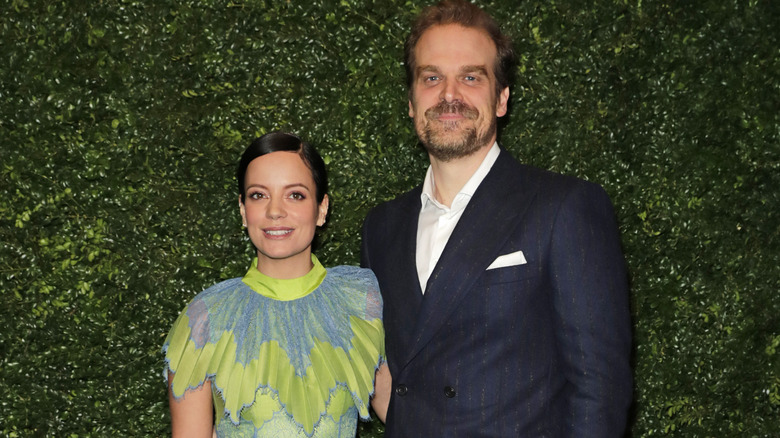 David Harbour explained why he felt compelled to marry Lily Allen so soon into their relationship (via Us Weekly). "The little one [of Allen's daughters] was riding along and she was going like, 'David, Dad, David, Dad.' Because the 'd' got her confused," he recalled. "And the older one got very upset with that, which I understand, and was like, 'He's not our dad! He's not our dad!'" 
Harbour continued: "The younger one was like, 'Well, what is he? He's kind of our dad.' She's like, 'No, he's not.' 'He's kind of our stepdad.' 'No, he's not.' And she goes, 'What is he?' And she goes, 'He's just some guy in our lives!'" Harbour revealed that this exchange between Allen's daughters prompted the couple to get married. "I was like, 'I need to marry this woman,'" he added. 
As Harper's Bazaar reported, Allen and Harbour first began dating in 2019. Later that same year, rumors that the pair were engaged went into overdrive when the "Smile" hitmaker was spotted wearing what appeared to be an engagement ring. In January 2020, the couple made their first public appearance together at the 26th annual Screen Actors Guild Awards.
On Sept. 8, 2020, Us Weekly reported that Allen and Harbour had filed for a marriage license in Las Vegas. The following day, the couple confirmed that they had walked down the aisle.
Lily Allen revealed the couple's plans for the fututre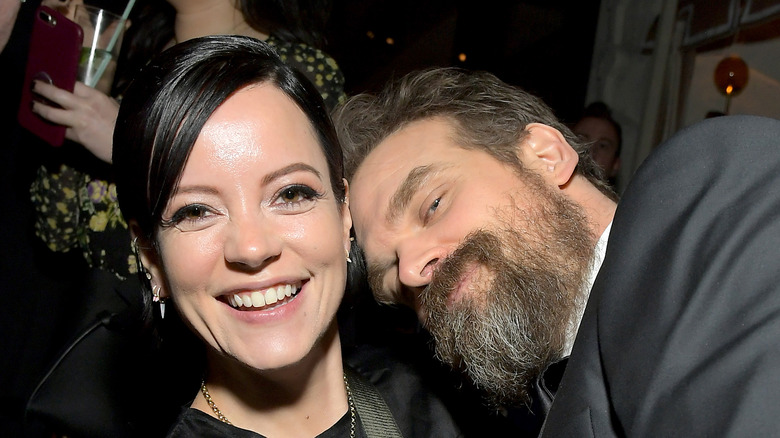 On Sept. 8, 2021, Lily Allen and David Harbour celebrated their first wedding anniversary. In an Instagram post, the British singer shared a series of videos and photographs of the happy couple, with an accompanying caption that read, "1 year down with this guy. Happy Anniversary baby @dkharbour. I prefer my life with you in it. You can stay."
Speaking previously with The Sunday Times, Allen opened up about her future with Harbour, revealing that she'd like to have children with the "Stranger Things" actor one day. When asked about the possibility of expanding her family, Allen, who has two daughters from a previous relationship, Marnie Rose and Ethel Mary, answered, "I think so. Especially now Marnie's getting so big. It's like, 'No, my babies!'" She added (via People): "I miss little terrors running around the house… I'm in a really good place. I don't know if I'd mess with my hormones, at this particular point."
Source: Read Full Article