'Shark Tank': Kevin O' Leary Says He Wishes He Learned This 'Key to Success' 20 Years Ago
Kevin O'Leary – aka  Mr. Wonderful – often shares words of wisdom on his social media platforms. The Shark Tank star recently posted this "golden nugget" of advice that is incredibly basic, yet still some find it a challenge to practice.
Kevin O'Leary says to 'shut up and listen'
O'Leary hears pitches from entrepreneurs even outside of Shark Tank and has learned the importance of listening throughout his career. His recent Instagram message shared the importance of this essential skill.
Posting a picture that read, "The key to success that I would've taught myself 20 years ago – shut up and listen," O'Leary included an explanation in his caption.
"This might be hard for some people to hear, but this is a real golden nugget," Mr. Wonderful wrote. "I would've gotten to where I am so much faster if I learned this sooner. I've made plenty of mistakes in my career by not listening."
The Shark Tank panelist added an easy formula to follow and seems confident that practicing the steps will bring positive results.
"Try this," O'Leary advised. "Listen 2/3 of the day, talk only 1/3 and watch how this changes your life. You'll become far more powerful, far better at investing, you'll have more knowledge and more information. Trust me on this."
'Shark Tank' star considers listening a top priority for young professionals
O'Leary previously spoke on the ability to tune in and be present, especially for those initially embarking on their professional path.
"If you're just starting off in your career, the number one attribute you should think about is learning how to listen," he told CNBC Make It in January. "Listen to the people around you. Listen to your boss. Listen to your peers. Shut up and listen."
The millionaire panelist stressed how listening leads to learning more about your chosen field and ultimately helps you achieve your goals.
"Listening to people and understanding what you're doing, why you're doing it and what the rules are gives you tremendous power," O'Leary remarked.
Kevin O'Leary values lessons from his mom
O'Leary often raves of the support and guidance his mother provided to him throughout his life. He noted that one of the best decisions she made was to cut him off financially after he graduated college.
"She said to me, 'After this, I'm done. My work is over. You got to make it on your own,'" O'Leary recalled to CNBC Make It. "She said to me, 'The dead bird under the nest never learned how to fly'."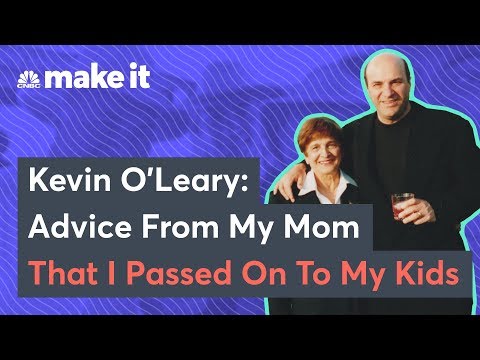 The Shark Tank panelist admitted he wasn't happy with his mother's choice at first, but realized it motivated him to become financially independent. Now he takes the same path with his own kids.
"[My kids] said the same thing to me: 'That sucks,'" O'Leary commented. "But now they're off on their own, and they're figuring it out. And I'm so proud of what my mother taught me."
Source: Read Full Article