Lindsay Lohan: 'I'm a good person. I take care of myself. I'm healthy'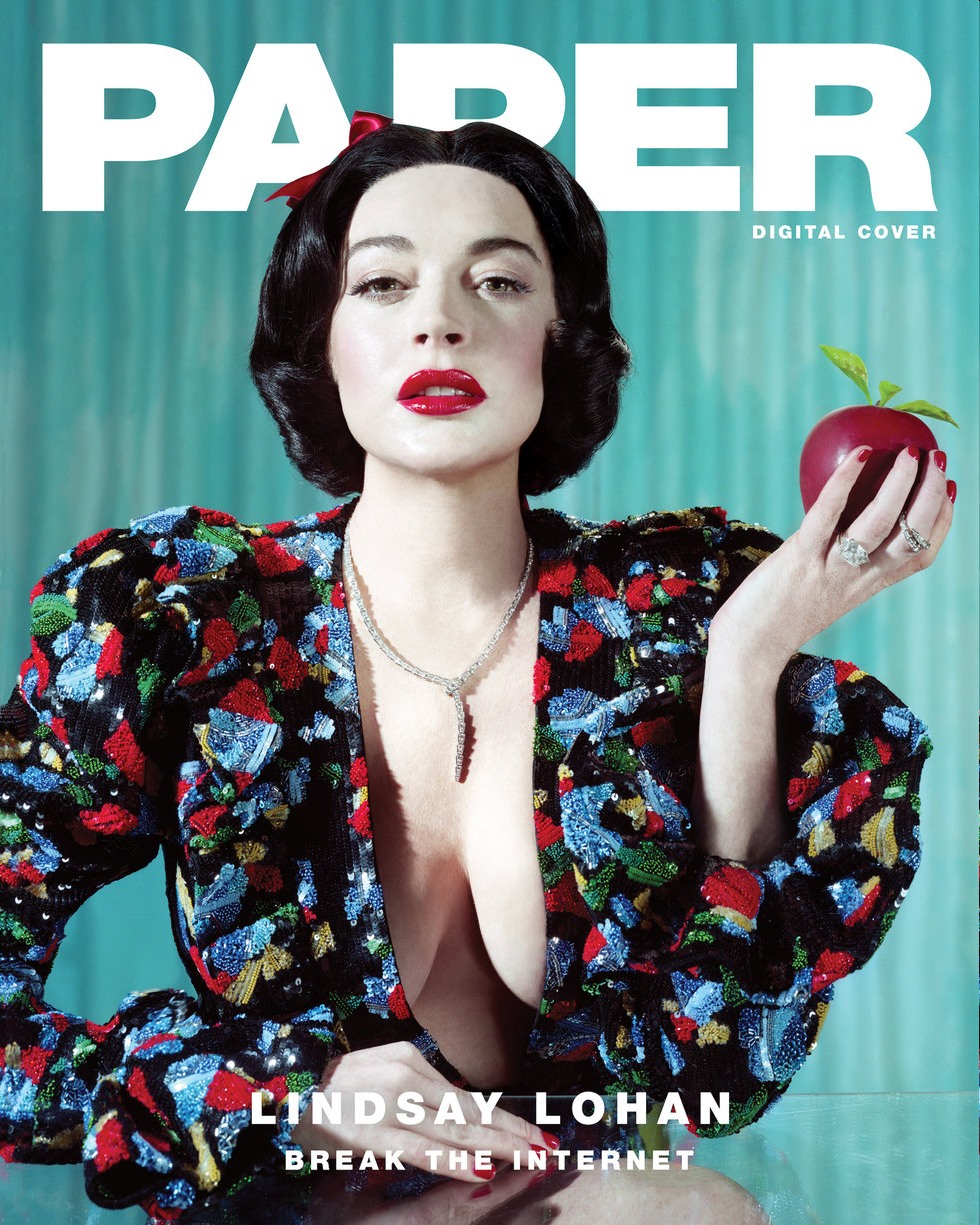 There does seem to be some low-key Lindsay Lohan nostalgia, and perhaps her larger absence from the daily gossip cycles has led people to whitewash her old drama. Like, I won't deny that Lindsay was "good for gossip." She made my job easier. She was a gossip cottage industry for years, and one of the biggest headlines and trainwrecks. So when did it all change? I think it was when she moved to Europe, and then Dubai, and she stopped pretending to even have an acting career. I tend to believe that she's supported herself through attachments to wealthy, shady men. And those are the kinds of liaisons which need discretion, so she began to be a bit quieter to protect her income. That's when people just started losing interest. It's not that Lindsay changed, it's that we got bored with her. She's still the same cracked-out drama queen as always. And her Paper Magazine interview proves it. You can read the full piece here. Some highlights:
She doesn't know why she gets such negative press: "I would love to know why I get constantly clobbered in the press. I could do 99 things right and one thing wrong, but it's that one thing that will be focused on. Behind the scenes I do what I can to be the best version of me, which never gets mentioned. I am also human. I make mistakes. That's all that seems to get reported."

Why she lives in Dubai:"It's not that much of a thing here [in Dubai]. People don't emphasize negativity." Instead, she says, the city is a "health-conscious place" that "promotes positivity and a positive attitude. It's not like New York, the city that never sleeps."

The paparazzi. "In America, even once they get the picture, they still follow you. It does bring out a serious kind of anxiety." She adds that in Mykonos, where one of her Lohan Beach House resorts is located, there are only two paparazzi, and she knows both of them.

The Lohan Beach House is family-friendly: "I really wanted to make it a family-style beach. A place where people can go with their kids and feel safe. They can have fun and there's not cameras every second. It's not just a party thing; you can have a nice lunch."

She's a homebody now: "I am who I am. I'm a good person. I take care of myself. I'm healthy. I like to have fun, but that doesn't mean I need to go out and drink and be crazy. I have a good relationship with that. It's funnier to watch other people party. My brother and his wife came out to Mykonos and everyone wanted to go out every night, but I pretty much just went home; some of my friends didn't want to go out, so they'd come and I'd cook. I like cooking for people and having people over and listening to good music."

What she thinks of MeToo: "I don't really get involved in that. I'm all for empowering women and sticking by each other, but I'm not really — I haven't experienced a lot of that stuff, so it's not something I can really quote on."

All she's ever wanted to do is work: "That was kind of taken away from me for a while, when I was going through a lot. I was spending money on going to treatment centers because the court was making me. It was hard for me to continue working, because when would I even find the time? I love working with kids and I love giving back," she says, but "people don't like talking about the good stuff. It's really crazy to me and makes me really sad. A lot of people do a lot of good things for other people, and it's like a flash in the pan, where if it's something negative it sticks with you forever."

Aliana Lohan is "buzzing" around the photoshoot: She's already visited Dubai five times, she says, echoing Lindsay's comments that the people there are "so, so kind. Including those Saudi princes," she adds with a playful grin.

On that recent incident where she live-streamed herself as she tried to kidnap children: She offers a statement later through a rep over email: "I read the situation wrong. I've learned from it. And that's all I have to say."
[From Paper Magazine]
I mean… it's the same old narcissism, the same old lies. She's always said that she's just a simple homebody who doesn't even like to party – and then she gets high and wrecks a car, or throws a drink on someone at a club, or tries to drunkenly kidnap children on the street. When her MTV show blows up in her face, we'll hear the same things then too. As for Aliana…that poor child never had a chance.
MTV released the first trailer for Lindsay's reality show. This looks SO BAD.
— Lindsay Lohan's Beach Club (@MTVBeachClub) December 3, 2018
Cover courtesy of Paper.
Source: Read Full Article