Jason Tartick Opens Up About Feeling 'Beyond Heartbroken' Over Kaitlyn Bristowe Split
After calling it quits with the season 11 star of 'The Bachelor', the 'Bachelorette' alum declares in a social media post that the two of them will continue their 'individual journeys to heal.'
AceShowbiz –Jason Tartick has been speaking up about how he felt in the wake of his split from Kaitlyn Bristowe. After going public about the end of his engagement to his reality star fiancee, the former star of "The Bachelorette" admitted that he was "beyond heartbroken."
On Sunday, August 6, the 34-year-old TV personality got candid about his feelings in an Instagram Story post. Over a photo of him and the season 11 star of "The Bachelor" together, he noted, "Beyond heartbroken, please be kind as we go through our individual journeys to heal." He added a pensive face emoji.
Jason also shared more of his pictures with his 38-year-old ex-fiancee. On top of one snap, he expressed his appreciation for her by writing, "Thank you for the support and love over the years." Over another snap, he penned, "I will forever be grateful for this beautiful person that was brought into my life."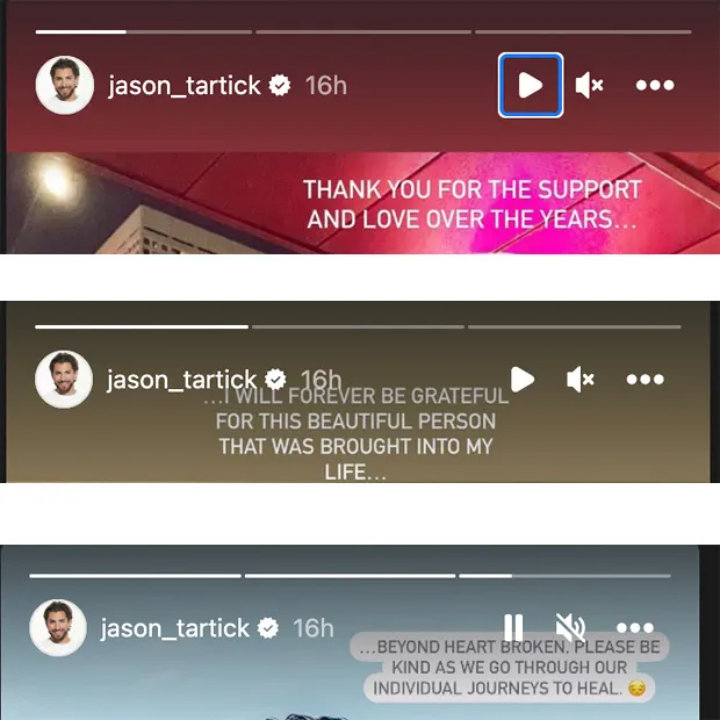 Jason Tartick expressed his feelings after calling it quits with Kaitlyn Bristowe.
Despite his shocking breakup, Jason still recorded for a new episode of his "Trading Secrets" podcast. In the Monday, August 7 episode, he opened up about his struggles in returning to the podcast shortly after the split. "I'm going to make this one a little bit shorter today. This is my second attempt at this [recording]. [My] first attempt – it did not go well, I'll tell you that much. Maybe at some point, I will release it," he confessed.
"As some of you might know, Kaitlyn and I have shared our current relationship news that we are ending our engagement tonight," he went on to announce. "So the intro will be short, it will be sweet. I'm not going to provide news at this time given what's happening in my life. It's been a little bit of a challenge today and tonight. When I'm prepared and feel ready to talk through how these things also impact my life, what's next for me, I will share those."
Jason first revealed that he and Kaitlyn have decided to call off their engagement on August 6. Through a joint post via Instagram, the two of them wrote, "After sharing the news with family and close friends first, and taking the time to properly process it ourselves, we are saddened with heavy hearts to share that we have decided to end our engagement."
"We are thankful for all of you who gave us the time and space to process this life altering decision as there are many emotions and changes to navigate," they continued. "Our dogs Ramen & Pinot will continue to be cared for together as brothers. While their humans are no longer romantically involved, we will love and take care of them together."
You can share this post!
Source: Read Full Article