How Queen Elizabeth II Really Feels About Royal Protocol, According to Michelle Obama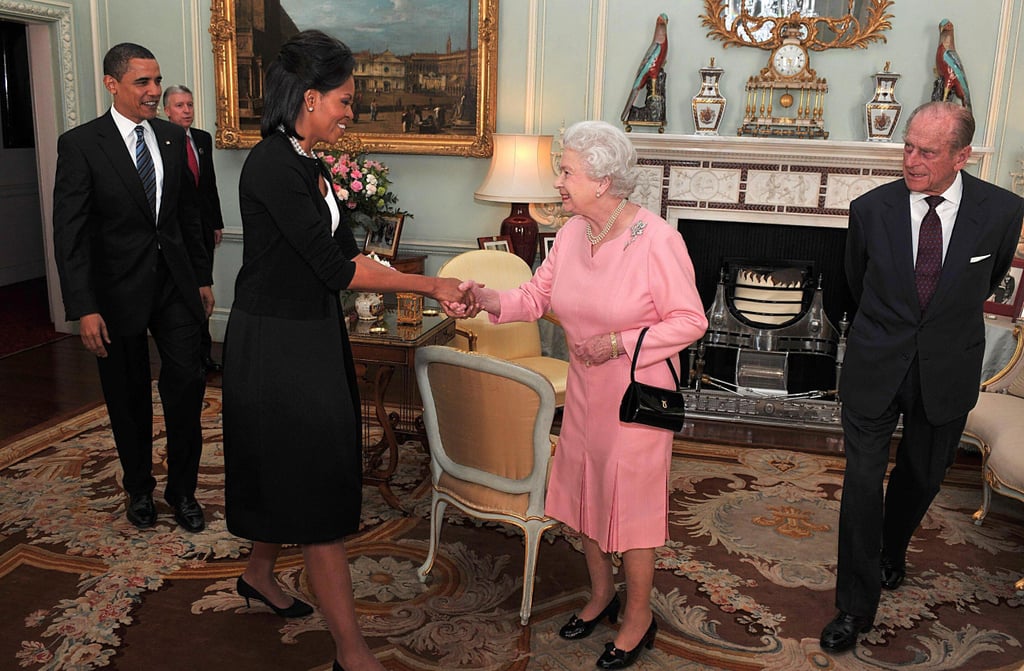 Michelle Obama got a lot of heat for breaking protocol and hugging Queen Elizabeth II at Buckingham Palace's G20 Summit back in 2009, but as it turns out, the queen's stance on royal etiquette isn't as strict as you'd expect. The former first lady is currently on a press tour for her new memoir, Becoming, and in an interview with UK's Press Association in London on Monday, Michelle revealed the queen's surprising take on protocol.
"So I had all this protocol buzzing in my head, and I was like 'don't trip down the stairs and don't touch anybody, whatever you do,'" Michelle said, referring to the time the queen picked her up during a visit to Windsor Castle in 2016. "And so the queen says, 'Just get in, sit wherever' and she's telling you one thing and you're remembering protocol and she says, 'Oh, it's all rubbish, just get in.'"
Royal protocol states that greetings shouldn't go beyond a handshake, but clearly the queen believes that some rules are meant to be broken. Michelle also revealed that Barack Obama is a "huge fan" of the queen and that she reminds him a lot of his own grandmother, Toot. "She's smart and funny and honest," she added.
The Obamas have been friends with the royal family ever since their first meeting back in 2009. In fact, on Tuesday, it was reported that Michelle finally met Meghan Markle. According to People, the Duchess of Sussex stopped by Michelle's book signing at the Southbank Centre and they spoke about "the importance of supporting and empowering women across all cultures and communities."
Michelle also recently gave Meghan a few words of advice as she adjusts to her new role as a royal in an interview with Good Housekeeping. "My biggest advice would be to take some time and don't be in a hurry to do anything," the former first lady said. Hopefully Michelle and Meghan bring Prince Harry and Barack along the next time they meet — and there will be a next time, of that we're sure.
Source: Read Full Article