Bruce Willis Enjoys Bike Ride With Daughters After Retiring From Acting Due to Aphasia Diagnosis
A little over a week after announcing that he's retiring from acting due to health reasons, the John McClane depicter in the 'Die Hard' film series is seen enjoying some family time.
AceShowbiz –Bruce Willis is enjoying his days with family after announcing he's retiring from acting due to his aphasia diagnosis. In a new social media post, the John McClane depicter in the "Die Hard" film series was seen biking with his daughters.
On Friday, April 8, the "Red" star's wife Emma Heming took to her Instagram Story to share a brief clip of the actor pedaling his bike behind their daughters, 10-year-old Mabel and 7-year-old Evelyn. At one point on the scenic ride, he playfully rang his bike bell. Over the video, Emma captioned, "Bike gang back together."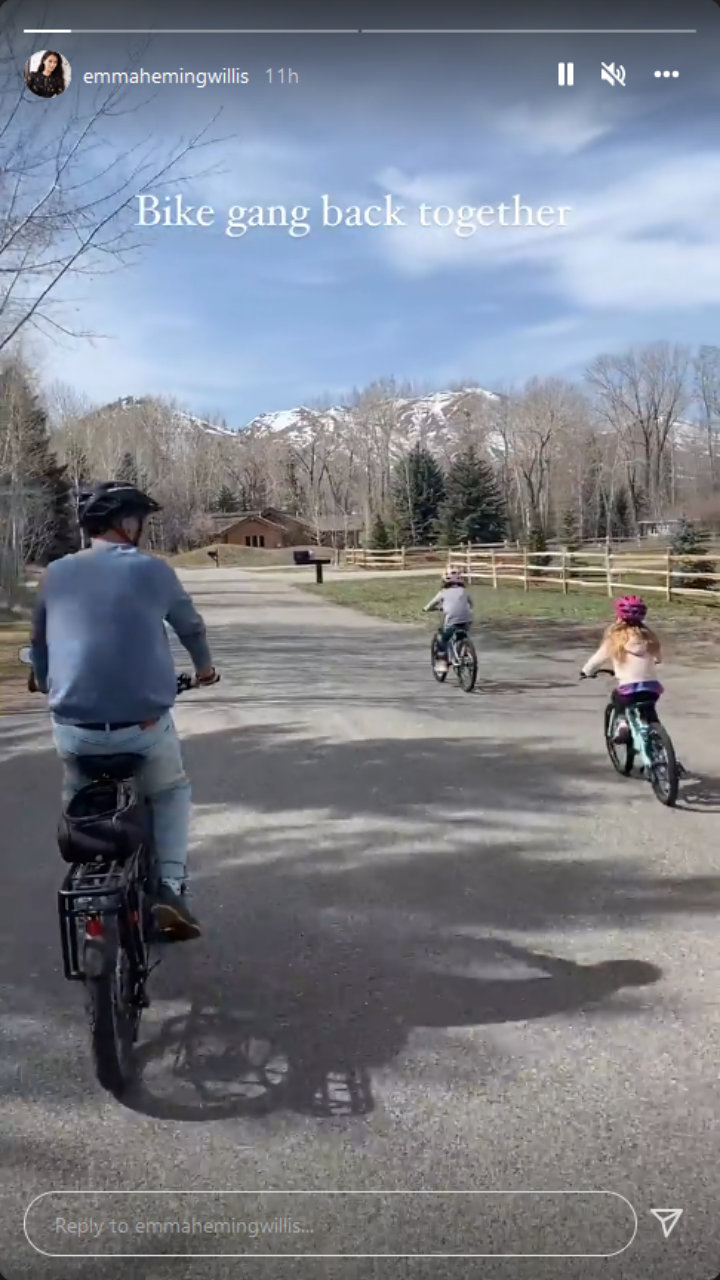 Emma Heming shares a short video of Bruce Willis biking with their daughters Mabel and Evelyn.
The family is seemingly off enjoying spring break. On April 6, Emma posted a sweet photo of her and Bruce taken by their daughter Mabel. The couple posed on the trunk of a tree, with Emma sitting on it and Bruce standing against the cut trunk. She wrapped her hands around his arm, while he put his hand on her thigh.
In one of the snaps, Bruce and Emma smiled and stared lovingly into each other's eyes. Another shot captured the model leaning her head against the actor's. "Mom & Dad in their favorite habitat #offthegrid," Emma captioned the pictures.
Not stopping there, Emma also shared footage showing Bruce walking by a serene water river. At one point, their daughter Mabel was seen holding a bone of what appears to be a dead animal.
Bruce, who reportedly started to face cognitive issues while filming movies in 2020, announced his retirement on March 30 due to his aphasia diagnosis. "To Bruce's amazing supporters, as a family we wanted to share that our beloved Bruce has been experiencing some health issues and has recently been diagnosed with aphasia, which is impacting his cognitive abilities," read a statement written by his family.
"As a result of this and with much consideration Bruce is stepping away from the career that has meant so much to him," they noted alongside a photo of the 67-year-old actor. "This is a really challenging time for our family and we are so appreciative of your continued love, compassion and support."
"We are moving through this as a strong family unit, and wanted to bring his fans in because we know how much he means to you, as you do to him," they continued. The message was signed by Bruce's daughters, Rumer Willis, Scout Willis, Tallulah Willis, Mabel and Evelyn, as well as his wife Emma and ex-wife Demi Moore.
Source: Read Full Article