Brooklyn Beckham & Nicola Peltz had a Wendy's food truck at their wedding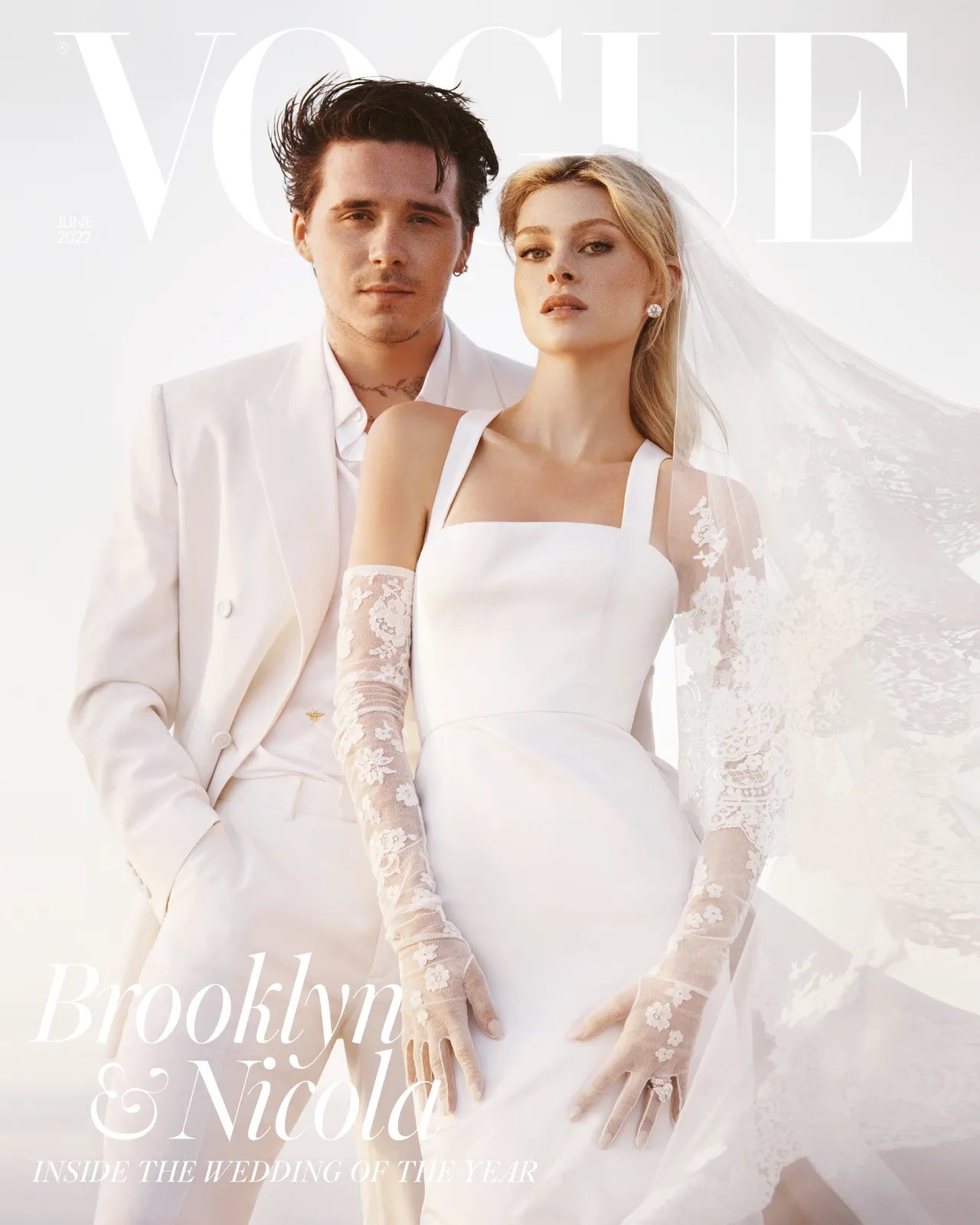 Brooklyn Beckham and Nicola Peltz got married in April. American Vogue and British Vogue got some exclusive photos to post on their social media accounts, and Nicola and Brooklyn also posted some exclusive stuff on their social media. I wondered if that would be it, or if there was a magazine editorial for the wedding to come. Well, here we go. Nicola and Brooklyn cover the June issue of British Vogue, and there are exclusive wedding portraits and pre-wedding photos. The cover story is all about the wedding too, with lots of new details (which I genuinely enjoyed). They even (finally) talk about the wedding food! Some highlights:
Nicola's Valentino gown: Originally, Nicola planned to double down on Valentino's iconic embellishment and embroidery for the dress, but when she tried on the toile version of creative director Pierpaolo Piccioli's sketches she fell for the elegance of its simplicity, featuring an open back, delicate lace veil and an 11ft train. Without Nicola's knowledge, her mother, Claudia, had asked the seamstresses to sew in an evil eye to protect her on her big day. She also instructed them to use baby-blue thread to discreetly embroider: "Nicola, my heart. You are me, I am you. All my love, all my life, my beautiful girl, inside and out. Love, mom." "I'm happy she showed that to me after the ceremony," Nicola says, "because I just burst into tears."

Brooklyn loved his bride's dress: "The highlight of the whole wedding for me was seeing her for the first time in that dress," Brooklyn says. "It was the first time ever in my life when I felt like I couldn't catch my breath."

They spent the night before their wedding apart: "Brooklyn and I are pretty inseparable, so that was dramatic," she says – so the next time they saw each other was at their ceremony. As they read their vows, she dabbed tears away from Brooklyn's eyes with her handmade French lace gloves.

Wedding inspo: "[David & Victoria's] wedding was incredible and those pictures are iconic," Nicola says, "but the wedding we were most inspired by was Iman and David Bowie's." The rock legend and supermodel were married in 1992 and Nicola's hair and make-up were inspired by another '90s supermodel, Claudia Schiffer.

Wedding food: "The only thing that Brooklyn cared about was the food," Nicola recalls, describing a menu prepared by Thierry Isambert Culinary & Event Design. Halibut, filet mignon and a vegan osso buco were served. Nicola's favourite fruit are dates, so the head table featured centrepieces full of them. "Brooklyn has a thing about square plates and big forks," she says, laughing. "That was the only thing he outlawed."

Nicola's father owns Wendy's: The culinary experience peaked at the after-party, when a Wendy's food truck pulled up to serve cheeseburgers, fries and chicken nuggets. "We didn't eat at all until we got to the Wendy's truck, and then I had three burgers," Nicola says. "It was my idea," adds Brooklyn. "A perfect final touch."
[From British Vogue]
Wedding reception/afterparty food trucks are such a thing these days, and I don't really get why? Y'all know you can just do a f–king buffet with chicken nuggets, hamburgers, Frostees and fries, right? I mean, I get wanting an elegant wedding with halibut and filet mignon. But it seems like a weird flex to have ONE Wendy's food truck for five hundred guests for the afterparty. Anyway, these two sound obsessed with each other and it also sounds like Nicola got her dream wedding and Brooklyn was totally fine with Nicola getting her dream wedding. So many of you were like "I give two years." Come on, they'll probably make it three years.
— British Vogue (@BritishVogue) May 23, 2022
https://www.instagram.com/p/Cd574y_AAU2/
Cover & IG courtesy of British Vogue.
Source: Read Full Article