Britney Spears Sends Jamie Lynn Cease and Desist Letter After Saying Her Sister Does 'Matter'
In the letter written by her attorney Mathew S. Rosengart, the '…Baby One More Time' songstress slams the 'Zoey 101' alum for 'airing false or fantastical grievances' to garner publicity for her memoir 'Things I Should Have Said'.
AceShowbiz –Britney Spears has demanded Jamie Lynn Spears to leave her out of the publication of "Things I Should Have Said". The "Oops!…I Did It Again" hitmaker has issued a forceful cease and desist letter to her younger sibling.
"Dear Ms. Spears. As you know, I represent your sister Britney Spears, and I write at her request concerning the above-referenced matter," the letter, written by her attorney Mathew S. Rosengart, began. "We write with some hesitation because the last thing Britney wants is to bring more attention to your ill-timed book and its misleading or outrageous claims about her."
Matthew added, "Although Britney has not read and does not intend to read your book, she and millions of her fans were shocked to see how you have exploited her for monetary gain." The attorney further pointed out that Britney "will not tolerate it, nor should she."
The letter went on to remind Jamie Lynn of the "abuse and wrongdoing" Britney endured throughout her 13-year conservatorship, established by estranged father Jamie Spears to gain control of the singer's personal, medical and financial affairs. "You of all people know the abuse and wrongdoing Britney had to endure during the conservatorship, after initially growing up with a 'ruinous,' alcoholic father," so the letter read.
"In fact, your own book reportedly states that your father 'spent most of my life in that cycle of ruinous behavior. His bouts of drinking caused me periods of torment and sorrow,' " Matthew continued. The letter further slammed Jamie Lynn for "airing false or fantastical grievances" to garner publicity for her memoir, adding that "it is also potentially unlawful and defamatory."
Matthew was blunt, demanding, "You cease and desist from referencing Britney derogatorily during your promotional campaign. If you fail to do so or defame her, Britney will be forced to consider and take all appropriate legal action." However, sources told TMZ that Jamie Lynn has not yet received the letter.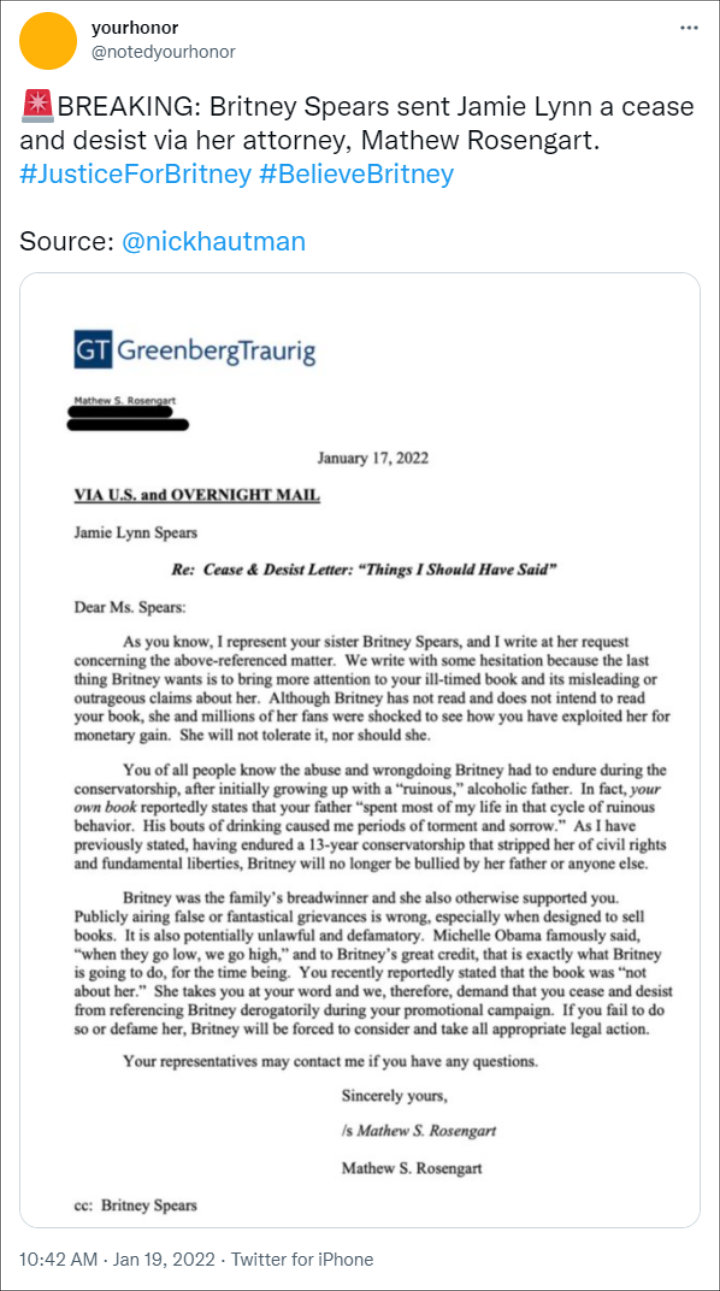 Britney Spears sent Jamie Lynn cease and desist letter.
Britney, in the meantime, is seemingly done with Jamie Lynn. After saying that her younger sister does "matter," the 40-year-old star shared that she feels "thankful, grateful, blessed" via Instagram on Tuesday, January 18. In the note accompanying the wise words, she penned, "NEW DAY NEW BEGINNINGS."
A few hours earlier, Britney posted a clip of her showing off her new "…Baby One More Time" outfit. In the caption, she wrote a message to Jamie Lynn, responding to her younger sister's recent "Call Her Daddy" podcast interview with Alex Cooper, in which the "Zoey 101" alum said she "felt like an afterthought" in the pop star's shadow.
"In life a lot of people say 'DO I MATTER ????' … try eating alone for 4 months morning … noon … and night, Jamie Lynn," Britney captioned the video, which featured a sped-up version of Alanis Morissette's "Thank U" as a soundtrack. "I asked myself every day 'DOES ANYBODY CARE ??? WTF ??? DO I MATTER ???' "
Britney added, "I would honestly be very interested to see your pretty face in the setting I was forced to be in and asking yourself 'DO I MATTER ???'" The "Toxic" hitmaker further elaborated, "I didn't get to cry … I had to be strong … TOO STRONG !!! So yes … YOU DO MATTER and don't you ever think for one f**king second you don't."
During the "Call Her Daddy" podcast interview, Jamie Lynn addressed her new memoir "Things I Should Have Said". In the first part of the interview, she reflected on growing up with Britney as her big sister. "I felt like she was my protector," the 30-year-old explained, noting that she loved and admired everything about her big sister.
The "Sweet Magnolias" actress also claimed she was never allowed to say or do anything that would put Britney "in a bad light," and while she and Britney never compared each other, the world did. She also noted that she "couldn't be responsible for everything that happened around her and also be authentic to myself, and I wasn't allowed to be."
"It doesn't matter who your sister is, or who your family member is, or who whatever your relationship is with, if something has caused you pain, or this is your experience, nothing should diminish your experience," Jamie Lynn tearfully said. She then concluded her statement by saying that she grew up feeling like she didn't matter.
Source: Read Full Article