Ben Affleck Defends His VERY REAL Huge Back Tattoo On 'Ellen'!
Ben Affleck may have tried to remove the public's awareness of his giant back tattoo, but it just keeps coming up again like… well…
Huh. There must be a good metaphor for something that people try to kill but keeps rising from the ashes instead… Oh well, we're sure we'll think of it eventually.
The former Batman visited Ellen DeGeneres for the first time in quite a while to promote his Netflix movie Triple Frontier, and she couldn't help but poke fun at his unsightly ink.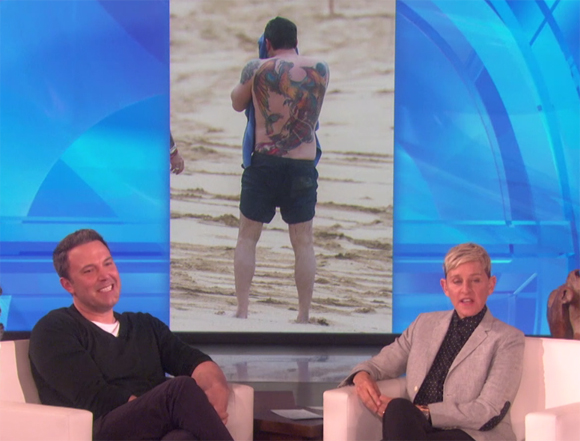 The ink made its first appearance in 2015 on the set of his film Live By Night, and it's been subject of ridicule by the public ever since.
And this time it was Ellen's turn.
She started by jabbing him about all the "attention" the enormous back piece has gotten since being photographed again recently while he was taking a secluded swim with his costars. Ben bemusedly responded:
"It did… not so much positive!"
When he began trying to explain the tat, the most he could get out was "it's a phoenix" before Ellen cut him off with:
"Rising out of your ass!"
LOLz!
Laughing, Ben soldiered on:
"Yes, it's a phoenix, rising from my ass. And I was about to say it represents something really important to me. But you know what? Maybe we'll just skip that…"
Ellen got him to continue, and he did put forth:
"It's meaningful to me. I like it.
It's something that I sort of kept private. It wasn't like I was sort of doing photoshoots or whatever. We were two hours north of the city in Hawaii and we didn't know the paparazzi was there."
Keep it private he did.
Back in 2016, he told Mario Lopez the entire thing was a fake for an upcoming movie.
Yeah. He lied right to Mario Lopez's beautiful face.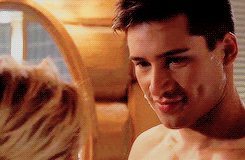 Was there good reason to try to hide the tattoo from the public? Ben said:
"Sentiment ran against, but I love my tattoo. I'm very happy with it. Luckily, I'm the one who has to wear it."
Are y'all buying that he's happy with it? Or do you think maybe it didn't turn out quite how he imagined a majestic phoenix engulfing his back, and now he's in denial about it?
Maybe…
Ben told Ellen:
"There's temptation to get depressed, I could be like, 'I've been through a lot' and 'this was hard' or 'that was hard', or I could be kind of embarrassed, but I have to say I'm like, I feel so good now, I'm in such a great place. The kids are healthy, life is good. So whatever it took for me to get to this place I'm grateful for it."
OK, in that instance we're pretty sure he's alluding to his rehab for alcohol abuse and not the tattoo.
For real, we're glad he's looking and sounding so healthy. And if he loves his giant tattoo, he should be proud.
Right?
Watch the interview clip for yourself to see talk of Jennifer Garner and the kids, the new movie, and more (below)!
Source: Read Full Article