This Pre-Wash Treatment Keeps My Scalp Balanced and Flake-Free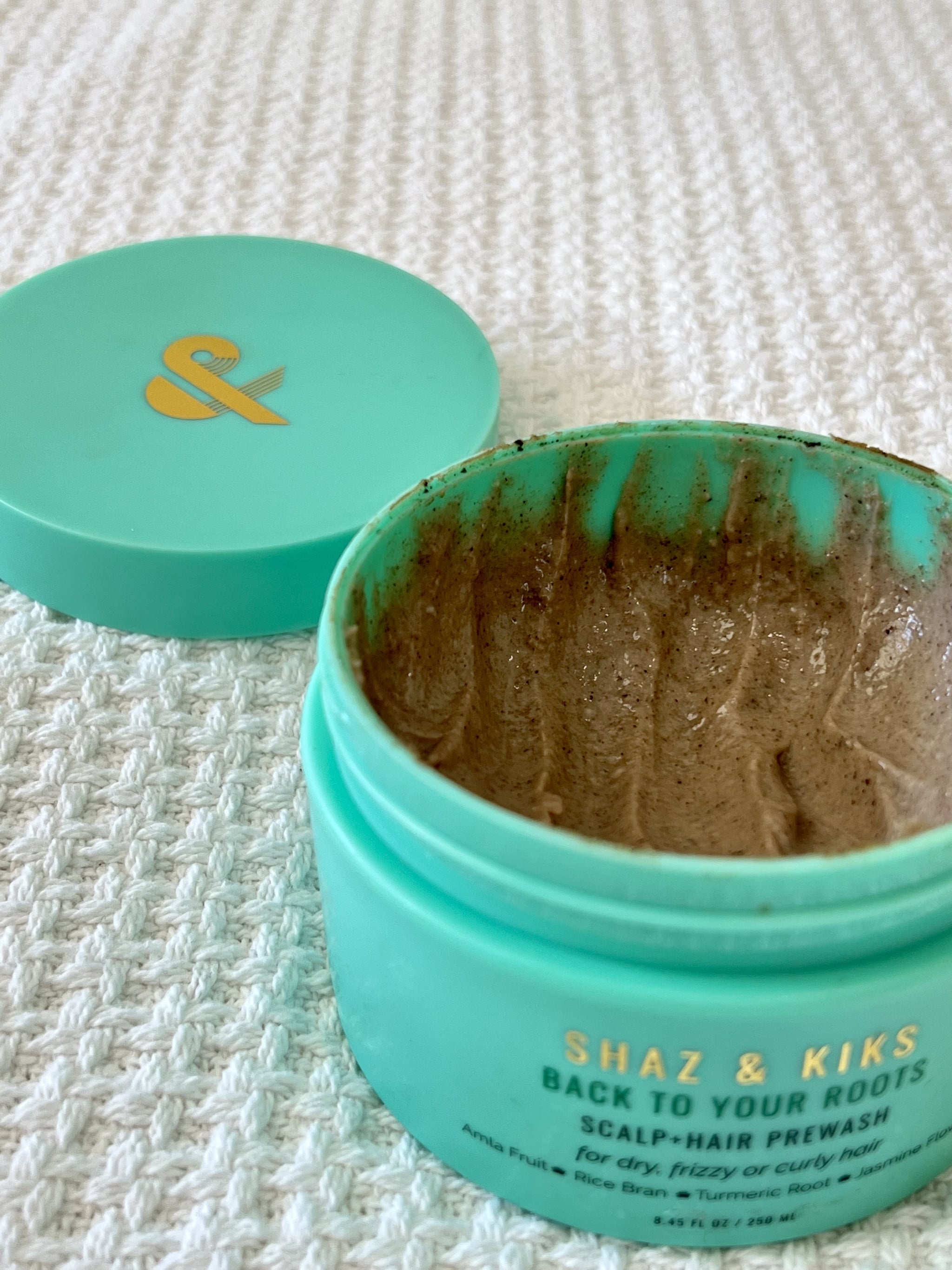 Scalp health is one of the biggest hair trends I've been seeing on TikTok, and I'm no stranger to giving my scalp all the R&R it needs. Hair oiling is something that I swear by as a way to nourish your hair from root to tip. Some of my favorites are the Squigs Gooseberry Delight Hair Oil and the Fable and Mane Hair HoliRoots Prewash Hair Treatment Oil. However, I recently started to expand my pre-wash ritual by incorporating hair masks, specifically those that target scalp concerns.
When my scalp gets out of balance, it feels dry and excessively oily at the same time. Plus, there's the constant irritation of an itchy scalp and flakes galore. My hair barely lasts 48 hours without feeling like I need to wash it again. I came across the Shaz & Kiks Back to Your Roots Pre-Wash ($62), and the Ayurvedic treatment claims to keep my scalp balanced and flake-free with just a 20-minute weekly session. I've been using this for almost a year, and my scalp has tremendously improved, thus making it a staple part of my hair care routine. This hair mask treatment has especially helped my scalp feel balanced and moisturized as the winter dryness wreaks havoc on my hair.
What to Know About the Shaz & Kiks Back to Your Roots Pre-Wash:
The Shaz & Kiks Back to Your Roots Pre-Wash comes in two formulations: one for fine, thin, flat to medium hair types ($40-$62) and one for dry, frizzy, thick, or curl/coily hair ($40-$62).
It is safe for those with color-treated, keratin-treated, or chemically-treated and relaxed hair.
The Back to Your Roots Pre-Wash is supposed to help address issues with scalp itchiness, flakiness, and excess oil production and buildup, as well as issues with hair thinning, breakage, frizz, and dullness.
It's a creamy hair mask formulated with Ayurvedic herbs, oils, and florals that help strengthen, thicken, moisturize, and protect your hair holistically from the scalp and roots to the ends of your hair.
Some of these Ayurvedic ingredients include:

Amla, fenugreek, and tulsi, which the brand claims help stimulate hair growth by nourishing the hair follicles.
Shikakai and reetha are Ayurvedic herbs that help cleanse and balance your scalp, from its pH level to oil production. Reetha also helps with preventing dandruff.
Turmeric and neem help with diminishing inflammation and serve as an anti-bacterial and anti-fungal for the scalp.
The Back to Your Roots Pre-Wash also has a blend of bhingaraj, moringa, sweet almond, and sesame oils that will help moisturize and strengthen your hair.

What I Like About the Shaz & Kiks Back to Your Roots Pre-Wash:

The Shaz & Kiks Back to Your Roots Pre-Wash has transformed my scalp and hair in just one use. I used the pre-wash formula meant for dry, frizzy, and curly hair. My scalp felt refreshed like I had used a clarifying or an anti-dandruff shampoo , but it also felt moisturized like I had used a cleansing conditioner. There were no flakes in sight, and the excessive oiliness disappeared. In fact, I'm able to push my wash day an extra 24 hours and not feel any irritation or itchiness. My scalp looked and felt healthy and balanced, and that reflected down to the rest of my hair as well.

I noticed a big difference in how my hair felt and flowed after I blow-dried it out as well. My hair felt incredibly soft, like a silk pillowcase level of luxurious softness. It was so easy to style my hair afterward, I barely needed to touch it up with a flat iron. Plus, there's no frizz and minimal flyaways. I was worried that this hair treatment mask would weigh my hair down, but instead, it gave my roots a decent amount of volume.

How to Use the Shaz & Kiks Back to Your Roots Pre-Wash:

It's best to use the Shaz & Kiks Back to Your Roots Pre-Wash on dry hair once a week. I like to use this hair mask as a deep cleansing treatment for my scalp on the day I'm supposed to wash my hair, so when I'm sporting third-day hair, in sweats, with a list of errands to knock out (aka Sunday). However, if my scalp is feeling a little extra irritated and out of balance, I use it then as well. It's gentle enough to use multiple times per week.

The Back to Your Roots Pre-Wash treatment is thick and creamy, and to ensure I'm getting every inch of my scalp, I use a wide toothed comb to help part my hair into sections. This allows me to get the product into hard-to-reach areas like the middle sections of my scalp and the layers underneath. I start off with my hair down and parted right down the middle, I scoop out a little bit of the pre-wash mask and apply it generously on my scalp, making sure I massage it in. Then, I'll split my hair into sections, side by side, so that I can apply the pre-wash treatment all over my scalp. Although I concentrate this mask on my scalp, whatever remains I bring down to my hair shaft, and carefully comb through it for even distribution. Once I'm done giving myself the most relaxing scalp massage, I clip it up and wait until I'm ready to shower. The Back to Your Roots Pre-Wash hair mask is a 15-20 minute treatment, however, the brand recommends leaving it on for a longer time, even overnight. Once I'm ready to shower, the pre-wash treatment washes out pretty easily, and I shampoo and condition it as normal.

What to Consider Before Trying the Shaz & Kiks Back to Your Roots Pre-Wash:

The Back to Your Roots Pre-Wash comes in two different formulations for different hair types, so be sure to get the one formulated for you and your hair needs. The Back to Your Roots Pre-Wash for fine, thin, flat to medium hair types ($62) has more oil-absorbing ingredients and oils that are lighter in weight compared to the one meant for dry, thick, and curly hair.
The process of applying the pre-wash treatment is a little bit messy, so I highly suggest wearing something you don't mind getting dirty. If you decide to keep it on overnight, sleep with a pillowcase or an old towel you don't mind getting dirty.
Because of its thick and creamy texture, I highly recommend using a wide-tooth comb to part and comb through your hair, and to be as patient and gentle as possible. This does dry down, so your hair will feel stiff when the product is in it.
I also recommend clipping it up rather than tying it with a scrunchie or ponytail holder since it's easier to remove the clip.
Although this is a gentle treatment and safe for those with sensitive skin, it's best to patch test just in case.

Is the Shaz & Kiks Back to Your Roots Pre-Wash Worth Splurge?

I've been using this weekly treatment for around a year, and not only has it done wonders for my hair and scalp health, one tub lasts a while. You only need around two scoops for your whole scalp. Plus, if you're not sure if this is right for your scalp and its needs, you can try out the half size version instead of the full sized tub.

Where is the Shaz & Kiks Back to Your Roots Pre-Wash Available?

The Shaz & Kiks Back to Your Roots Pre-Wash is available at Credo Beauty, Thirteen Lune, and Free People ($38).

Rating:







Source: Read Full Article