The Olive & June Holiday Collection Is Fun, Festive, and Editor Approved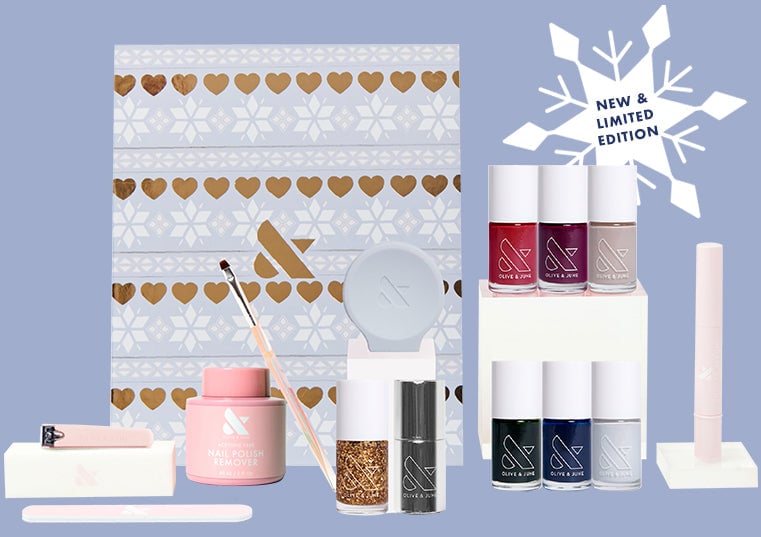 The Olive & June Holiday Collection Is Fun, Festive, and Editor Approved

As POPSUGAR editors, we independently select and write about stuff we love and think you'll like too. If you buy a product we have recommended, we may receive affiliate commission, which in turn supports our work.
The Olive & June Holiday Collection is here, and if you're as much of a nail-lover as I am, you're going to be obsessed. The drop consists of seven new shades and five new press-ons, and I got the chance to try it out firsthand, literally. I feel so much more put together when I have my nails done, and during the first stay-at-home order in 2020, I got pretty good at painting them myself. I do my nails at home exclusively now, because Olive & June's mani system makes it unbelievably easy, and I'm so grateful for both the Poppy, which helps steady my painting hand, and the cleanup brush. I probably don't have to explain why I love that so much. Keep reading to see the collection on my hands and what I think of the new shades.
What I Like About the Olive & June Winter Collection
I'll be honest and say that my general nail-polish preference varies between something that looks like my skin tone and a light pink. If I'm feeling adventurous, I'll go for something with a little sparkle, but I'm generally very safe, so I was surprised by just how much I loved the polish shades of this collection. I tried them all on, which you can see below (and don't judge me for just taking a picture of my left hand; it's always a prettier paint job.)
My favorite is, unsurprisingly, the shade Dry Clean Only, which is a taupe-colored neutral that's perfect for cozy season. You can see it on my pointer finger in the picture on the right below. I also really love the shade In the Clutch, a vibrant pinky red that you can see on my pinky finger. Plus, I loved the gold topper Is It Too Much?, which I wore both on its own and over the shade Plaza, a deep purple. The polishes are stunning and so easy to paint and will be on rotation all winter long. Though I'm a neutral girl, I kind of love the darker colors, and with the gold topper, you can consider my interest piqued.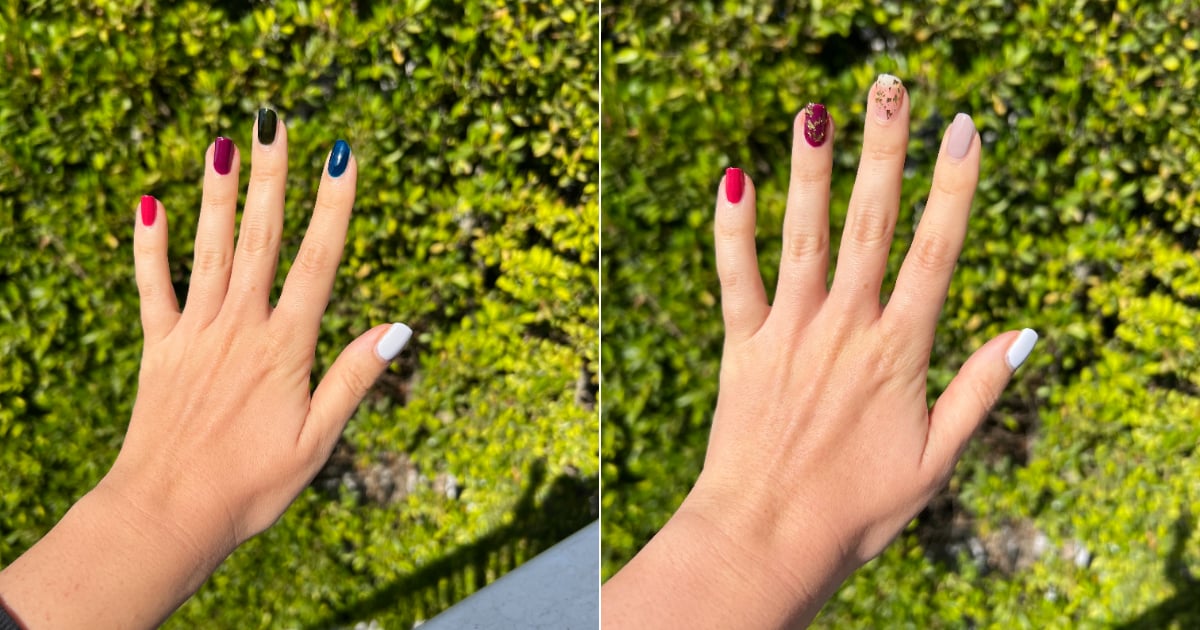 Image Source: POPSUGAR Photography / India Yaffe
What's Worth Noting About the Olive & June Winter Collection
In the pictures above, you can see all the different color options in this collection. In the picture on the left, on my pinky is In the Clutch, a pinky red; on my ring finger is Plaza, a deep purple; on my middle finger is It's Actually Dark Green, a (spoiler) dark green; on my pointer finger is Make a Res, a dark blue; and on my thumb is Cheers, a very light blue. In the picture on the right, on my ring finger is Plaza with a coat of Is It Too Much?, a gold topper polish; on my middle finger is Is It Too Much? on its own; and on my pointer finger is Dry Clean Only, a medium taupe color.
There are also five different press-on styles, which are Olive & June's newest innovation. You can buy the full kit, which includes application and removal tools, or just the press-on nails themselves. They come in a variety of shapes and lengths. This collection has two solids of Plaza and Make a Res, as well as three holiday designs. Shimmer Snowflake has, you guessed it, glittery snowflakes; Evergreen Tree is a pink press-on with little Christmas trees; and Glitter Gradient is a white press-on with ombré gold glitter.
Who Is the Olive & June Winter Collection Best For?
If you have a holiday party coming up, want to give a great beauty gift, or are just looking to have some fun with your nail game, you've got to grab the Olive & June winter collection. There are also so many different ways to purchase. You can buy each polish or press-on on its own, buy a set of all shades, or buy the entire kit, complete with things like polish remover, a cleanup brush, and lots of other nail tools. Happy shopping, and happy holidays!
Rating:
Source: Read Full Article