How To Replicate Taylor Swift's Makeup Routine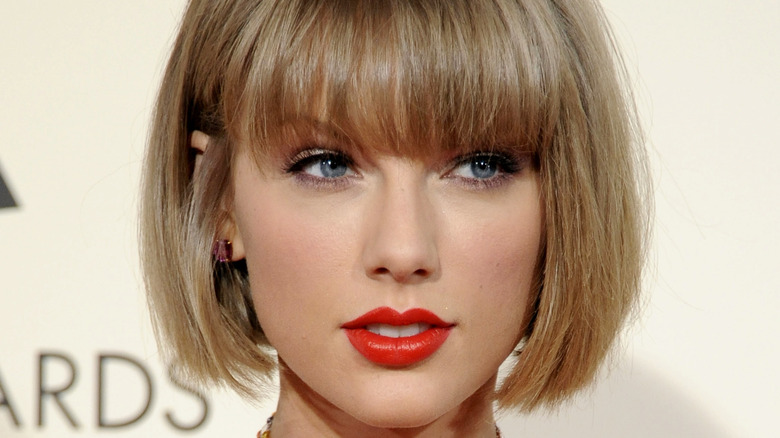 Taylor Swift still gets us right in the feels every time we hear nostalgic tracks like "Teardrops on My Guitar" or "You're Not Sorry" — she is the queen of songwriting after all (we don't make the rules!). Swifties can agree that the 31-year-old Pennsylvania-born songstress has many talents: She makes inventive recipes like these Chai Tea Eggnog Cookies; hosts seriously amazing Fourth of July parties for pals like Ed Sheeran and Lena Dunham; and is the coolest mom to cats Meredith Gray, Olivia Benson, and Benjamin Button. All that, and she's penned eight platinum-certified albums — no biggie! While Swift has a box of tricks, none compare to her incredible beauty hacks.
Starting out her music career when she was just 14 (via Britannica), it's no wonder the singer has learned tons of makeup tips along the way. She talked to StyleCaster about picking up beauty tricks at photoshoots, revealing, "I went to four magazine shoots in a row and all the makeup artists were using [Covergirl LashBlast mascara]," which she says has been her go-to "ever since." In fact, many of Swift's favorite products are more wallet-friendly than you'd ever expect — and yes, we're adding all of them to our shopping carts STAT.
Throughout the years, the country-pop superstar has given out Easter eggs of information about all her best tips and tricks to achieve her signature red lip, black winged liner, and vintage-esque looks. Now, we've compiled all of it in one handy list: Prepare to be surprised at Taylor Swift's extremely down-to-earth beauty hacks.
All about Swift's minimal skincare routine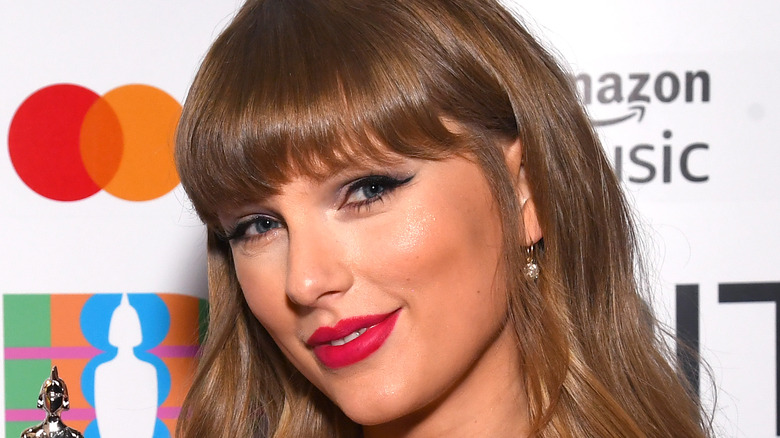 First up, Swift hasn't always been so beauty- and skincare-minded as she is now. To the contrary, there was a time when she committed the worst complexion sin any beauty editor can think of. As she admitted to Elle, the singer slept in her makeup during her "teen years and early twenties," which she soon realized was only wreaking havoc on her skin. Yes, even glamazons like Swift are too lazy to grab a makeup wipe come nighttime. She even told Allure, "Sometimes I forget to wash off my makeup. Okay — almost all the time," but also said she sometimes makes the extra effort, too. "I take my contacts out, wash my face, put on night cream, and put on my glasses so I can watch 'Friends.'"
The "Folklore" singer-songwriter eventually realized she "needed to start being nicer" to her skin, telling Elle: "I now moisturize my face every night." Although she was once a wash-and-go kind of gal, only slathering on moisturizer in the winter, Tay now does it every day to be "soft during all the seasons." But she's still almost too low-key (and we're freaking out). She explained to Allure, "I use whatever is around, really. I'll go to the drugstore and just get makeup removal pads, facial scrubs (that I always forget to use)." The musician does have an unexpected hack: She uses "night cream every morning" before she puts on makeup for optimal a.m. dewiness.
The singer has luxe skincare staples, too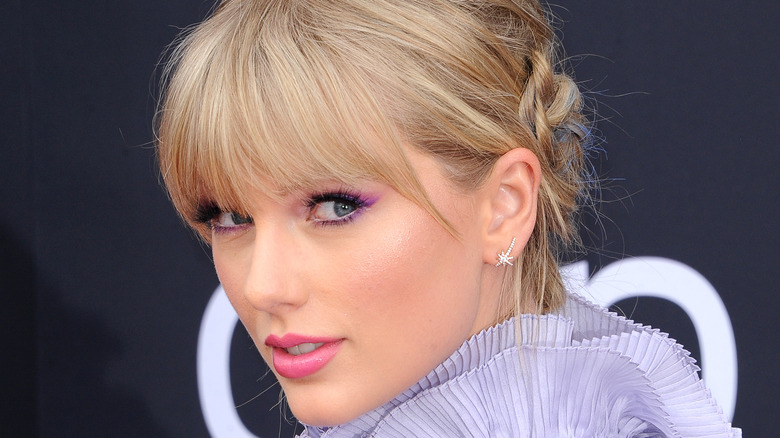 Although Swift's interviews show that her skincare strategy is super-minimal, eagle-eyed fans have narrowed in on her favorite high-end products. On a Reddit thread, Swiftie @butterflyboots stated: "Most recently, the Charlotte Tilbury Magic Cream was on her nightstand in photos from the 'Reputation' magazines." And it's no wonder: The award-winning moisturizer "cushions" skin with a combination of hyaluronic acid, vitamin C, and vitamin E — if it's good enough for Swift, it's good enough for us! But that isn't the only moisturizer the "Red" singer reaches for: She told Redbook Magazine that she loves Kate Somerville's moisturizers, which are far more luxe, at up to $150.
And don't even get us started on Tay's tanning strategy — or lack thereof. Telling Allure that it's not a concern for her, she explained, "I don't mind being pale. In high school, it seemed like everybody cared about being tan all year round, but I haven't really thought about it since then." Embracing her paleness has actually become a trademark part of her look, far away from other glowy, bronzed stars on the red carpet. "I don't go to a tanning bed, and I get bored when I lay out," she said. "I put sunscreen on when I'm in the sun and sometimes I get tan, but I don't really think about it very much." In short, for the singer, it's all about embracing her natural beauty. But don't get us wrong: There's still a good amount of makeup involved.
Taylor Swift's best cat-eye tricks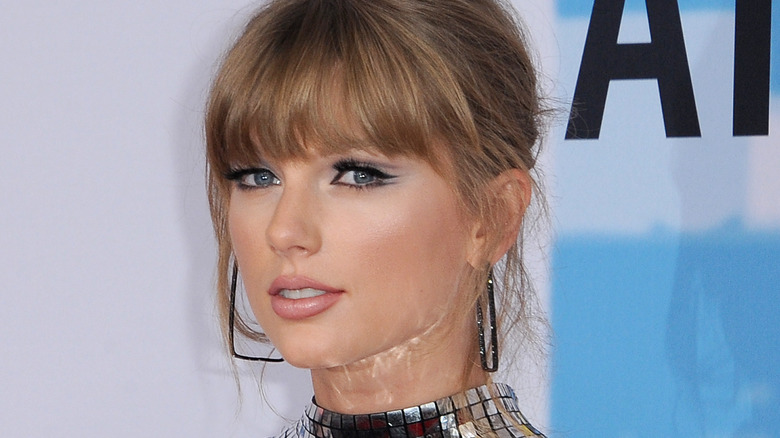 So, what about makeup? Well that's a whole other story. Far from her down-to-earth skincare lineup, the "Shake It Off" songstress has a wide array of makeup tricks in her arsenal. Still, we all have to start somewhere, and Taylor Swift wasn't always so beauty-minded. Telling StyleCaster a seriously scary story about her initial interest in makeup, she revealed: "I was on a plane to Japan about two years ago and I had no makeup with me, so I went into the bathroom and I used a Sharpie to line my eyes." Well, okay then! Still, it sparked Taylor's passion for eyeliner ever since, she said. "From that point on, I started using liquid liner because I realized it was obviously pretty easy for me to do." While Swift does not recommend following in her footsteps, her signature cat-eye liner tricks are gorgeous and easy to follow (no Sharpie required!). 
Swift told Redbook Magazine all about her best winged-eyeliner tricks to recreate her feline gaze. "I do the outer corner flick first: I follow the curve of my lower lash line and draw it on as if it's an extension of that," she said. "Then I draw along my top lid and connect it to the flick." Voila! A perfect cat eye in a couple minutes flat. Plus, word on the street is that she uses MAC's iconic Liquid Liner (via Taylor Swift Style). 
Taylor Swift's makeup must-haves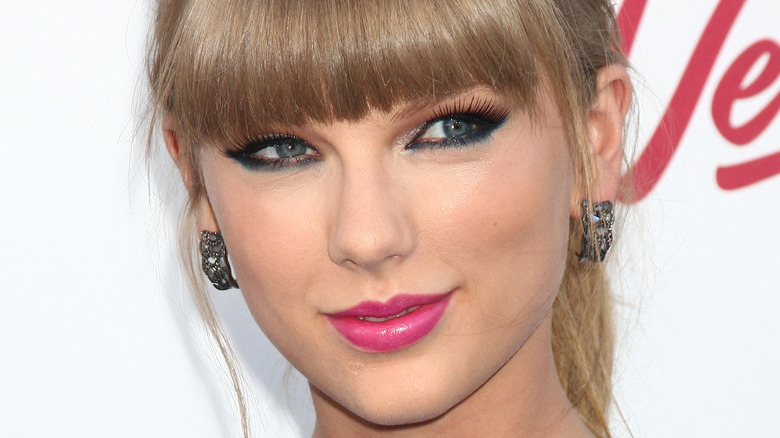 While Taylor Swift's Sharpie story will go down in history (via Elle), her makeup obsession goes way beyond that. She told StyleCaster that she thanks her mom for all her beauty expertise, revealing that she "was always really sweet and would put a tiny bit of makeup on me because I was always begging for makeup." Saying it made her feel "big" and that she loved to "dress-up," she even recounted wanting "to try makeup in middle school" and being "horrible" at it, but her mom just called it "artistic expression." Now that the "Bad Blood" singer is all grown up, what are her other makeup must-haves? Apart from liquid eyeliner, Swift can't live without "natural brown eyeshadows" (via Redbook Magazine). In fact, according to Matilda on Video, Swift is known to reach for Urban Decay's Naked Heat Palette, which includes tons of warm caramel and bronze hues.
Taylor also told Redbook that she loves eyelash curlers, and celeb makeup artist Pati Dubroff told Today about an amazing lash trick she learned from Swift. She explained, "I asked [Swift] to curl her lashes, and after she did the top lashes she turned the curler upside down and curled the bottom lashes. I was blown away, it really made a difference." In short, the singer is genius enough to write "Blank Space" and reinvent eyelash curling — absolutely legendary. Swift also told Teen Vogue that, when not reaching for her eyeliner pens, she also loves "foolproof" gel pots and brushes for Cleopatra-esque eyes.
The singer's favorite makeup products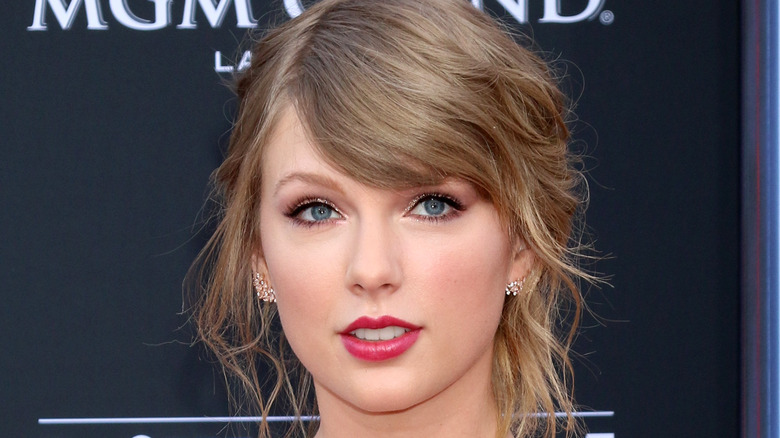 The "1989" icon told StyleCaster that she gravitates toward "light and airy" makeup styles and explained to Teen Vogue that she usually does not "want to spend that much time" on getting ready. In fact, just a bit of MAC Studio Tech NW20 Foundation will do, blending water, emollients, and powder to create a "fresh, flawless texture." Once that's done, Taylor Swift combines her eyeliner tricks and brown shadow with some shimmer for good measure. She told Teen Vogue: "I like to put … silver, light colors on the inside of my eye and like smoke it out toward the outside of my eye. MAC brushes are perfect for creases." In fact, Matilda on Video sleuthed to find that the singer constantly reaches for shimmery shadows like Pat McGrath's EyeDols Eye Shadow in pink as well as glittery shades like Pale Fire and Rose Venus. She also loves the NARS Multiple Stick in Copacabana, an eye and cheek stick in a shimmery purple hue.
Although it seems like the star is always swiping on her iconic red lipstick, she also loves keeping it a bit more natural. Swift told Teen Vogue that she's a "nude lip-liner kind of girl," with Matilda on Video explaining that the singer is known to draw on the NARS Velvet Matte Lipstick Pencil in Dolce Vita, a pinkish neutral. What about gloss? The singer says her "hair gets stuck in lip gloss 99% of the time," so she nixed it long ago, preferring Smith's Rosebud Salve instead.
Taylor Swift's red lip obsession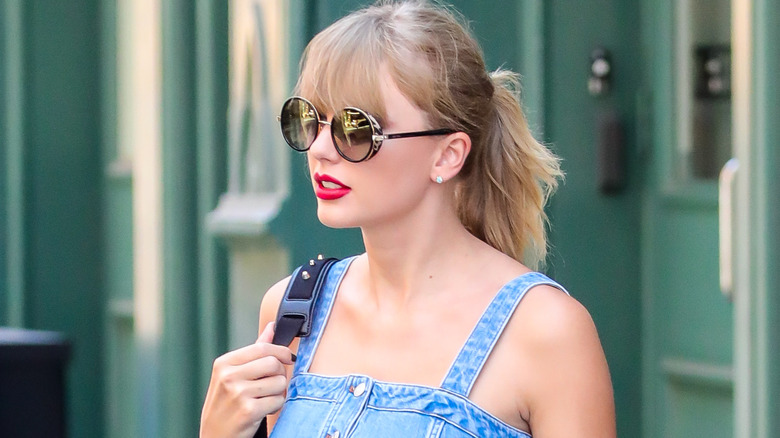 Last but not least, here's everything to know about Taylor Swift's red-lip go-tos. The singer told Redbook Magazine that she's "always wearing red lipstick," and it's true: From grabbing groceries to walking through Nashville's Centennial Park with beau Joe Alwyn, Swift never leaves the house without it. So how to recreate her cherry pout? For one, it's all about surprising techniques she's learned from makeup artists on shoots. "They put on the red lipstick, then blot it with a tissue, then they put powder over the tissue and sort of press it onto your lips," Swift told Allure. "Then re-apply." Adopting this professional method for herself, the "White Horse" songstress explained that "it turns it into a stain that lasts much longer." So when nabbing a Taylor-esque red lip, this technique is a must.
So how about red lip products? According to Byrdie, Taylor posted a behind-the-scenes photo of her and friend Karlie Kloss at the 2014 Met Gala, featuring none other than NARS' legendary Velvet Matte Lip Pencil in Dragon Girl. But that's not the only fiery rouge the singer loves to swipe on — she's also known to go for drugstore fave Covergirl Exhibitionist Lipstick in Hot, a cherry-red shade. The outlet also states that Swift wore the Chanel Rouge Allure Lipstick in Pirate for the November 2013 InStyle cover, and Matilda on Video points to the shade as a Swift must-have. Other go-tos? MAC Lipstick in Ruby Woo and Lipstick Queen's Velvet Rope lipstick in Private Party (via Vogue).
Source: Read Full Article