How To Replicate Doja Cat's Makeup Routine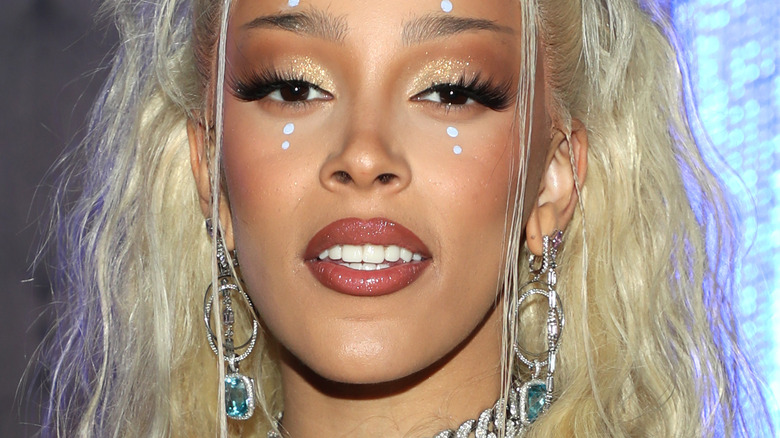 Rapper-singer Doja Cat is known for her bubblegum, irreverent lyrics; her impressive rapping skills and sugary-sweet vocals; and her jaw-dropping videos — from her initial single "So High" all the way to the fruit-tastic video for viral hit "Juicy." It's no secret we love Doja Cat's music, and can find ourselves dancing to TikTok-fave, disco-tinged "Say So" more than we'd like to admit. But there's just something about her style, particularly her beauty looks, that makes us "Need to Know" more.
In an interview with YouTube makeup star James Charles, Doja Cat shared that she wanted to be a beauty guru when she was much younger. Starting with vampire looks, she said that she still "loves makeup" and connects it to different art forms like "painting and drawing." Making "mental notes" while Charles primped and primed her, Doja even admitted to feeling starstruck the first time she met Charles at Coachella. Makeup-obsessed to a tee, it's no wonder the rapper-singer delivers "lewk after lewk" — whether on red carpets or just über-glam Insta-selfies from home.
Doja is known for ah-mazing makeup looks, either created by her, or her acclaimed makeup artist David Velasquez (via Nylon). With Velasquez revealing that the singer and him are truly "a match made in glam heaven," the famous MUA describes Doja as "very creative, super down, and always adventurous." Always killing it with her beauty looks, whether glitter-encrusted, freckled, or super-glossed, here's exactly how to recreate Doja Cat's signature makeup routine.
Doja Cat's makeup look starts with good skin care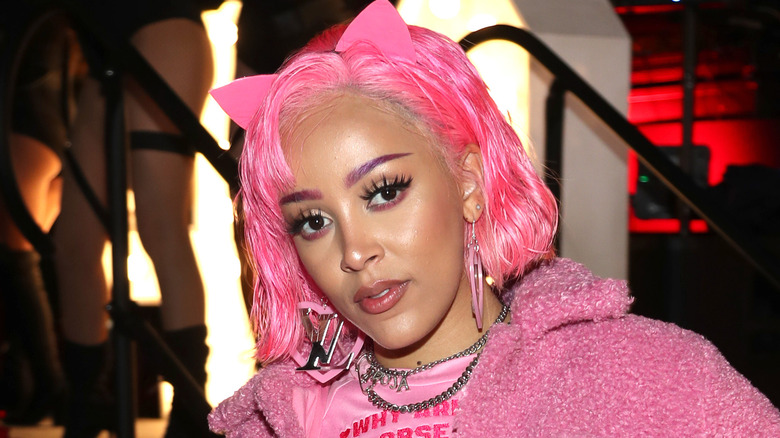 Twenty-five-year-old Doja Cat filmed an at-home makeup tutorial for Vogue, and we're flipping out. Describing how to create her signature E-girl beauty look, the rapper explained to fans how to blend and contour to get her famous anime-inspired, candy-pink vibe. Most surprising of all? Almost half the steps were all about skin care. As she prepared to outline a makeup style she does "pretty often" that she calls an "E-girl, sickly look," the rapper showed that priming the skin is absolutely essential. Even though Doja's favorite lewk involves looking like she just "woke up" and blew her nose, her makeup tutorial is all about a healthy complexion.
First up, Doja instructs to start the routine with a good exfoliating face wash like Tatcha's The Deep Cleanse Exfoliating Cleanser, rubbing it in vigorously, and to follow up with a scrubbing powder cleanse like Tatcha's The Rice Polish Foaming Enzyme Powder. Although she says this makes her look like the "Michelin man" for a few minutes, the rapper says she does these two steps twice a day to get her signature glow. Once washed and dried, Doja goes on to apply the Skin Inc Pure Revival Peel and leaves it on for around five seconds, rubbing her face with her hands until her "skin comes off" to look like "a horror movie." Well, then! The method is unique, but definitely makes for some amazing dewy results. That being said, we're not even half-done yet!
The rapper creates a perfect makeup base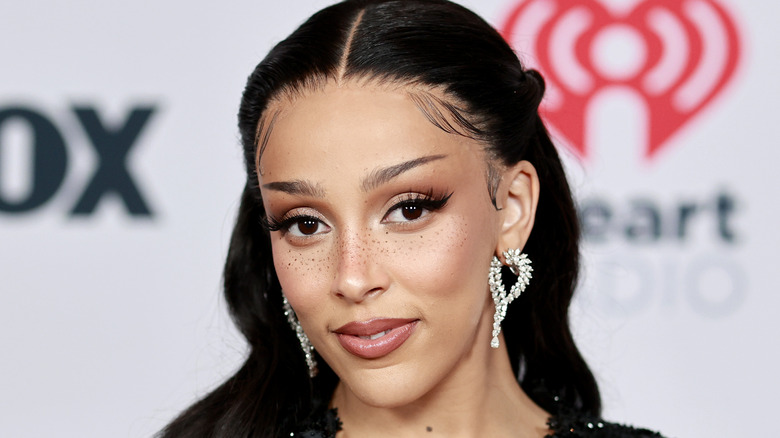 So what's the next step in nabbing Doja Cat's signature look? Still more skin care! As per her Vogue video, follow up the slightly-scary peel with a witch hazel toner to create the perfect "base" for makeup. Next, layer on a watery essence which the rapper "slaps" her face with to bring "blood to the surface." The Los Angeles-born beauty illustrates a perfect Korean skin care routine as she follows up with a serum ("go crazy!"), and an eye cream that doubles as a lip balm which she admits to not applying "gently" enough. The "Say So" singer keeps the moisture in with Tatcha's miracle-product The Dewy Skin Cream, patting sunscreen on top. Although most people finish with sunscreen, Doja then applies her fave skin care oil, which makes you "look sweaty" (in a good way) and looks super-natural when mixed with foundation. Once skin care is finally done, it's time to get to the fun part. 
Doja Cat loves cleaning her prized Beauty Blender with Burt's Bees Cleansing Oil, which she says works "better than anything" she's tried. Wet the blender, and now it's time to color correct: the rapper uses Becca Cosmetics' Under Eye Brightening Corrector for her under-eye circles first, which blends in beautifully with a small brush. With makeup artist David Velasquez telling Nylon how proud he is of the "sick looks" Doja gets on board with, the rapper knows how important a good base is for her trendy, futuristic makeup moods.
Doja's guide to E-girl beauty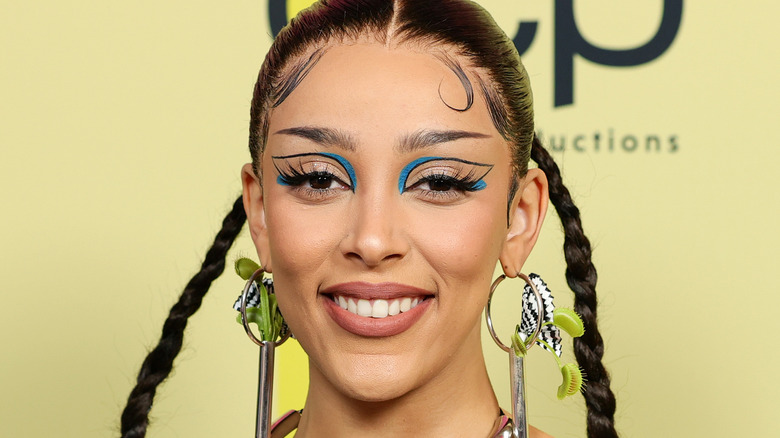 On to the makeup! If you've ever found yourself obsessing over Doja Cat's "feast of makeup mastery" (via Beauty Crew), it's probably because her beauty obsession is a longtime coming. In her Vogue video, the R&B singer remembers her eyeliner-heavy looks à la Amy Winehouse when she was 13. So what's the next step to her routine? Doja's fave Fenty Beauty's Pro Filt'r Soft Matte Longwear Foundation, which is topped off with Fenty Beauty's Pro Filt'r Instant Retouch Concealer under the eyes, on the chin, and along the nose. The rapper sets it with Laura Mercier's Translucent Loose Setting Powder, which she refers to as "daddy," fluffing it on shiny areas and under the eyes. A "mini-bake," the rapper loves a good contour: she uses her setting powder and Fenty Beauty Sun Stalk'r Instant Warmth Bronzer to create the illusion of super-sharp cheekbones with her beauty blender. An "everyday look" for her, she contours her cheeks, chin, eyes, and nose.
To create a perfect anime-tinged, pink-nosed look, the songstress uses rosy NARS Blush that she "scrubs" on her cheeks and nose. Achieving a true E-girl aesthetic, she even applies the blush on her lips and eyelids. After applying a bit of her bronzer as eyeshadow with a small brush, NARS Liquid Blush is used on her nose and cheeks, too. Inspiring fans to have a surprising amount of fun with blush (via Supergreat), this look is the epitome of blushing bride meets K-beauty cuteness.
Lastly, some sparkly touches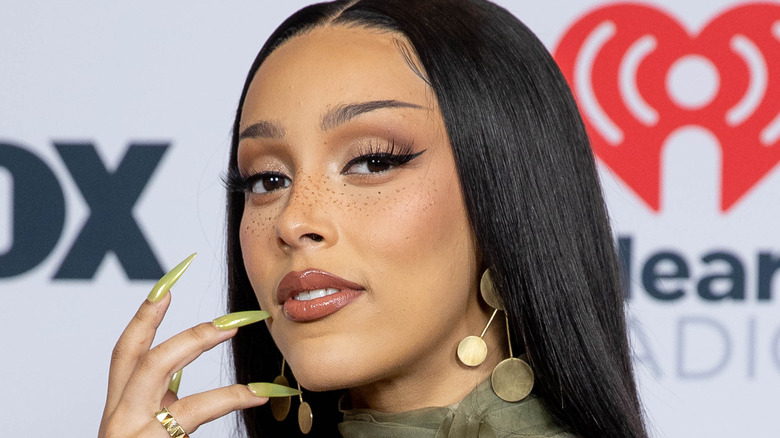 On to the finishing touches: brows are shaped with a creamy pencil and fluffed with a fine-angled brush (via Vogue). The rapper then taps powder on top to "mattify" her eyebrows, making them look "more natural." Her drugstore-fave Maybelline Lash Sensational Washable Mascara is a must, both on the top and bottom lashes to get a true "Harajuku culture"-inspired, "cartoon-esque" look. Top with a cream highlighter like Cover FX's Custom Enhancer Drops on the tip of the nose, between the eyes, on the cupid's bow, and chin. Blend a powder highlighter on the cheekbones with your fingers, and take a cotton pad with makeup remover to exfoliate the lips and make them super-pink. 
Use a liquid eyeliner to create a dramatic cat-eye, which should play to your specific eye-shape. A wing she's been mastering since 13 years old, Doja Cat then blends blush on her eyelids and just on her bottom eye line to create a much-loved "cold" vibe. Now, time for the last "accessories" to the lewk — fluffy fake eyelashes will further the E-girl aesthetic, and Freck Beauty's Freck The Original Freckle pen can be used to create seriously-cute freckles along the nose and cheeks. And it can't be a "Juicy" look without some sparkle — the rapper loves Icy Wifey Cosmetics' Chrome eyeshadow in purple-pink, blending with a brush. For lips, a deep mauve that looks "like you're not wearing anything" is all you need. We didn't say this look was easy, but it's worth it!
Source: Read Full Article