For Disabled People, the "Perfect Body" Looks Like Many Things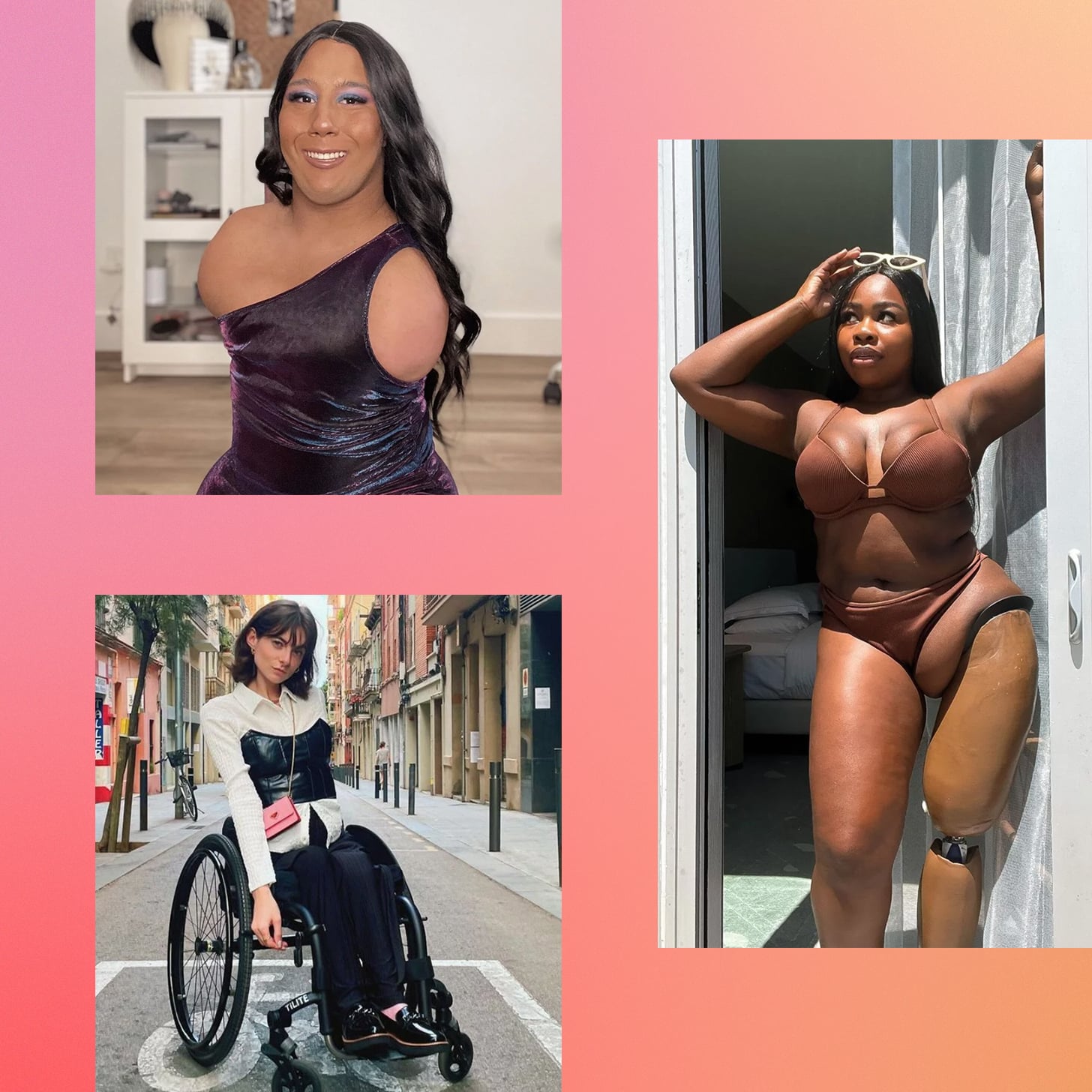 Image Source: Photo by Gabe Adams-Wheatley / Bri Scalesse / Marsha Elle and Illustration by Michelle Alfonso
Body representation within modern media has skewed thin, white, cis, and able-bodied for a long, long time. People who haven't seen themselves reflected in media images have had to reckon with how narrow beauty ideals can be on a daily basis. Despite a slow industry shift in the right direction, there's still a long way to go — particularly when it comes to disability representation. According to the CDC, one in four adults in the US have a disability. That figure that may seem surprising, but it reflects a larger issue of how our society understands (or better yet, misundestands) disability as a whole.
For starters, disability can look and feel wildly different depending on the person. Yet, the disabled community is frequently painted with a broad brush when it comes to representation in popular media, public infrastructure, and medical care. This leads many disabled individuals to feel alone in their experiences, especially when it comes to shaping their idea of what the "perfect body" looks like.
Nearly everyone, regardless of their mobility and disability status, struggles with beauty standards and body ideals at one point or another. New York-based content creator Karlee Rose, who became paralyzed from the sternum down after sustaining a spinal cord injury in a car accident, is no exception. At the time, she'd just moved to Los Angeles with dreams of becoming a model and influencer. Then, the night of March 13, 2021, she took an Uber home. Within moments, her life changed.
Initially after her accident, Rose thought she'd be up and walking within a few days. However, due to the severity of her injury, Rose had to reconcile with adjusting to life in a wheelchair and what that would mean for her future. "At first, I was really scared and only wanted to talk to people who had the same injury as me and were walking again," Rose says. "I was like, 'I don't want to talk to someone else in a wheelchair; that's not going to be my future.' It was just hard for me to process that."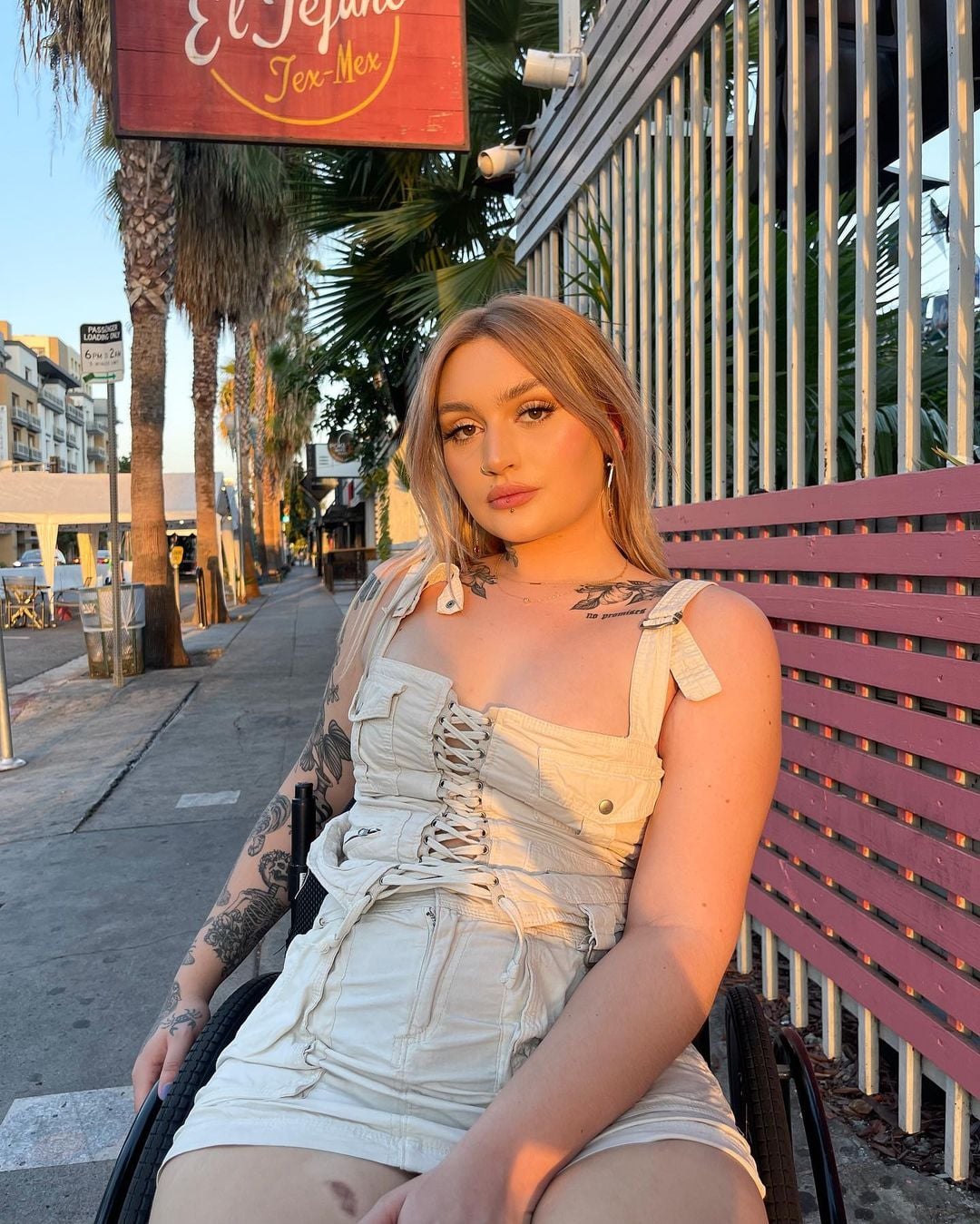 Image Source: Karlee Rose
Throughout the last year and a half, her eyes have opened to more and more facets of living with a disability — including how to do her beauty routine, perform daily tasks, and navigate outdated beauty and body ideals within her new reality. The latter is something many disabled people have grown up feeling isolated by.
"I remember reading magazines growing up and there were different body types shown on the pages and they would say how to dress for each one," says Bri Scalesse, a fashion model and wheelchair user who's worked for Vogue, wheeled down the runway in New York Fashion Week, and has appeared in global campaigns for Nars and Ugg. Scalesse became paralyzed at age six after sustaining a spinal cord injury from a car accident. She didn't think modeling was in the cards for her until she saw Jillian Mercado in a clothing campaign.
"To me, growing up, the perfect body was not disabled," she says. "It wasn't until after finding my community in my early 20s, that I started to find beauty in the things that made my body unique. I realized I could see so much beauty in the bodies of the women I loved and admired most and not see it in my own. That doesn't mean that I do not still sometimes feel insecure about my body, but I simply know and remind myself that disabled bodies are some of the most resilient, beautiful, individual bodies in the world."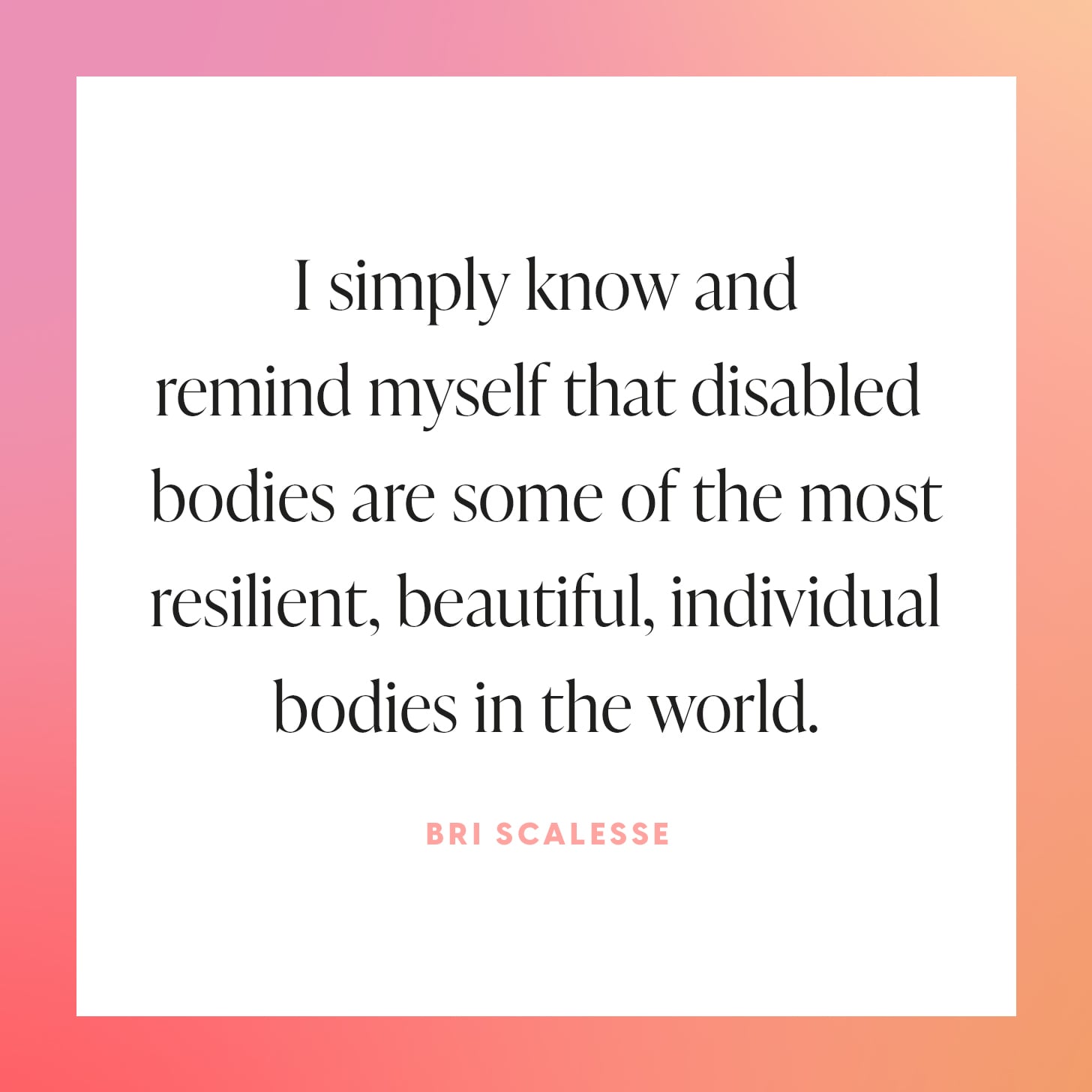 Image Source: Illustration by Michelle Alfonso
Social media has allowed many disabled individuals to represent themselves and their disabilities in ways they never could have imagined possible growing up. It's also given content creators like Rose and Scalesse a platform to showcase the daily challenges of navigating cities, going to concerts, and styling clothing while using a wheelchair. Using social media, they're able to shed light on issues of mobility and accessibility that often go underreported in mass media, giving others actionable workarounds in the process. In doing so, they've also given voice to individuals who aren't in the public eye, empowering them to share their own victories and challenges if they so choose.
Marsha Elle, a singer-songwriter and model, grew up hiding her congenital amputation and the prosthetic she wears on her right leg by wearing baggy clothes. Now, she's sharing her story with millions of people online (and even became the first amputee Playboy Playmate in the magazine's 69-year history). In doing so, she has allowed other disabled women of color to revel in the beauty of their own bodies.
"At the age of 23, that's when I released my second album 'Brave' and I thought it would be really hypocritical of me to write this really vulnerable music, but hide one of the most important parts of me," says Elle. "I'd never even shown anyone what my leg looks like, so I found this amazing photographer in Minneapolis and [had my photos taken] in a leotard. My amputation looks completely different than maybe a regular amputee because I have adipose tissue from it being congenital, but I needed to show the world different body types and realized if I couldn't find confidence in who I am, no one would believe my music."
Elle's openness around her amputation quickly made her a real role model to others. In her and countless others sharing their stories and talents with the world online, more and more disabled people have found the courage to share their truths in new and evolving ways. TikTok has become a prominent platform for disability awareness, and it's a place where creators are able to showcase not only their bodies, but also their talents, humor, and thoughts on any and everything.
Image Source: Marsha Elle
This is certainly the case for Gabe Adams-Wheatley, a TikTok-viral makeup artist who was born with Hanhart Syndrome, a rare genetic disorder that causes underdeveloped or absent limbs.
Although he initially joined TikTok at the start of the pandemic to share a makeup look, Adams-Wheatley soon recognized the value in showing the world how he performs tasks such as putting on fake eyelashes or blending contour. "A lot of people were like, 'Why aren't you using your hands?' or 'Why are you doing it like this?'" he says. "I thought, 'Oh, maybe I should show at the start that I don't have arms or legs and this is how I do my makeup.'"
Because beauty products and the techniques typically used to apply them are widely geared toward nondisabled users only, disabled individuals find new, often inventive ways to adapt. Approaches differ from person to person, of course; for instance, a person in a wheelchair might find a different way to blow dry their hair. In Adams-Wheatley's case, having a table at shoulder height makes a world of difference.
"When I first started doing my makeup, I did it lying down," says Adams-Wheatley. "I would use a flat sponge to blend out my foundation, concealer, and contour, but I was constantly having to look up into the mirror to make sure the placement was all good. Then I moved in with my husband and I started doing my makeup on my bathroom bench, but it was dark in there. When I'd go out to the car and look in the mirror, I'd be like 'This looks terrible.' For my birthday, my husband surprised me with an IKEA desk that he'd cut the legs down to my height and put a mirror with lights on. That really changed the whole makeup game for me to be able to see myself in better lighting and be able to hold a makeup brush at a certain level to get into all of the angles I wanted."
Who doesn't love a dewy moment from @charlottetilbury #CTilburyPartner #CharlotteTilburyHoliday #GiftMagic #fyp #viral #trending #makeup #makeuptutorial #makeuphacks #makeupartist
Despite early trepidation, it wouldn't be long before Rose decided she too wanted to hop on the TikTok bandwagon. Soon enough, she was ready to start discussing her disability online and on her own terms. While she'd initially worried about being judged for using a wheelchair, Rose decided to embrace it in videos that showed off her favorite makeup looks, outfits, and nights out in New York City with her followers.
There's power in being vulnerable and sharing your truth, especially when it comes to breaking down the rigidity of the "perfect body" archetype. Ultimately, there's no reason why someone disabled can't be their own beauty and body goals, or someone else's.
"I think it's important to know that you can create your own body ideal," says Paula Carozzo, a disability activist and creator of Inclusive Collective, a disability consulting agency, lifestyle platform, and community of engineers. Carozzo acquired a brain injury at age 5 and developed cerebral palsy. "Whether that is creating it and putting it out in the media or starting a digital content career, you owe it to create that space for yourself. There's already so much negativity out in the world and you're going to make your life so much more miserable if you keep bringing that in. It's important you work every day on seeing the good [in yourself], even if it's not the 'socially accepted' good."
In sharing their personal experiences — whether that's applying their makeup every day, explaining a surgical complication, or doling out tips on how to navigate through the city they live in — disability influencers are making a huge impact in dismantling unhealthy beauty and body ideals. However, it's crucial to recognize that there's much more work to be done. Disability advocacy doesn't stop at representation — that's just the start. There also need to be tangible, systemic changes made to make our world a better, more accessible place for disabled individuals to live and thrive in.
"When I first started getting into disability rights, I didn't know how to do much other than talk about my own experiences, and while self-advocacy is so important, I wasn't really an advocate," says Britt Lynnae, a disabled activist, content creator, and law student. Lynnae was diagnosed with Ehlers-Danlos syndrome at age 13 and later developed a chronic nerve pain disorder, Complex Regional Pain Syndrome. She creates disability content on TikTok and was inspired to pursue a law degree in order to advance disability justice.
"I needed to spend time learning about disability history, theory, and listening to disabled folks who had experiences and identities that were different from mine," Lynnae says. "I know I can never speak for all disabled folks, and want to be intentional about elevating voices of marginalized folks, but it's been a joy to get to fight for my community and teach people about things like accessibility and disability. It's really instilled that sense of disability pride in me, seeing what our community is capable of. We're so innovative and creative, because we've always had to adapt to survive; that's what makes us so powerful."
Adaptability is a fundamental skill of disabled people. They adapt to survive, but also to thrive, in a world that wasn't built for them. They adapt to beauty products and processes that weren't designed with them in mind — and still turn a fierce look regardless. They even adapt the outdated notion of a "perfect body" to be a constellation of beautiful, different, disabled bodies. You can bet they're going to continue to adapt and ensure the needs of the next generation of disabled individuals are seen, heard, understood, and accounted for like never before.
Source: Read Full Article